Window Dealers Expand into Sunrooms
Demand for larger additions and more four season rooms increasing opportunities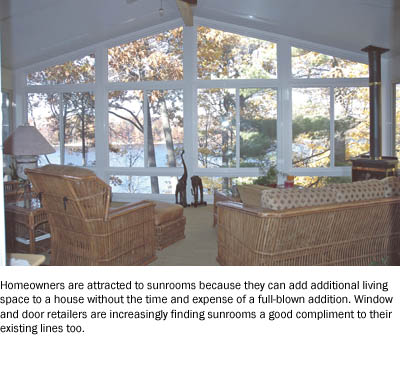 Selling and installing one sunroom could equate to the profit of replacing 150 to 200 windows. Got your attention?

Many homeowners are staying put in their current dwellings, perhaps in part due to current market conditions. Three- and four-season sunrooms add additional living space to their homes at a fraction of the price and time as a traditional stick-built addition. As a result, sunrooms are an ideal solution for many homeowners, and can be an ideal addition to many window and door specialty dealers' product line-ups. Davison, Mich.-based Crown Sunrooms and its dealers are convinced that recent design upgrades and steady growth in spite of economic conditions make sunrooms a home improvement trend that isn't going away. "It's not a trend," says Craig Wilson, president of Outback Construction, a Poquoson, Va., dealer. "It's well seeded in the construction industry now. It's a step between a screen porch and a full-blown addition. It's got its niche in terms of value and functionality."

Sunrooms seem to "fit" with windows, too, says Dario Tiberii, president of Designer Patio, a dealer based in Allentown, Penn. "When you get into a home and they're looking for a sunroom, maybe they also have four or five windows they want taken care of," he says.

While sunrooms aren't quite as easy to install as windows, Crown president Mark Wood contends that window and door retailers can easily train their current installation crews to complete pre-fabricated sunroom projects that he equates to putting together the pieces of a puzzle. "It intimidates almost everyone in the business and there's really no need for that," he explains. "You're using all the same equipment—aluminum break, screw gun, caulk gun. It's all the same laundry list of tools."

Many sunroom manufacturers work to make it easier to enter this business arena with comprehensive training institutes, manuals and DVDs as well as follow-up support. "I think I could comfortably say that you give me your window crew for one week, they will leave here with a very good working knowledge of how to install a sunroom," Wood says.
SEEING THE LIGHT
Sunroom buyers range from families looking to add more functional living space to the house to retired couples who seek more sunlight without direct exposure to the outside temperatures, retailers say. "I had one lady put up a room because she wanted to have it for her cat," laughs Tiberii.

"Around here, sunrooms are very popular because they're an inexpensive way to add living space and get a good return on investment," adds Wilson.

They're getting bigger, too. "Ten years ago, people were putting up 10x10 rooms," Tiberii says. "Now the rooms are getting huge. They used to be three- or four-day jobs; now we often do two-week jobs."

The average sunroom runs about $15,000 to $25,000, but some homeowners have projects in mind that come with a price tag of as much as $70,000, Tiberii says.

Jeremy Benish, owner and president of Simply Sunrooms, a Washington, N.C., provider, explains that he started carrying sunroom products about 10 years ago to expand his product offerings of replacement windows, siding and roofing. "Doing sunrooms was a fairly easy transition for us," he says. "We were looking to expand our business and it took over."

His success in the sunroom arena meant that Benish had to add sales staff, marketing managers and new installation crews to keep up with the growth of the company. "Our business has grown every year since we've been doing this," he says. "We had our best year last year."

In a state growing in popularity among retirees, Benish's North Carolina clientele is relatively immune to the ills of the economy, which means consistent sunroom business opportunities for his team. "When you're dealing with a retirement market, which is a lot of what the sunroom industry is, they're not as affected by the economy as working people."
ADDING ADDITIONS
Crown dealers agree that the installation of sunrooms is a different beast than other projects such as replacing windows, but say it's reasonable to expect the sunroom manufacturer to provide support during the training and transition. "I've got to have a sunroom manufacturer that's standing behind me in getting me product in a timely manner, producing a quality product, doing timely billing and jumping in and taking care of any issues I might have," says Wilson. "The dying art of customer service is most important to me because that's what we focus on."

Dominic Funicelli, national sales manager, says about 70 percent of Crown's dealers are window and door retailers looking to add sunrooms. A retailer directly to the Michigan market, the manufacturer is picky about who it brings on board to sell its products nationally. "We invest in people who invest in themselves," Wood says. "They can't just buy our product. They have to go through our training process to make sure there's uniformity in our products. Whenever we have a new dealer, they never put up their first room without a rep from our company there."

A NEW STORY
Dealers can look to a variety of manufacturers of sunrooms, conservatories and patio enclosures, but Crown has its own unique new marketing story to tell, notes Funicelli. Traditionally, sunroom frames were made of aluminum or thermally-broken aluminum, with an outside vinyl sleeve added in recent years. Just like with windows, he explains, these types of materials aren't ideal for extreme temperature changes, and homeowners in many climates had a difficult time squeezing the fourth season they wanted out of their sunrooms. "People want more than a porch," Funicelli says. "They really want another living area."
Crown responded to that demand, breathing its own version of new life into the sunroom industry by developing a composite frame that accommodates the vinyl windows produced by its sister division, D&W Windows. Structural components in Crown sunrooms feature a wood-vinyl composite that solves the efficiency problems presented by alternate materials and allows homeowners to "install" whatever types of windows they prefer in the frame—double hungs, casements and, of course, the traditional sliders, Wood states.
"I wasn't happy because I knew that [the aluminum product line] wasn't meeting our customers' expectations. They were purchasing a sunroom and they had an intended use for it," he continues. "The aluminum, thermally-broken product had limitations. So [the composite] was born more out of necessity in that we wanted to reach our local target audience's expectations."
Tiberii, whose company has been carrying three- and four-season sunrooms since 1998, switched to Crown when he discovered the composite line. He says he previously sold mostly three-season rooms but since the switch has had an easy time making the pitch for the four-season product. "If I did 50 rooms a year, I used to do 40 three-seasons," he says. "This year, I did 40 four-seasons."
Given the general appeal of these additions, with an enhanced product offering, Crown and its dealers hope to take the sunroom trend to a new level. "I'm looking for forward growth and an upward trend for sunrooms," Wood says. "Everybody is looking to add new offerings and diversity to fill what they're lacking right now."
"I think it could be the right decision for [window dealers] at this time," Funicelli adds. "It's something new. And think of how many window jobs you have to do to make the profit of one sunroom."