Enhancing Security Provides Replacement Dealers an Edge
Windows with Laminated Glass Provide Multiple Benefits Attractive to Homeowners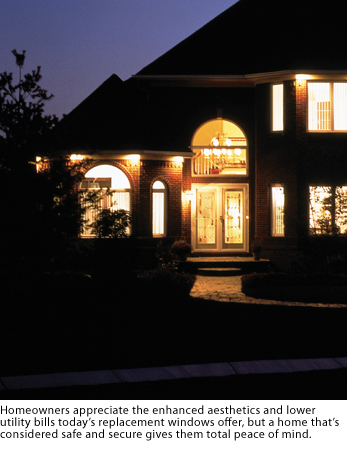 Homeowners will do most anything to keep their family members and hard-earned possessions safe. They appreciate the enhanced aesthetics and lower utility bills that today's attractive and energy-efficient windows offer, but a home that's considered safe and secure gives them total peace of mind.

Today, dealers can meet this need with replacement windows incorporating laminated glass. Such products—more widely available today, as residential product manufacturers have enhanced their capabilities to meet the needs of coastal markets—can mean a more secure home. In addition to enhanced protection against burglary, laminated glass products can also address problems of accidental impact, intrusive noise and damaging ultraviolet rays.
A COMPETITIVE ADVANTAGE
Security features can be a dealer's competitive advantage. While promoting these features alone may not draw lucrative opportunities, some dealers are positioning security as a value-added benefit to buying an aesthetically pleasing, energy-efficient window or door. This approach gives dealers the opportunity to set themselves apart from their competition. They're also finding that by demonstrating a product's security features during a sales presentation, they're sparking the interest of the homeowner–even if safety was not among the homeowner's initial concerns.

From a regional perspective, most dealers know that homeowner concern for safety is not limited to coastal areas with strict impact requirements in place. However, a potential sale based on a product's finely tuned security features–including upgraded hardware and durable laminated glass–can be easier to close in urban settings and/or areas with high crime rates.
KEEPING CRIMINALS OUT
A burglary in the United States occurs once every 14.4 seconds, according to the Federal Bureau of Investigation's Crime Clock. The estimated number of residential burglaries was 2.1 percent higher in 2006 than 2002. Many of the reported burglaries involved forcible entry, with vulnerable first floor windows and sliding glass doors serving as popular points of entry.

Because homeowners need to know that their loved ones and valuables are safe inside their homes, many window manufacturers offer products with enhanced technology designed to strengthen windows and patio doors so they become resilient enough to serve as deterrents to unwelcome intruders. Windows and patio doors containing laminated glass with a polyvinyl butyral (PVB) inner layer are typically strong enough to withstand direct and repeated hits from a crowbar, pipe, brick and other tools that are frequently used in criminal home intrusions.

Many manufacturers make a standard procedure of developing products that adhere to ASTM F588, a standard that measures the forced entry resistance of window assemblies. Some manufacturers offer additional security features as well. My company's UniFrame double-hung window, for example, is enhanced with a standard vent lock feature, which passed night latch forced entry testing. Every sliding window we make over 25 inches tall features two heavy-duty sash cam locks as well as an interior glazing bead, which makes the glass difficult to remove from outside of the home.
Patio doors can also offer enhanced security features. Our premium patio door contains a three-point locking system to protect against forced entry. The locks engage in critical points along the jamb when the door is closed, with the latches pulling the panel tightly up to the jamb.


"We review the security features of our products, and the related benefits, during sales presentations to homeowners," says Dave Doremus from BGE Home Products, a replacement window and patio door dealer in Baltimore. "We go on to demonstrate the multipoint locking system on our patio doors. In many situations, this additional safeguard sets us apart from our competitors whose products may be cheaper, but also are more vulnerable. "
SAFE AND SOUND
In addition to enhancing security, laminated glass is known to form a superior line of defense against intrusive and irritating noise in residential homes, apartments and light commercial buildings. The demand for acoustical glazing options is increasing due to noise caused by planes, trains, highway traffic and the general construction of nearby homes and buildings. "We're discussing sound control glazing options more and more with our customers, especially in the city," Doremus reports.

There is a science to the sound of silence that a window can provide. Laminated glass is more effective in reducing sound than standard glass of the same thickness because of the PVB interlayer. Sound Transmission Class ratings–which assign a single number derived from measured values of sound transmission loss in accordance with ASTM E 90 and E 413—are an accepted method for comparing sound reduction effectiveness. Manufacturers know that a higher window system STC number means a quieter environment for the customer.

Our premium level security glass package—made up of an 1¼8-inch exterior glass lite and a 1¼4-inch interior pane of laminated glass—holds an STC value of 35. For the homeowner, that rating translates into a 35 percent or more reduction in noise—including sounds from nearby highways, passing airplanes and neighbors' dogs and lawnmowers—compared to ordinary glass.
OTHER BENEFITS
Beyond security and sound control, laminated glass packages offer other benefits. As those in coastal markets know, hazardous weather can pose a significant safety threat for homeowners when shards of glass fly, objects fall and walls collapse. Laminated glass in windows and doors creates an impact resistant barrier so strong that it virtually eliminates the risk of hazardous shards of broken glass in the home. Researchers from the Building Envelope Research Laboratory at Pennsylvania State University simulated earthquake conditions to test the limits of various glass products. They found that laminated glass was superior for its ability to remain intact in the window frame longer than ordinary window glass, which tends to shatter and fall from the frames easily.

Finally, laminated glass window and door packages can provide solar protection by filtering ultraviolet rays from the sun, prohibiting the premature fading of expensive interior furnishings. Over time, UV radiation tends to degrade the dyes found in draperies, carpets, fine art and various fabrics as part of a photochemical process which inevitably leads to deterioration and fading. The plastic interlayer in laminated glass serves as UV filter, helping to prevent potentially damaging rays from entering the home.

Today, window manufacturers offer products that provide a wide range of glass options and upgrades, all with varying levels of protection to combat UV infiltration. As with security and sound, smart dealers are finding many customers are interested in this benefit. "Coatings are critical to more than just the energy efficiency of a window," says Dave Radulski of P.J. Fitzpatrick, Inc., a home improvement company that services Delaware. "The fact that windows can save money for homeowners by reducing the amount of UV light that enters a home–and protect the furniture inside the home as a result–is a major selling point."

Along with aesthetics and energy efficiency, safety and security are primary concerns for homeowners. Replacing old windows with new ones that offer enhancement options such as laminated glass is known to increase property value. Some manufacturers believe so strongly in the security of their products that they're offering lifetime warranties that are transferable, with resale value in mind. Radulski notes that if homeowners don't consider security a priority, he always raises the issue. "At that point, security becomes a value-added benefit for the homeowner," he says, adding that this is especially true in areas with high crime rates.
Ralph Pfeiffer is director of marketing for Great Lakes Window, a custom manufacturer of vinyl replacement windows and patio doors located in Toledo, Ohio. He can be reached at 800/666-0000 or rpfeiffer@greatlakeswindow.com.