Industry Turns Green at Builders' Show
Attendance Down with Slumping Market, But Certainly Not Out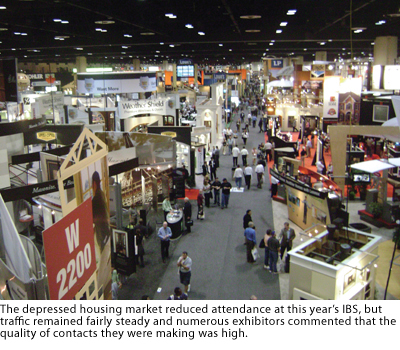 Orlando, Fla.—Green building may not be mainstream yet, but all the evidence at this year's International Builders' Show suggested it will be soon. Window and door manufacturers at the February event appeared to be ready to join the movement by pointing not only to energy efficiency, but also to such issues as environmental stewardship and sustainability in their displays.

Tough times in the housing market was another big topic at this year's show. Attendance at the Orange County Convention Center was down about 10 percent from the 100,000-plus figures of recent boom years and a handful of regular window and door exhibitors were also missing from this year's event. Many industry exhibitors at IBS responded with new products targeted at new markets, while others promoted new features and options that could help builders differentiate themselves or deliver added value.

Over the past several IBS shows, the momentum for green building has grown. More and more building product manufacturers have been touting how their products can contribute to houses that minimize environmental impacts and create healthy places to live. One sign of green's growing mainstream acceptance: the National Association of Home Builders launched its new National Green Building Guidelines at this year's event, and officially celebrated "Green Day" on the second day of the event.
EMBRACING GREEN
Window and door manufacturers have long addressed one important element of green building, offering high-performance products that can create an energy-efficient home. This year's show, however, saw them step up efforts to address other green concerns related to materials and resources used in production. "In some ways we've been green all along," stated Ron Saxton, senior vice president for external affairs at Jeld-Wen Inc. "In our 30-year history, many of the decisions we made because they were good business support the ideas of green building," he explained. In addition to increasing performance, with such features as low-E glass, Saxton pointed to the window and door manufacturer's reliance on wood—a renewable resource—as well as use of wood waste in molded fiber doors and composite garage doors as examples of environmentally friendly practices.
Our online coverage also features a special slideshow
highlighting all the noteworthy industry
developments
at this year's show.

While Andersen Windows has long promoted the energy efficiency of its products, the company is now putting more emphasis on its environmental policies, reported the manufacturer's Cameron Snyder. He pointed to Fibrex, the company's wood/plastic composite developed over 10 years ago. Made of scrap wood and vinyl, the material enables the manufacturer to achieve high recycled content levels in many of its products. Andersen also recently completed construction of a new steam generating plant that uses its own sawdust to heat and cool its Bayport manufacturing plant, as well as power a number of lines there. "A lot of the steps we've taken over the years because they make sense from a business perspective turn out to make a lot of sense as far as the environment," Snyder stated.

Several other manufacturers were emphasizing efforts to embrace the green philosophy more fully, but suggested the process is just beginning. "We say 'MI is going green,' not 'MI is green,'" noted Mark Feucht, product development manager for MI Windows & Doors. For MI, that means looking at a product's entire life-cycle, including durable, energy efficient performance, and eliminating waste in production, recycling materials, using fuel and power as efficiently as possible and reducing water use, he explained. "Green is not a program that can be implemented at your plants, it's a whole new way of thinking...a way of living."

"We're not sure of all the implications of green," admitted Gorell Windows' Tyson Schwartz. The vinyl window manufacturer has a long-term commitment to developing extremely energy-efficient products, he emphasized, and it plans to demonstrate a similar commitment to meet the production and resource related demands of the green movement.

Other window and door manufacturers remained more focused on the product needs of green customers. Milgard Windows, for example, was launching a new program designed to simplify ordering of products to meet specific green building program criteria. "The performance requirements for a window in Phoenix are very different than those in Washington (state)," noted Maureen Faccia, director of marketing. "Our glass packages are different for each market, but our program makes it easy for customers to choose the right window for a LEED Silver rating or Platinum rating, depending on what they want to achieve."

"Green-Friendly Product" labels were affixed to skylights throughout the Velux America display, which was promoting the benefits of natural daylight and added ventilation provided by their products. The company went one step further, however, displaying a new solar water heating system as well. With water heating accounting for about 30 percent of a home's energy costs, solar water heaters can be very cost-effective, particularly with various government and utility incentives available today, noted Velux's Paul Johnson. The skylight manufacturer has been selling these products in Europe for many years, and sees the time as right to bring it to North America. It is currently planning to roll out an installed sales program for the solar water heater, he noted, with a number of its specialty skylight dealers.
NEW PRODUCTS
Not all the attention was on energy efficiency and green. Window and door manufacturers used the show to introduce a wide variety of new products—with much of the emphasis still on aesthetics and upscale offerings. New "less visible" screens were featured by numerous manufacturers, including MI, Milgard and Weather Shield. Pella Corp. continued to expand its product lines, this year showcasing a new line of wood entry doors.

Fiberglass entry door manufacturers continued to expand their offerings as well. Plastpro, for example, featured several new rustic styles, a fir look door and new black doorlite frame designed for use with increasingly popular wrought iron door lites. In addition to taller doors, it also showed wider doors, which the company's Franco An reported seeing an increased demand. Masonite featured a new door that used screen printing technology to achieve an enhanced look, reported the company's Rick Kon. Peachtree used the show to introduce its new upgraded line of fiberglass doors.

Marvin Windows attracted considerable attention with its new Ultimate replacement casement window, with a sash that can be rotated to allow cleaning of the outside glass from the inside. "The wash feature's easy cleaning makes it perfect for today's busy lifestyles," said Thomas Goetz, senior product planner.

Windsor Windows introduced its new Legend HBR, a new hybrid combining the warmth of wood on the interior with the low maintenance of cellular PVC on the exterior. The new BridgeWood collection of composite products was featured by MI Windows, including a new hinged patio door.

The new line features the Green & Clean glass package, developed by Cardinal Glass, noted the company's Amber Martin. It not only offers high performance, it features a film that helps ease cleaning after the construction process, as well as Cardinal's Neat low-maintenance glass.

Weather Shield displayed a prototype version of a new fiberglass window. The manufacturer's Barb Knight, pointing to the success of its Zoe-E-Shield glass options, noted that new product was designed to meet what the company expects will be even greater demand for high energy efficiency in the future.



With the housing market unlikely to grow much soon, a number of exhibitors launched lines at IBS to enter into new markets. Hurd Windows & Doors was launching a new commercial line. MW Windows iintroduced its new Mira aluminum-clad wood window line. The new line offers the distinct look and color options demanded in the high-end segment where it previously couldn't compete with its vinyl-clad wood line, explained Chris Pickering, VP of marketing for Ply Gem windows. Ply Gem itself used IBS to raise its profile too, as it is transitioning from a "holding company" to an "operating company," according to Great Lakes Window's John Stephenson.

PGT Industries, the Florida manufacturer known for impact windows, launched a new line of vinyl windows for non-impact markets. Already successful in coastal regions beyond its home state, the company hopes to expand inland throughout the Eastern half of the country. Looking at the current housing market, PGT's Doug Cross said, "We see it as an excellent time to launch. Builders have time to take a look at new alternatives, and they're looking for ways to differentiate their homes."
THE CURRENT MARKET
Strategies for success in today's tough market were a regular theme at IBS this year. Some exhibitors talked about delivering better value, while others were more focused on taking (and keeping) market share.
"The key element we keep hearing from builders is added value for the home buyer," said Karel Williams with Dow Building Solutions. "We say the best way to do that is better construction, and a more energy-efficient product. Energy efficiency is the answer to the down market. It offers homebuyers real, immediate savings."

Hurd's Tammy Weir pointed to the company's recent addition of anodized finish options on its clad wood product line as an added value the manufacturer can offer to builders at no additional cost. She also pointed to a rebate program the company highlighted at the show to get builders to take another look at Hurd. "We're not anticipating a down year," reported Steven Dawson of CGI Windows & Doors. "We're being aggressive. We're adding new products, and expanding into new markets."

"People switch to us from other door manufacturers," reported Thomas Kaplan of Foundation Door, a company featuring a wood door line that allows homeowners to change decorative panels. "We're not just creating a new product, but taking away from the status quo. That won't totally offset the downturn, but it can partially offset this downturn."

"Our plan is to hold on. It's a market share battle," suggested Peggie Bolan of CMI. "We'll just sharpen our service and try to look at this as an opportunity."

"We'll try not to lose business; stay proactive," reported New Morning Windows' Alicia Richman. "We will stay active with our existing customers, and make sure they're happy."

While some companies pointed to slumping markets, a number of companies involved in more upscale products noted there business remains fairly steady.

"We're not tied to spec building. We're offering a higher-end product and thus are insulated a bit," said Brad Loveless of Simpson Door. "We see it as a real opportunity to invest."

"We have never had a down year," reported April Keene of NanaWall Systems. "Our products are going in high-end homes, and there will always be rich people. People need sexy things to sell homes, something that makes people stop in their tracks."

Pointing to a steady climb in spending in the luxury building and remodeling markets, Jeld-Wen reported that top-of-the-line tastes driving demand is still one of the biggest trends in the window and door industry. "We're experiencing increasing interest in entry doors with all the bells and whistles—larger sizes, custom glass, grilles and hardware," noted Jeld-Wen's Elisabeth Souders.

Window and door manufacturers will be hoping for increased demand in all types of products by the time the International Builders' Show returns again next year. After four years in Orlando, the 2009 event is scheduled for January 20-23 at the Las Vegas Convention Center.

More information on next year's event is available at www.buildersshow.com.