GlassBuild America Returns to Las Vegas
Organizers optimistic following record-breaking event last year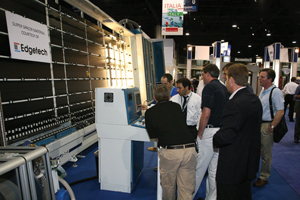 Manufacturers of glass processing, IG production and glazing will return to Las Vegas with a number of new machines.
Today's market climate may prevent GlassBuild America: The Glass, Window & Door Expo from setting new records for size and attendance this year, but organizers remain optimistic. More than 400 exhibitors and 9,000 attendees are expected for this year's show, scheduled for the Las Vegas Convention Center Oct. 6-8.
"We know window and door manufacturers are facing tough times, but we expect many will still make their way to GlassBuild America this year," says Phil James, president and CEO of the National Glass Association, organizer of the event (and publisher of Window & Door). "The more forward-thinking manufacturers will be looking to position themselves for the recovery and they understand that offering new products and options will be key to gaining market share when housing and remodeling markets start to show signs of life. When times are tough, you need to set yourself apart from your competitor and attending GlassBuild America is a sure way to do that."
Continued strength in the commercial market and an influx of international exhibitors helped GlassBuild America set new records last year when it was held in Atlanta. The event enjoyed a notable increase in the number of contract glazing and glass dealer attendees, while attendance among window and door manufacturers also remained fairly steady, reports Denise Sheehan, NGA's VP of industry events.
This year, GlassBuild's list of exhibitors once again features nearly all of North America's leading suppliers of window and door production machinery and insulating glass processing equipment. Although the show typically features more large equipment displays when it's held in Atlanta, a number of equipment makers will be bringing machines to Las Vegas. Automated IG lines are expected to be featured by Peter Lisec and For.El. Erdman and Billco are also planning to bring a variety of machines. Reflecting continued strength in the commercial market, suppliers of aluminum fabricating equipment, such as Elumatec, Emmegi, Fom and JRM will host some of the largest displays at the show. New on the floor this year is Vinyl Link, which will be showcasing its Notch Above production system for vinyl windows. Urban Machinery plans to promote a brand new high-speed friction welder it has developed in conjunction with Bystronic Solution Centre. Other suppliers of vinyl equipment planning to be in Las Vegas include Joseph, Stürtz and Ameri-Can.
With less equipment on display, suppliers of profiles, hardware, software, IG components, weatherseals, sealants and other products targeted at the residential fenestration industry will be more prominent on the show floor. Among the noteworthy exhibits in Las Vegas will be that of Edgetech IG, which, in addition to its latest products, is planning to host representatives of NFRC, IGMA, and numerous test labs; as well as experts on Energy Star and LEED. New requirements for IG certification are "top of mind" with customers and prospects, says Erin Johnson, Edgetech's marketing manager. "The demand is out there for education. We want to provide a one-stop shop for manufacturers to get all their questions answered, whether it's sustainability, Energy Star changes, the IG certification process, or anything else."
HARDWARE AND PROFILES

Given tough conditions in the market, suppliers expect window and door manufacturers to be looking at new options. "It is clear we are in a downturn this industry has not seen in a long time, if ever," says Jonathan Petromelis, president of Amesbury Group. "Most window and door manufacturers are focused on cost reduction and we believe offering new innovative and cost effective solutions is the way to meet or exceed those expectations." His company is completely focused on introducing innovative products during these difficult times, he notes. "Our intention is to invest in research and development and new products to keep us in a leadership position in the industry."
Automatic sash locks and casement products were featured by hardware producers at last year's GlassBuild America in Atlanta. Other suppliers expect manufacturers to focus on higher end products. P.H. Tech is featuring its vinyl designs that allow real wood to be added to the interior. Mikron Industries is emphasizing its MikronWood line, which has been expanded recently to include replacement designs. The company's Rich Anton sees manufacturers "looking to differentiate and move toward more full-featured, no-maintenance products to appeal to upper-end replacement consumers."
EDUCATIONAL OPPORTUNITIES

In addition to show itself, GlassBuild America includes a variety of other activities, including two panel presentations targeted specifically at residential window and door attendees that are planned for Tuesday, Oct. 7. The first, entitled "A Clear View of the Future: The State of the Window and Door Industry" features a panel consisting of an economist, an investment banker, a window manufacturer and a window dealer each offering their unique perspective on trends, challenges and opportunities in the current market. Speakers include Jeff Dietrich, an economist with Institute for Trend Research; Andrew Bohutinsky of Lincoln International, a Chicago-based investment bank; Joe Hayden, senior project engineer for certification with Pella Corp. and chairman of the National Fenestration Rating Council; and Dan Glover, owner of River Valley Window Co., a Southern California dealer serving the builder market. The event is sponsored by Lincoln International.
Following that morning will be a second presentation focusing on "What Do Homeowners Want in Environmentally Responsible Windows?" This session begins with the showing of a pre-taped homeowner focus group, exploring consumer perceptions regarding environmentally friendly products and energy efficiency as they pertain to residential window purchases. This will be followed by a live, on-site panel discussion moderated by Ira Blumenthal, president of Co-Opportunities Inc. Panelists include Nathan Good, owner of Nathan Good Architect PC; Corinne Asturias, vice president and consumer strategist for Iconoculture and Bill Shireman, CEO of Global Futures, who will further examine the green movement and how green values translate into actual buying decisions. The presentation, which will also include lunch, is being sponsored by TruSeal Technologies. "Truseal has a strong commitment to educating the market about how to think–and act– green," notes Ric Jackson, the company's director of marketing. "That's why we're so excited about sponsoring a green seminar at GlassBuild."
In addition, the American Architectural Manufacturers Association will host "Architects of a Better Mind," its AIA-approved continuing education conference related to the window, door and skylight industry, beginning Monday, Oct.6. Topics will include product performance, testing, daylighting and more. Information on that event is available at www.aamanet.org. NGA will also host its third annual Contract Glaziers Forum on Monday, Oct. 6. The all-day event features interactive discussions, peer-to-peer sharing among dealers and contract glaziers, and updates on a number of topics impacting the industry, including building information modeling and LEED. The trade show floor will also host a number of educational sessions and demonstrations.
GlassBuild America will take place Oct. 6-8 at the Las Vegas Convention Center. The trade show will run 10 a.m. to 5 p.m. on Monday and Tuesday and 10 a.m. to 4 p.m. on Wednesday. An opening cocktail party, sponsored by Edgetech IG, is also on the agenda for Monday evening. Designed to provide a single venue for the glass fabrication, architectural glass, and window and door industries, the "all-encompassing" event is organized by the National Glass Association and sponsored by the American Architectural Manufacturers Association, Insulating Glass Manufacturers Association, Glass Association of North America and Bath Enclosure Manufacturers Association. More information on attending the Las Vegas event is available at www.glassbuildamerica.com.