GlassBuild America 2017
The source for solutions for top industry challenges
Photos by Robb Cohen Photography & Video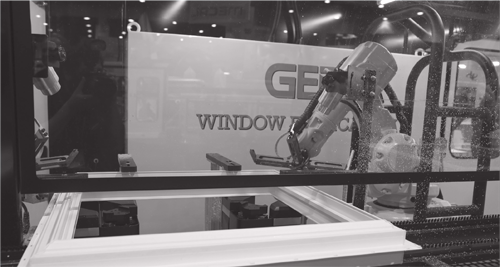 Business is booming for many in the window and door industry, with construction spending on the rise and demand high. But even in the busier times, industry companies face notable challenges, from a continued shortage in skilled labor to increasingly complex manufacturing strategies. These challenges can affect manufacturers' ability to capitalize on the strong market, according to officials from the National Glass Association, and the Window and Door Dealers Alliance, organizers of GlassBuild America: The Glass, Window & Door Expo to be held Sept. 12-14 at the Georgia World Congress Center in Atlanta.
GlassBuild America 2017 will address the industry's top challenges head on, through its comprehensive educational offerings and robust exhibits. The event, which hosted nearly 9,000 visitors and 430 exhibitors last year in Las Vegas, is expected to top 2016 performance, according to organizers.
"We're hoping to sell out of exhibit space this year. We have over 170,000 net square feet with almost 450 exhibiting companies. We are also hoping to increase attendance over last year, which was one of our most successful shows ever," says Molly Grenn, events director for NGA/ WDDA.
Education focus
This year's GlassBuild America will feature an expanded educational line-up, intended to help company owners and managers learn and discuss best practices for navigating current challenges.
"We are offering key educational sessions to address many of the industry's challenges," Grenn says. "Those include solution share topics with industry peers to address very specific issues—reports on the economic health of our industry, succession planning, and building effective relationships with architects. We are positive our educational sessions will address our industries' top challenges."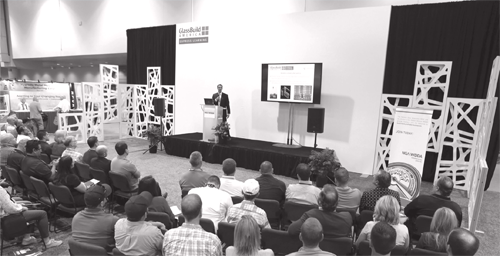 The popular Express Learning program will once again come to the GlassBuild America show floor, with more than a dozen sessions over all three days of the show (see page 28 for the complete schedule of topics for window and door manufacturers.) Companies in all segments of the industry can also attend the GlassBuild America Opening Session, where professional speaker and generational expert Cam Marston will talk about generational trends in business.
In addition, Window & Door Dealer Days, held the first two days of the show, September 12-13, is an event tailored exclusively for specialty retailers of residential windows and doors. This unique program provides a platform for participants to discuss the industry's most important matters, with opportunities for collaboration with industry peers and partners via Solution Sessions and the Dream Showroom. New this year, attendees can join former and current Dealers of the Year in congratulating 2017 honorees in a special ceremony and reception.
The exhibit hall will also provide critical problem-solving information to attendees, Grenn says. "Attendees want to find out about the newest products and technologies in the industry. They want to find new suppliers and even new distributors for their businesses. Coming to GlassBuild America allows the industry to see and learn about the latest and greatest in the industry," she says.
Exhibitor solutions
Exhibitors say they are tracking the challenges of their customers to develop the best product and equipment solutions. The biggest of them, many exhibitors say, are finding labor and training a new generation of workers. "The labor shortage has been a topic of conversation, and not without reason," says Erin Johnson, director of marketing at Quanex Building Products. "People are struggling to replace skilled workers who are exiting the workforce."
Michael Schmidt, president of Forel North America agrees, stating, "Challenges facing our customers are reduced labor and requirements for greater productivity, while [they are working to] steadily improve the quality of their products."
To help address the labor and production challenges, GlassBuild America exhibitors have developed a range of equipment and tools to help companies do more with less. Companies have introduced software products that minimize touches and optimize production, equipment that automates processes and allows for higher output, and more.
"The trends are increased automation and optimal productivity," says Morgan Donohue, vice president of sales and marketing for Erdman Automation. "The pool of available labor continues to shrink as our economy grows. The show and its focus on automation is going to assist each manufacturer with that difficulty." During GlassBuild America, Erdman will showcase its faster IG production process. "Previously we were running at roughly 18 seconds per unit, and now we expect to produce a unit every 15 seconds," Donohue says. By comparison, "traditional lines typically run 30-35 seconds," he says.
Forel North America will respond to the high-speed production trend with its display of a complete flexible spacer insulating glass production line, in what will be the company's largest booth ever at GlassBuild America, Schmidt says. The line also addresses two additional trends in IG production: "increased pre-processing of lites for IG production including seaming or arrissing, and increased acceptance and demand for warm-edge flexible spacer systems," he says.
Quanex is also involved in the automated trend with its component products. "Quanex has been tuned into this [automation] trend, and we've helped many of our customers bring these new systems online," Johnson says. "Our spacer technology works well with these lines and can help customers reach new heights for quality and consistency in their products. And we have the technology, expertise and resources to help customers make the most of their investment in new technology."
C.R. Laurence Co. will also debut new product solutions at GlassBuild, and views the show as a prime engagement opportunity, says Andrew Haring, vice president of marketing. "This platform affords us—and conversely, our customers—a direct and genuine communication line outside of the day-to-day transactional dynamic," he says. "Of course, we leverage the scale and audience to launch new products—and there will be many—but we're primarily there to strengthen relationships and listen."
For in-depth information on the products and solutions on display at GlassBuild America 2017, see the Exhibitor Product Preview. Additionally, show organizers will offer the GlassBuild America Products Guide to each registrant to assist in finding the products they are looking for on the show floor. Organized by the NGA\WDDA, Glass- Build America is cosponsored by the American Architectural Manufacturers Association; the Glass Association of North America; and the Insulating Glass Manufacturers Alliance. GlassBuild America events will take place at the Georgia World Congress Center.