GlassBuild America 2018
Tips for a Great Show

All images by Robb Cohen Photography & Video.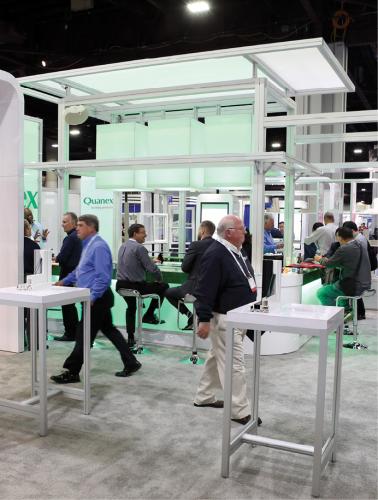 Wear comfortable shoes. Do your homework. Make a plan. Get sleep. Wear comfortable shoes. Make appointments. Network. And did we mention to wear comfortable shoes? We asked longtime GlassBuild America exhibitors for their tips for trade show success. Read on to heed their advice.
Q: What's your best advice for a first-time GlassBuild America attendee?
"Have a plan. There's so much to see; it can be a bit overwhelming. Review the
GlassBuild America website to get a feel for what exhibitors and sessions are available and prioritize what you can't miss. Don't be afraid to branch out and check out exhibitors you might not have thought to visit."
—Carrie Scheetz, marketing project manager, Quanex Building Products
"Know where to get a water in the morning, a chair at lunch and an adult beverage near the end." —Alan Funovits, vice president of sales, Veka Inc.
"Pace yourself! There are hundreds of exhibitors with tons to review." —Terry Wiley, vice president of sales, GPI Group
"Check out who is exhibiting and make a list of anyone you want to meet. Reach out to schedule the meeting before the show. This will help avoid missing someone who isn't able to be at the show every day." —Greg Koch, vice president of sales and marketing, Deceuninck North America
"Shoes. Get good, comfy shoes that are not new—they should be broken in." —David Harris, product manager-exterior, American Renolit Corp.
"Reserve at least two days and plan ahead. The booths can get pretty busy or certain people may not be available on the spot. You want to have the option to come back later or the following day." —Marco Patermann, manufacturers' representative, skai Exterior of Benecke-Hornschuch Surface Group (part of Continental AG) and FUX machinery
"Go with a plan. It can be to shop for a specific item, to see what is new or to just network—but go with a plan." —Ron Crowl, president, FeneTech Inc.
For exhibitors: "I learned a long time ago that you should always ship things directly to the show site rather than to your hotel. There's a direct correlation between the amount of stuff you're carrying and how long that walk to your booth will seem." —Ryan Mayrand, marketing manager, WTS Paradigm
Q: What's the one thing you always bring with you for a great show?
"It's two things, actually—comfortable shoes and a strong voice. One of our sales team members talks so much he always loses his voice by the third day! It's a running joke among our team." —Koch
"Comfortable shoes and a few aspirin to fight off that headache (perhaps from a few too many cocktails during the after-hour events)." —Crowl
"Definitely comfy shoes." —Joe Peilert, president and CEO, Veka Inc.
"Comfortable shoes. You're on your feet continuously at the show. It's an important one!" —Erin Johnson, marketing director, Quanex Building Products
"How can people not bring enough business cards? Rookie mistake." —Harris
"A portable cell phone charger for your friends because they all forget." —Funovits
Q: What advice do you have for those looking to make a big purchase at GlassBuild America?
"Consider the overall lowest cost to your business, not just the ticket price." —Peilert
"Do your homework before the show and prepare to make the most of your investment. Our teams have seen major investment in automated IG lines happen right on the GlassBuild America show floor—we know that attendees are looking to buy. But bringing on a new automated IG line isn't as simple as flipping a switch. You should have a good idea how your operations will be impacted, what complementary components might work best with your investment. Talk with your suppliers early, engage them about the challenges you hope to address with the investment. Collaboration and open dialog are powerful tools when making big investments." —Joe Erb, commercial sales specialist, Quanex Building Products
"See if you can ship equipment directly from the show to save money." —Jessica Metz, marketing manager, Erdman Automation Corp.
"Reach out to the manufacturer prior to the show to schedule a meeting so they have time to prepare and you can close the deal on the show. Or, if you know exactly what you want, reach out well in advance to get a special deal for a show piece." —Patermann
"Make appointments with the vendors you are interested in prior to the show. The show floor can be very hectic and you want to make sure you get the time you need to make an informed purchase." —Crowl
"Do all your homework before the show. Know exactly what you want (model, features, etc.) and what is really the best price for it in advance of the show. Then you truly know you're getting a real show special price." —Harris
Q: What should attendees do when they get back from GlassBuild America?
"Get a good night's sleep and follow up with companies that had interesting products and services." — Funovits
"Just like before the show—develop a plan. There are probably dozens of things you learned or saw that you'd like to follow up on. Prioritize those things and how they can impact your business and work from there." —John Ryba, technical service manager, Quanex Building Products
"Brief your team on the findings from the show and act upon what you learned." —Peilert
"Take time to review the products you were interested in online and make a list of questions to ask the prospective supplier." —Wiley
"Make an effort to reconnect with those you formed relationships with at the show." —Metz
"Sleep—and then follow up." —Harris
"Share what you saw and learned with your coworkers … and get some rest."
—Crowl
"Reconnect with the people they have met, look them up on LinkedIn, continue the conversation." —Patermann