Authentic Styling and Defined Themes Dominate
An architect shares his thoughts on trends in residential design and how the industry can best supply products to meet the needs of builders and homebuyers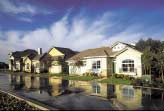 With the increased complexity of multiple elevation themes, builders are placing increased emphasis on stock window sizes and limited shapes .
Defined themes and stylized architecture dominates the housing scene, a trend that's expected to continue, according to Doug Buster, managing partner, Bloodgood Sharp Buster Architects and Planners, Inc., a Chicago-based firm that works with large builders. Addressing the Window & Door Manufacturers Association recently on "Design Issues—the 21st Century Home," he suggested that part of this trend can be attributed to a throwback to traditionalism. Consumers want romance, charm, and character. He sees a renewed interest in traditional home styles, and also, authentic reproduction. For this industry, he sees greater demand for correct proportions in window and door features to replicate the styles of the past.
"There's also influence of what we call new urbanism," Buster explains. "Cities and local government are taking control of their designs with master-planned communities. There's also increased demand for a sense of cohesive community design."
This phenomenon has fostered more stylized exteriors, four-sided contiguous design, as well as a host of new materials that contribute to a sense of hometown with modern flair. "Communities are embracing the individuality of design," Buster says, "and manufacturers, builders, and architects are responding." Manufacturers of all sorts of building products are providing a host of styles that can mimic classic or historical plans as well, he adds. And these trends are being well received by the public.
Authenticity in details is being embraced by consumers in the single-family, multi-family and apartment markets. City and local governments, influenced by the concepts of "new urbanism " are also encouraging this trend.
In diverse housing types, including single-family, multifamily, modular and apartment projects, consumers exhibit newfound aesthetic awareness. A variety of primary styles work together harmoniously, with authentic detail essential. In addition, there's a definite sense of regionalism, with specific styles indicative of their locale from coast to coast.
TRADITIONAL STYLES
Windows and doors play an integral role in creating many popular looks, Buster says. Manufacturers (and distributors and dealers) need to be aware of the housing design trends, so they can translate them to their sales and marketing efforts and focus on key styles that continue to surface across the country or in their particular region.
According to Buster, window and door manufacturers can further respond to new trends by understanding the impact of these new design needs on builders and consumers. For example, he notes, assigning style names in addition to catalog numbers to windows and doors is a relatively simple step. That aesthetic awareness is important, as builders and architects can more easily match products with design themes.
He also suggests companies expand their lines or options to provide more variety in key styles and additional authenticity. With the more detailed looks in demand, Buster also foresees trade-offs, as builders look to keep homes simpler in order to pay for better details. He definitely sees more demand for stock versus custom units. With the increased complexity of multiple elevation themes, he suggests there may be a trend toward using a more limited set of standard sizes and fewer shapes.
He adds that door and window manufacturers are wise to continue to educate their design and marketing teams about the needs of the construction community, but also to adhere to some specific design styles that continue to find prominence. Some of the styles to consider include: Tuscan; Classical; Colonial; Farmhouse; Craftsman; Bungalow, Georgian; Victorian; and others.
"Consumers want to find the correct windows and doors for these styles," Buster says. "So it makes sense that in addition to having different products referred to by catalog number, that they refer to and complement specific home styles. They need to focus on those styles integral to the overriding design themes."
Traditional style, understated elegance, and authentic replication are key to housing design trends now and in the future. For the window and door industry, recognizing these trends will make these products a prominent part of the housing design scene in the 21st century.