GlassBuild America 2019 | Solutions in Action
The entire supply chain will converge under one roof in Atlanta to network, solve problems, discuss trends and improve the industry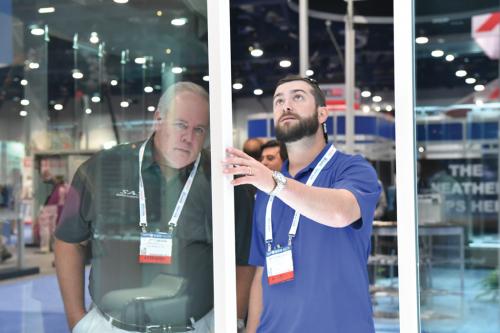 Top 3 Reasons to Attend GlassBuild America
Andrew Haring, vice president of business development for show organizer, the National Glass Association, summarizes the top three reasons to attend GlassBuild America this September in Atlanta. "Everything you liked about GlassBuild America will still be there, but there will be so many new things this year, how it's presented and content," he says. "If you think you know GlassBuild America, you don't."
1. Stay up to speed
"In three days, you'll be able to catch your company up to speed about everything—positive and negative—that will impact business in [the] next year," he says. "It will prepare you for what's to come, how to overcome those challenges and help you improve. It'll show opportunities for where to grow and how to get there."
2. Network
"This is the densest targeted audience gathering in North America for the entire year," Haring says. "The opportunities to meet new prospects [are] huge."
3. Keep up with the competition
"Your competitors will be there," says Haring. "You need to be there to see what's going on and know what your competition knows. You can't operate in isolation. This is where you're going to be exposed to everything going on in the industry in one shot."
Exhibit Hall Days & Hours
At the Georgia World Congress Center in Atlanta
Tuesday, Sept. 17
10:00 a.m. – 6:00 p.m.
Wednesday, Sept. 18
10:00 a.m. – 5:00 p.m.
Thursday, Sept. 19
10:00 a.m. – 2:00 p.m
Stay up-to-date
Follow GlassBuild America on Twitter, @GlassBuild, and visit glassbuildamerica.com for the latest information and announcements about what's new at this year's show.
Get a sneak peek of products on display
The current health of the residential construction market challenges companies to develop strategies to grow in the face of higher demand and remain ahead of their competition. High among these tactics for many are technology and automation, which exhibitors and attendees consider as they prepare for this year's GlassBuild America: The Glass, Window & Door Expo, in Atlanta, Sept. 17-19.
This annual show, now in its 17th year, brings together the complete supply chain and sales funnel under one roof, says Andrew Haring, vice president of business development for the National Glass Association, glass.org. At its simplest level, GlassBuild America is a product show, but dive a little deeper to see it's so much more.
It's networking. It's education. It's technical. It's trends. It's discussing challenges and finding solutions. GlassBuild America, says Haring, is about improving the industry for everybody.
Trends and pain points such as automation and the labor shortage will drive much of the conversation around the show, predict many exhibitors, but building codes, regulations, economic forecasts and, above all, new products also will spur much of the energy during the three-day event.
Labor drives automation
The chronic skilled labor shortage is part of nearly every conversation about the industry. "That will touch a lot of areas, whether it's content in presentations or product themes," says Haring. He predicts many exhibits and presentations will address how to bridge the labor gap, whether from a personnel standpoint such as recruiting or strategies for training employees.
The labor shortage segues nicely into automation—already a big part of the industry—as automation can simplify processes and allow companies to do more with fewer people.
"With finding skilled labor being such an issue for the industry, I expect there to be a lot of interest and attention paid to automation," says Robert Struble, brand and communications manager with Vitro Architectural Glass, which has been exhibiting at GlassBuild America since the inaugural show in 2003. "Equipment makers have jumped in with both feet on both the hardware and software side to address the labor shortage, improving safety and quality along the way. I think we'll continue to see more automation for large door and IG assembly in particular."
Steven Brooks, regional sales director, Great Lakes Lifting, also anticipates automation as an avenue to ease the labor shortage pains. "After what looks to be one of the busiest summers on record and the labor shortage at what seems an all-time high, I believe many will be attending the show looking for ways to utilize automation to maximize their workforce," he says.
"Automation and robotic equipment are here to stay in fenestration manufacturing," according to officials from Quanex Building Products, which is celebrating the 30th anniversary of its Super Spacer warm-edge spacer systems and 50th anniversary of its Mikron brand window and door profiles during GlassBuild America. "Last year, we saw advancements from some of the biggest equipment manufacturers, so it'll be interesting to see what's unveiled in 2019."
Quanex officials also assert that automation enables better strategies for modern and successful floor plant operations, saying it's about more than quality and throughput. Automation also permits the reimagination of a plant floor's capabilities regarding maximizing the value of a product line, using floor space properly and leveraging software.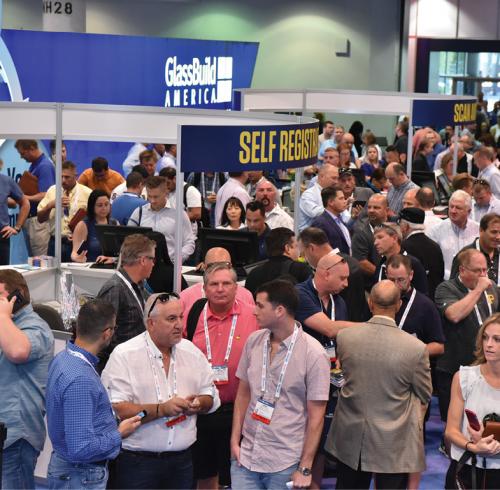 Economic and code considerations
Although the Joint Center for Housing Studies of Harvard University, jchs.harvard.edu, found that home remodeling expanded more than 50 percent since the end of the Great Recession, that growth may be coming to an end. The most recent Leading Indicator of Remodeling Activity predicts remodeling will shrink to 5.1 percent this year, down from 7.5 percent last year.
Economists also predict a slowdown in new home building. The first three months of 2019 paced 5 percent behind the first three months in 2018. National Association of Home Builders, nahb.org, Chief Economist Robert Dietz expects single-family production to be "relatively flat" in 2019, largely driven by affordability challenges and increasing mortgage rates.
"Most economists have expected a mild slowdown in economic growth this year, but projections are never a guarantee," say Quanex officials. "We'll see how things are panning out closer to the end of the year, but there could be a bit more caution in the air at this year's show."
Code updates throughout the industry also are pushing manufacturers to produce higher-performing products. Suppliers are at the ready with innovative methods to deliver on those demands efficiently and economically, exhibitors report. Don't miss the opportunity to see them firsthand.