Industry Pulse: Employment Trends
How did your staff levels change in 2018?
More than half of the total respondents to the survey added staff in 2018. Employers used online job boards as their major recruiting method in 2018. Most used major sites like Monster and Indeed, with a negligible percentage opting for trade job boards. Word of mouth was the next most successful method of finding labor, trailed by internal referral programs and recruitment/talent agencies. Job fairs and apprenticeships continue to fade as successful recruiting methods, according to survey respondents.

Hiring in 2019?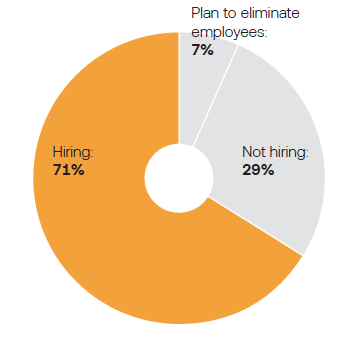 Seventy-one percent of respondents plan to hire next year, a significant majority though a slight decrease from last year's posting of 83 percent. Like 2018, manufacturers again demonstrated the strongest interest in adding staff, with 81 percent planning to hire, followed by dealers at 69 percent and suppliers at 65 percent. Those respondents not adding staff largely attributed the decision to a lack of need due to the company's current capacity. Seven percent of respondents say they plan to downsize, with the majority citing underperforming workers, as well as capacity issues, lack of management and lack of training resources.
Where Jobs Are Being Added
Respondents planning to add staff reported an interest, across the industry segments, in recruiting sales personnel. Manufacturers understandably showed the most interest in adding to their manufacturing workforce. Dealer respondents interested in hiring said they were looking for installers and delivery personnel for their team. In general, industry segments said they would hire across different departments and positions, including management and marketing.
01. Sales
02. Manufacturing
03. Installation/Delivery
04. Management
05. Marketing
Closing the Labor Gap
"As 2019 approaches, we expect the skilled labor shortage to continue to be an issue due to fast growth in the construction industry and younger generations considering other career options. Marvin is doing their part to close the skilled labor gap and support the industry by investing in numerous programs and partnerships that aid in the development of potential trade workers. Current and past initiatives include developing a pre-apprenticeship program, engaging with local schools by hosting students in our facilities, supporting the mikeroweWORKS Foundation to help enable scholarships for trade education, and being a charter sponsor of Generation Next – a philanthropic effort in partnership with This Old House." —Kris Hanson, senior manager, group product management, Marvin Windows and Doors
"The smart factory is one of the ways companies are tackling the challenge of finding skilled labor. As companies automate and integrate software packages, they can better tackle the skilled labor shortage facing many domestic producers." —John Staiano, COO, A+W North America
"We are firm believers in apprenticeship programs to address the skilled labor shortage/skills gap. There is a significant need for closer collaboration between state agencies, community and technical colleges, chambers of commerce and the industry, in order to holistically set up such programs and initiatives." — Chris Dimou, president and CEO, Roto North America
Intro
Employment Trends
Sales Trends & Demand
Tariffs & Trade Policy
Product Trends
Economic Insights