Industry Pulse: Sales Trends & Demand
2018 Sales Realities
Industry segments reported healthy growth in 2018, with 41 percent of respondents posting that sales were as projected, while 38 percent said that sales were higher than anticipated. Half of the respondents reporting increased sales attributed the increase to a healthier economy, with over a third of manufacturer respondents also citing new business practices such as new products, dealer consolidation and a regional rebate program. Those who reported a decrease in sales pointed to a plurality of causes, also including the economy, as well as price increases and a lack of staff, among others.

2019 Sales Projections
Survey respondents remain positive about the future this year, with most projecting a moderate increase in sales for 2019. Manufacturers and dealers responded the most optimistically about sales in 2019, with almost 70 percent of these industry segments saying that sales would increase.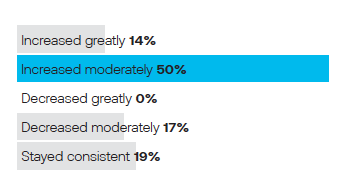 Units Shipped in 2018
Units shipped increased in 2018, according to a majority of manufacturer respondents. Fifty percent of respondents from this segment reported a moderate increase, while 14 percent said the amount increased greatly.
Expectations for Units Shipped in 2019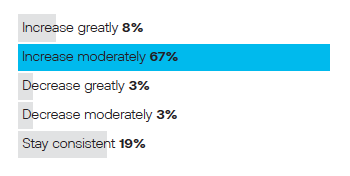 Manufacturers remain optimistic about 2019's projections, with three quarters saying they expect increases for units shipped. (Statistics at right and above represent manufacturer respondents only.)
Keeping Up with Demand
"Our strategy to keep up with demand in the current labor market is to focus on employee retention by increasing employee engagement, developing the skill sets of our own employees, investing into automatization, and Lean Management practices across the whole enterprise." —Chris Dimou, president and CEO, Roto North America
"In modern companies, fast, intelligent production lines are networked with state-of-the-art software. All parts are in the right place at the right time. There is no search for material or mountain of paper for every order. The magic word here is integration. Only integrated software with powerful machine interfaces enables these cleverly networked processes, while simultaneously reducing costs." —John Staiano, COO, A+W North America
"As builders work toward matching heightened expectations, it will be increasingly important to choose reliable, proven products that contribute to those goals. Even though we might see a bit of market turbulence this year, now's not the time to cut corners. Short-term price benefits can cost you significantly more money later down the line." —Erin Johnson, director of marketing, Quanex Building Products
Innovating Production
"Although we continue to see a skilled labor shortage across the entire industry, we are also seeing more programs being implemented to encourage more degrees and experience in the trades. While this will be helpful to bridging the skilled labor shortage and skills gap, we are also aware technology may change what exactly our labor needs might look like in the future." —Rachel McKinnon, director, market intelligence, Marvin Windows and Doors
"The technology trends that we saw at GlassBuild America and Fensterbau in 2018 will increasingly be implemented in the industry. This means that we will experience increased digitization and automated processes. These innovations are important because they bring concrete, measurable benefits to companies, which means companies save time and money. Additionally, increased process reliability due to increasing digitalization contributes to product quality and helps to further shorten delivery times." —John Staiano, COO, A+W North America
"One of the key innovations that help growth and efficiency is the application of smart technologies, which helps manufacturers to better design, measure and control all aspects of the manufacturing process." —Chris Dimou, president and CEO, Roto North America
"Automation is continuing to revolutionize how we make windows and doors, and it isn't slowing down. The biggest equipment makers continue to introduce new functionality that is helping manufacturers become more and more efficient. For manufacturers making the investment in automation, it's also important to remember to seek out products and solutions that are complementary to those new solutions." —Larry Johnson, vice president of IG sales, Quanex Building Products
Intro
Employment Trends
Sales Trends & Demand
Tariffs & Trade Policy
Product Trends
Economic Insights