2011 IBS Product Showcase
December 1, 2010

| | | |
| --- | --- | --- |
| Sponsored by: | | |
Companies P-S
Products are presented by exhibitor, alphabetically. Follow the following links to see information from other companies.

PGT
The WinGuard Impact-Resistant SGD 570, Vinyl SGD 470, and PremierVue SGD 2870, introduced at IBS, are part of a new platform of vinyl sliding glass doors unique because they can be ordered with up to four vinyl tracks and as tall as 10 feet high. Design pressure performance starts at +/-60 and goes as high as +100/-100.The doors can be ordered with one panel or with up to eight panels as by-pass or pocket doors. The new vinyl line provides customers with an Energy Star sliding glass door that can fill up to a 40 feet wide opening, the manufacturer states. Another advantage to the new series enables installers to reconfigure the door in the field with interchangeable and reversible panel interlocks. Panels can be installed or removed from the interior or exterior, making condo applications simple. The doors are equipped with dual point mortise locking hardware, a choice of raised handles or recessed pulls, three roller assembly options, and replaceable sill tracks.
www.pgtindustries.com | 941/480-1600
Plastpro
The manufacturer of fiberglass doors has expanded its PF frame line to include mahogany and Douglas fir woodgrain options. A closed cellular structure ensures the door frame and mouldings will not absorb or wick moisture, and prevents warping, rotting, and splitting, the company reports. A rigid poly-fiber formulation also eliminates the need for an aluminum support channel. From Plastpro Inc., the components offer twice the screw-holding power of tradition wood, but are easily machined just like wood frames.
www.plastproinc.com | 800/779-0561
Phantom
The industry's first single direction fluid-filled speed reducer for retractable door screens was launched by Phantom Screens at the 2011 IBS. The one-way speed reducer allows the door screens to retract with the same smooth controlled motion as other two-way speed control devices currently available in the market, but allows the screen to be pulled into place with little or no resistance for easier operation. Some suppliers have treated speed reduction as a solution for every screen, the company points out, but it suggests that this option can create challenges in certain applications which authorized distributors can discuss with customers. The new one-way roll control solution is being offered in all Signature Colors and as an add-on to the already installed Phantom door screens.

www.phantomscreens.com | 888/742-6866
Ply Gem
The Designed Exterior combines a wide selection of Ply Gem windows, patio doors, manufactured stone, siding, accents, accessories and rail products to provide homeowners, builders, remodelers and architects with a low maintenance, energy efficient solution to build sustainable, beautiful and affordable homes, the company states. The company has put together nine elevation styles including The Shingle, The Craftsman, The Folk Victorian, The French Country, The Georgian, The Tuscan, The Prairie, The Spanish Eclectic and The Modern, with guidelines that outline the specific products and colors that can be used to replicate each.
Ply Gem Windows was also highlighting its unique position in the DOE R-5 program with a full line of qualifying products for both the new construction and retrofit markets, including double-hung, picture, slider, casement and awning window styles, it states. In addition to meeting the performance demands of the program, the company offers many decorative options not typically available today on R-5 windows, including exterior colors, woodgrain interiors, and grilles between glass, it notes.
Contractor Series 2000 windows, available in states east of the Rockies, is said to provide a value-priced replacement product with premium features and cutting-edge technologies. Available in double hung, casement, sliding, awning, fixed and special shape window configurations and patio door styles, the line features equal, narrow sightlines, low-profile cam-action locks and a hidden sill lock design for sleek, low-profile aesthetics that match the contoured exterior appearance of wood windows. For added aesthetic appeal, the series is available in two colors with the choice of two grille options, as well as an SDL option.

Developed for markets west of the Rockies, the Ply Gem Windows Premium Series 1000 sliding patio door features the EuroGlide lift-and-slide operating system for smooth and effortless operation. When rotated 180°, the handle lifts the door panel off the sill for smooth gliding, while a ball-bearing roller system enables doors weighing up to 550 pounds to open and close with the push of a finger, the manufacturer notes. Only 8 pounds of force is needed compared to 30 pounds or more for standard sliding doors. For new construction and replacement applications, the door comes standard with an energy efficient glass package that meets 2010 Energy Star standards in all zones. The series—which also includes double hung, sliding, fixed and geometric shaped window styles, as well as hinged patio doors—is available in a white, beige, sandstone and earthtone exterior colors, and white, beige, natural oak and colonial cherry interior wood grain color options.
www.plygemwindows.com | 866/979-4149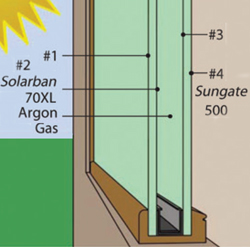 New Dual-Coat Technology helps dual-pane insulating glass units for residential applications achieve R-5 insulating performance, according to the supplier. From PPG Industries, the IG design incorporates one 3 mm pane of Solarban 70XL glass with the coating on the second (#2) surface of and one 3 mm pane of Sungate 500 glass with the coating on the fourth (#4) surface, separated by a ½-inch of argon-filled space. The configuration generates a winter nighttime U-value of 0.20, insulating performance better than or equal to competing dual-pane IG units on the market, it is reported. These type of units are designed to enable window and door manufacturers to make better-insulating products without multiple air spaces, which can complicate the manufacturing process and add to the cost that builders, remodelers and homeowners pay for windows. PPG's dual-coat, double-pane IG configuration has visible light transmittance of 60 percent and a solar heat gain coefficient of 0.26, the company also reports.
www.ppgglass.com | 800/774-4527
Protecto Wrap
Protecto LWM200 is an advanced water-based non-bituminous, aqueous polymer dispersion coating that is specifically designed for the demanding requirements of waterproofing window and door openings, the supplier states. Compatible with most commonly used building and window substrates, OSB, plywood, CMU, vinyl, aluminum, DensGlass Gold, treated lumber and various foam insulated products, the liquid membrane may be applied with a brush, roller or airless sprayer without dilution. No primer is required and a one coat 30 mil wet application is said to be all that is necessary to keep moisture from door and window openings and help reduce potential mold growth. The odorless, water-resistant coating dries tan and can be painted any color.
The Protecto Sill Drainage System combines an advanced wicking material with a peel-and-stick butyl adhesive and a positive-sloped, closed-cell foam back dam. This combination ensures any water or condensation found inside a window rough opening will be directed to the outside weather plane of the structure. The product helps eliminate costly contractor callbacks due to window leaks. Easy to install, the product accommodates 2 x 4 or 2 x 6 construction for vinyl or aluminum windows and works well on new or retrofit window installations.
www.protectowrap.com | 800-759-9727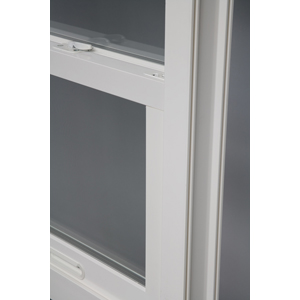 Quanex
Making its debut at IBS this year, Quanex Building Products Corp. featured high performance window and door systems incorporating product from its family of brands–Homeshield, Mikron and Truseal. The family of brands takes a wider systems approach, in addition to a focused component perspective, to yield durable, energy efficient products that are attractive, easy to install and cost effective, the company states.
Among the products featured, MikronWood sliding patio doors and double hungs provide the beauty of wood with the weather-resistant, no-maintenance advantages of a composite. Windows and doors produced using MikronWood offer superior resistance to thermal conductivity with K-Values (a measure of heat transfer) that are 63 percent better than wood and 83 percent better than fiberglass, the company states.
Quanex also demonstrated Duralite insulating glass spacer technology integrated into a super-efficient EnergyCore window frame. The Duralite spacer eliminate metal and replaces over 60 percent of the spacer profile with air space to reduce thermal conductivity up to 45 percent, it is noted. Combined with the EnergyCore high-performance vinyl, air-cell infused window frame, the spacer can deliver an R-5 triple pane window using 1 1/8-inch IG.
Homeshield, Quanex's door component technology company, is showing its ImperiClad moisture-impervious door frame system. New at IBS, components include a water-shedding threshold with an energy efficient weatherstripped jamb made from MikronWood. The system is easy to install and deliver performance designed to eliminate costly customer call-back services. The ImperiClad door system can also help reduce energy loss through the door framing, thus saving resources and reducing carbon emissions.
www.meetquanex.com | 713/961-4600
Expanding on the company's existing Cumara line of factory-finished fiberglass doors, the Craftsman Collection captures the look and beauty of genuine wood doors without the drawbacks and maintenance issues of wood, according to the manufacturer. Available in chestnut or walnut, as well as a no-finish required white woodgrain, the new line features one-lite, six-lite and decorative glass designs, as well as an optional dentil shelf. The new line complements RightConcept's existing Cottage and Heritage Collections of doors, each offered in a variety of styles.
www.righconcept.com | 253/471-8861
Royal Double-Snap Vinyl Trim is an exterior trim package that saves time and money in installation. Facing and casing trims easily snap together and snap in place around windows. The vinyl components are color matched to vinyl window frames to provide an attractive finish.
Also featured in Orlando, the Royal Opus I and II patio doors incorporate a durable all-vinyl frame that can be used with two sash systems. Uses the same sash as Royal's Performer door, the Opus 1 features the new Super Quiet roller that provides smooth gliding action. The Opus II uses a welded sash that can accommodate standard 1-inch glass, as well as two true triple-glazing options of 1 1/4 and 1 3/8 inches for achieving an R5 rating in extreme weather conditions. The doors designs, available assembled, KD or in lineal form, also feature a series of new hardware and accessories options to give customers more choice.
Royal Building Products also previewed its new Cellular Window System at IBS. Designed for high energy efficiency, frame and sash profiles feature solid-core cellular vinyl that look and performs like wood during the installation and life of the product. The material is said to be easy to paint and requires little maintenance, with moisture-resistant properties that prevent it from rotting, cracking or splitting.
www.royalbuildingproducts.com | 800/387-2789
Schlage
Responding to consumer research that indicates homeowners want to know what is happening with their home entry doors, Schlage Lock Co. LLC has introduced an alarmed lock that can detect a range of actions and alert homeowners of activity with their entry doors. Unlike traditional alarms that trigger only when the door is opened, the new lock activates on first impact. For example, the lock will sound an alert if someone is kicking the door or tampering with the lock. It also can alert homeowners if a child is trying to leave the house. Three modes – child alert, lock tamper detection and kick in/break in – activate at various levels of activity, and each sounds a distinct alarm. Said to be simple to install, the alarmed lock is battery operated and requires no wiring. It replaces existing door hardware and installs without drilling holes. The unit is battery powered, and an LED indicator shows which of the three modes is active.
Schlage is also adding form to function with the introduction of five new decorative collections that can be used with any of the company's accent lever and knob hardware to make thousands of customized combinations. Available with five matching handlesets, including two new styles–the Brookshire and Wakefield –the collections move the Schlage offering up the style scale and offer an affordable, attractive alternative to other upper-price-point products. Made with solid zinc die-cast construction, the collections are offered in many finishes that include satin nickel and aged bronze.
www.schlage.com | 800/847-1864
At IBS, Silver Line highlighted plans to introduce a new and improved line of bay and bow windows this year. The new line will offer iimproved water management thanks to such features as a sill pan with vertical lip as well as a vinyl sloped sill to prevent water from seeping onto the seat board, helping protect the wood, the company states. Bay and bow frames will be constructed using 1 1/4-inch furniture grade hardwood with veneer and heavy duty solid wood Timberstrand Laminated Lumber mullions with lag bolts for strength and durability. With the new line, Silver Line will ship individual windows separately from the bow and bay frames. This makes for a lighter frame that is easier to handle and install–with fewer people needed-and allows items to be passed easily through the window openings during the installation process, the manufacturer explains. Once the bay or bow frame is fixed in the wall, the individual windows install quickly and easily using pre-installed blind stops and pre-cut molding. Finally, the company will offer more customization options, including birch and oak wood veneer interiors, a pre-assembled wood roof, new interior stain and paint finishes, a pre-insulated seat board with an R-9 insulating value and decorative knee braces.
Single-hung windows are now offered by the manufacturer with a new ADA-compliant lock. Designed to make the windows easier to operate for iIndividuals with disabilities, the locks feature an adjustable pull cord to disengage the lock, then open the sash. Once the sash is closed, the lock automatically engages for ease of use and additional security, the manufacturer reports. The low-profile design coordinates with the window and is interchangeable with many Silver Line new construction and replacement single-hung vinyl windows. The locks are also said to be easy to install-requiring only a screwdriver.
www.silverlinewindows.com | 800/234-4228
Products are presented by exhibitor, alphabetically. Follow the following links to see information from other companies.