2018 Forecast: Housing Outlook
An industry poised for expansion

Source: ConstructConnect historical and forecast housing start data. Click image for larger view.
Each year, Window & Door surveys readers to gain insight about how the last year played out and what readers anticipate for the coming year. In many regards, the industry trends from the past several years continue on the same trajectory of trending upward. Sales figures continue to grow, new products come to market to address buyer demands, and companies are hiring despite the fact that the labor market continues to be a challenge.
Likewise, the general forecast for the construction industry at large continues to grow. Dodge Data & Analytics recently released its 2018 Dodge Construction Outlook, which predicts that total U.S. construction starts for 2018 will climb 3 percent to $765 billion.
"The U.S. construction industry has moved into a mature stage of expansion," states Robert Murray, chief economist for Dodge Data & Analytics. "An important question entering 2017 was whether the construction industry had the potential for further expansion; the current year has seen continued growth by single- family housing. For 2018, there are several positive factors which suggest that the construction expansion has further room to proceed," he reports.
Alex Carrick, chief economist at ConstructConnect, reports that a synchronous world expansion is underway, and that it has been more than a decade since this has happened. "North America, Europe, Japan, China; there is growth in all those countries," he says. "Given that it is synchronous, it will be hard to derail."
Chief economist for the Associated General Contractors of America Ken Simonson reports that construction spending overall will likely reside in the low to mid-growth range, with the residential sector faring generally better than the nonresidential.
Single-family housing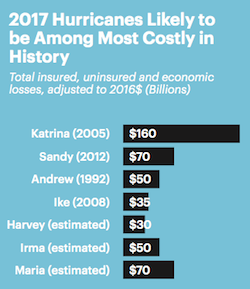 Source: Historical loss estimates from NOAA, National Centers for Environmental Information; 2017 hurricane estimates are mid points of range estimates from CoreLogic and Moody's Analytics. Slide information courtesy Kermit Baker, AIA.
The Dodge Outlook Report indicates that single-family housing will rise 9 percent in 2018. Continued employment growth has eased some of the caution shown by potential homebuyers, while older millennials in their 30s are helping to lift demand for single-family housing. The Outlook indicates that a modest boost will also come from rebuilding efforts in Texas and Florida after Hurricanes Harvey and Irma.
Carrick agrees with the Dodge assessment, as he relates that housing starts are approaching the 1.4 million unit benchmark that represents equilibrium; that number is what's needed to satisfy population growth and family formation. He notes that the accumulated shortfall of about 5 million units accounts for three normal years of housing starts. "The shortfall alone accounts for three normal years of housing starts. If housing really gets going, it's going to drive the economy for years to come."
In a webinar hosted by the American Architectural Manufacturers Association, "Window and Door Industry Update: AAMA Western Region Economic Report," Mike Collins, Building Industry Advisers, also related that the existing home inventory is diminishing. This, in turn, leads to new home construction. "We're down to a four-month supply of existing home inventory, which is good for the market," he says. "Generally, that engine of existing home sales has burned off a lot of the excess." Collins cites the National Association of Home Builders' predictions that estimate housing starts will approach the one-million mark in the 2018-2019 timeframe. "The good news is, they see a growth swing continuing through that period," he says.
Of the next generation of homebuyers, Collins says, "the leading edge of millennials are beginning to buy homes, and they are generally putting a large down payment, which is a good thing." He reports that student loan debt is preventing many in that generation from buying a home. "It's slowing the activity that would find its way into those starter homes, though it may bode well for the multi family market, as those people opt into apartments rather than buying homes."
Meanwhile, as home sizes continue to grow, lot sizes are shrinking. The impact of this for the window and door industry is an uptick in multi-slide, multi-panel windows and doors, to marry the inside and the outside of the home.