Industry Pulse: Employment Trends
As labor crunch continues, companies find new hiring strategies
Employees are the heart of any organization, and finding qualified staff and workers in today's labor market is a challenge for almost every respondent to the Industry Pulse survey. Healthy sales figures necessitate that companies hire, so a tight labor market adds to the logistical challenge of delivering on those sales.
Scott Gates, president and CEO of Western Window Systems, reports that labor shortages were a contributor to slower build-cycle times in 2017, too. "Projects seemed to take longer to complete, and some were pushed to the right as the labor just wasn't there to accelerate the development," he says.
A number of factors contribute to the current labor market. After the 2008 economic downturn, many workers in the field left to find employment in other industries. Those employees took industry knowledge with them, leaving a skills gap that persists to the present day.
Along with an exodus from the industry, millennials and other younger-generation workers are, generally, not coming into the field, or at least not at a substantial rate. One of the reasons many of our sources point to for this unfortunate reality is the fact that high schools generally offer four-year colleges as a preferred post-graduation path over trade or vocational options. Also, it appears the millennial generation is increasingly turning away from skilled-labor career paths. Many are seemingly content with temporary or non-staff jobs, in what is referred to as the "gig" economy, according to Alex Carrick, chief economist for ConstructConnect.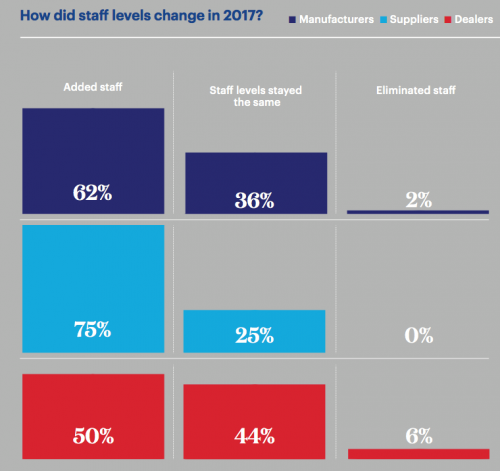 Employers who hired new staff overwhelmingly found their candidates via online job boards—whether generic sites like Monster and Indeed or trade job boards. Many that hired also cited internal referral programs and recruitment/talent agencies as their go-to source for new employees. Hardly any respondents reported using apprenticeship programs to find their new staff members. Job fairs are also waning as a hiring pool, according to our respondents.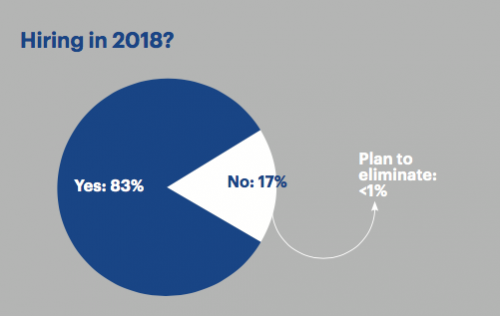 The industry looks to continue its employment growth in 2018, with 83 percent of all respondents reporting they plan to hire in the new year. By segment, 91 percent of manufacturers plan to hire; a slightly lower 84 percent of both suppliers and dealers also indicated they would add staff.
Those that do not plan to hire indicated that their current capacity does not require additional employees. Many supplier respondents also cited a lack of qualified candidates as their main prohibitor for hiring. More dealers than any other segment reported a lack of budget as the reason they would not hire in 2018. Notably, less than 1 percent of all respondents that indicated they would not hire in 2018 plan to eliminate jobs.
Where Jobs are Being Added
Sales
Installation
Manufacturing
Management
Marketing
Administration
Our survey reveals that those who are looking to hire will do so in many different departments, which also indicates they will be hiring multiple employees. All industry segments selected sales candidates as one of the top priorities in the coming year, especially dealers. Not surprisingly, manufacturers are also looking to add manufacturing jobs. Suppliers who indicated they would hire were fairly even across all job categories.
Grassroots solutions
With all this, there are bright spots in the labor market. Schools are beginning to offer trade and vocational options as viable post-grad alternatives, with some states even enacting legislation to require schools to offer those other options. For example, as Window & Door reported last August, the state of Colorado passed a bill that requires high schools to mention trade and vocational schools, along with military service, as options for high school graduates.
In another stride to attract workers to the manufacturing side of the industry, a variety of fenestration companies take part in the National Association of Manufacturer's annual Manufacturing Day, a program that connects students and manufacturers around the country. Veka Inc., Quanex Building Products, Marvin Windows and Doors, and Deceuninck North America all participated in the 2017 Manufacturing Day activities, welcoming students to their facilities for a day of education, factory tours and question-and-answer sessions.
"This is a long-range answer to our labor issue," says Vicki Ham, HR director for Marvin's Grafton facility. "We want to form these students' perceptions about manufacturing in general; to show them the amazing variety of career opportunities in manufacturing, and show the applicability of what they are learning today in math, physics and English composition. We are looking to tie all that together for them."
In addition to students, companies are also utilizing veteran outreach programs. The Manufacturing Institute offers a "Heroes Make America" program that provides accelerated training to assist transitioning service members into careers in manufacturing.
"Veterans' skills easily translate to manufacturing careers," says Carolyn Lee, executive director at the Institute. "They practice teamwork, they are problem solvers and proven leaders. Our goal is to prepare and place veterans in long-term careers in advanced manufacturing. The U.S. manufacturing industry will be stronger than ever if we continue to recruit and retain veterans into our workforce." Launching in early 2018 at Fort Riley in Kansas, the pilot program will be a full-time, 10-week career skills program in partnership with the U.S. Army Soldier for Life office.
Now hiring
Many of the companies that responded to the Industry Pulse survey told us that, despite the labor market challenges, increased sales mean that they are hiring. GPI Millworks is among those hiring in 2018; they plan to add more sales people in addition to the three they brought on board in 2017. In terms of strategies, President Ryan Chapman relates that GPI uses professional placement companies to find skilled sales people and other labor.
One of the Window & Door 2017 Dealer of the Year recipients, Tom Adams Windows and Carpets also added to its workforce in 2017, mostly in service, installation and marketing staff. The company uses an internship program with its installers, "so eventually the intern becomes the installer and he gets an intern," says sales manager Robert Barufkin. "We work with them on insurance, education, transportation, tools, technology—whatever it takes, within reason—to make them successful and grow with us."
Barufkin reports that Tom Adams is finding more immigrant American workers are willing and aggressively working toward these employment goals, and that his company is likewise willing to provide that education and opportunity.
Yet another company with upward-trending growth is Windows Doors & More. There, President Rick Locke says that his company currently has three openings in its Seattle office, along with several others around the country. Regarding openings, he says that the strategy is to use more third parties for installation, warehouse labor and delivery services.
Roto North America, one of the many suppliers that reported anticipating adding staff for 2018, uses a variety of strategies to attract and retain talent. "We engage locally with trade schools and colleges, and retain several recruitment firms to identify personnel talent," says Dan Gray, director of sales. The company has also implemented an internship program that Gray reports "provides a win-win situation for Roto and aspiring employees."
Editor's Note: Throughout 2018, Window & Door magazine will offer a series on the labor market, addressing the various issues and solutions that surround the topic. We will explore the market forces that brought us to the current labor shortage, and turn our attention to the many solutions that companies are using to attract, train and retain quality employees. Topics to be covered include recruiting, onboarding and coaching, hiring and continuing workforce development. Want to share with us your company's efforts to find and develop quality talent? Email Editor-in-Chief Emily Thompson at ethompson@glass.org.
Introduction
A Record Year for Storms
Employment Trends
Sales Trends
Product Trends