Industry Pulse: Economic Insights
In midst of expansion, economists scour for signs of a possible recession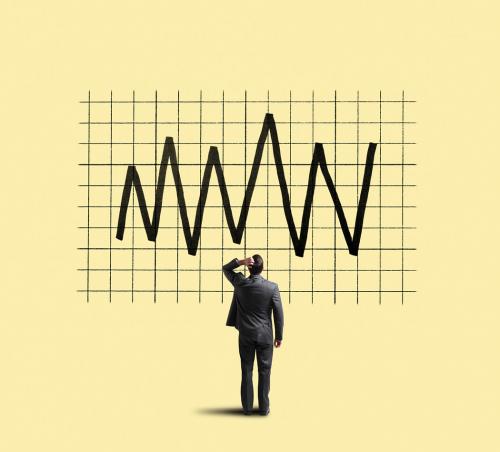 Weighing In | The factors that play into the forecast
One of the challenges of forecasting the economy's path, and that of the housing market, is the host of factors that could knock it off its expected route.
Labor
Paul Bishop, vice president of research for NAR, says one of the ongoing factors to watch in the economy, particularly in housing construction, is the scarcity of labor. "A shortage of skilled labor is currently holding back a lot of builders in their ability to build as many homes as they would like," Bishop says.
Robert Dietz, chief economist and senior vice president for the NAHB, says a striking statistic to note for the window and door field is that labor productivity in the U.S. construction industry has been essentially flat in the past 25 years while overall worker productivity has grown 30 percent. In light of the labor shortage, he says, "we're going to have to find more productive ways of using workers." For those in the window and door industry, Dietz sees a potential opportunity.
"If you can go to a builder and say, 'I've got a more expensive product here, but I can quantify exactly how much labor installation time it will save you,' then that product is going to sell," Dietz says.
Tax reform, trade policy and interest rates
Other factors to watch closely include the impact of tax reform, the evolution of trade policy and the Federal Reserve's decisions on whether to increase interest rates.
For instance, Dietz says the recent tax cuts could encourage businesses to invest more, potentially sparking productivity gains and helping keep inflation in line. However, Bishop notes the tax reform package also reduces the value of the mortgage interest and property tax deductions as tax incentives for homeownership, possibly playing a role in suppressing house sales.
Finally, Mark Boud, chief economist and senior vice president, MetroStudy | Hanley Wood, recommends keeping an eye on the treasury yield spread, which measures the difference between the yields on the two- and 10-year U.S. Treasury notes. "When that yield goes negative, it has been an uncanny forecast for a recession, and it's just about to go negative," Boud says.
As the United States continues to ride one of the longest economic expansions in its history, economists are weighing every new report and measurement to gauge how much longer the country's gross domestic product growth will continue and to forecast the potential impact if another recession rears its head. Integral to the economy's fortunes is the housing market, which proved to be a source of trouble during the recession that arrived in 2008. Today, economists closely follow the housing market and its role in the larger economic climate.
The prospect of a recession
Most economists project the U.S. economy to grow at a solid pace through the end of 2019, but differ on whether a recession likely awaits beyond that point. Mark Boud, chief economist and senior vice president, MetroStudy | Hanley Wood, forecasts a recession could begin as early as late 2020. Meanwhile, Robert Dietz, chief economist and senior vice president for the National Association of Home Builders, says a recession is "more likely than not" to hit before the end of 2021.
Dietz points to labor scarcity as a chief culprit in potentially causing "the economy to overheat, thereby producing inflation." Dietz says long-awaited wage growth is expected as businesses compete in a tight labor market to secure talented workers. However, he says wage growth due to businesses competing against each other for workers—rather than because productivity is improving—tends to lead to inflation, which leads to the Federal Reserve raising interest rates.
Dietz believes higher interest rates will slow growth, including making home-buying more expensive, and eventually lead to a recession. Dietz says any elevation in U.S. trade wars could bring a recession faster.
As it is, Boud says the new trade agreement with Canada and Mexico is expected to move more manufacturing and production into the U.S. It can also contribute to consumer prices continuing to climb because of the added expense to manufacture some products in the U.S., such as automobiles. Tariffs on Chinese imports also will increase costs for consumers, he says.
"Given the fact that the economy is made up of 70 percent consumer spending, we're going to see inflation, which will slow economic growth, and that's a concern," Boud says.
Boud sees a reasonably strong year in 2019—though with growth slowing from 2018—but too many factors point to the economy beginning to limp beyond that. The housing market has some particular challenges, he says.
"Cost inflation is a big deal and tight labor is a big deal," says Boud. "Immigration policy is hurting labor, especially construction labor, and that's a big deal. There are a lot of things that are going against the residential housing industry and all of the building product manufacturers, and it hasn't come home to roost yet. My fear is that it eventually does."
In addition, Boud says the recent tax cut, when combined with "wasteful" federal spending, is building the deficit in a time of a growing economy, essentially "borrowing growth from the next cycle."
"I don't think things fall apart because of these [issues], but I think they are long-term drags on the economy that will take a while to play out," he says.
Paul Bishop, vice president of research for the National Association of Realtors, nar.realtor, is more sanguine about the prospect of a recession. He says the current strength of consumer confidence and the GDP indicate that the risk of a recession is "pretty low" in the intermediate term. "There's nothing that we see on the horizon that necessarily suggests there's going to be a recession in 2019 or 2020," Bishop says. "Of course, it's always hard to predict the turning points in the economy."
Nino Sitchinava, principal economist for Houzz, says economists have predicted the arrival of a recession in recent years, but one is yet to come. "Given the prolonged and unusual nature of the recovery from the last recession, it is hard to say when exactly it will happen," Sitchinava said. "A potentially more relevant question is less about the timing, and more about the causes of the likely slowdown and its impact on the housing and the home improvement market."
Inside the housing market
Prices in the housing market continue to grow at a solid clip, while sales volume has dipped 4.1 percent in 2018, according to NAR. Home prices rose 4.2 percent in September 2018 when compared to September 2017, NAR reports. Bishop says these statistics represent a healthy growth in prices and a more moderate pace than earlier in 2018, when prices were spiking in "a more frenetic" market.
The NAHB/Wells Fargo Housing Opportunity Index measures housing affordability in 237 metro areas. The index peaked in 2012, Dietz says, when 78 percent of new and existing home sales were affordable for the typical family.
The index dropped to 57 percent for the second quarter of 2018, marking a 10-year low.
The chief cause for the decrease in affordability is a lack of inventory, leading to higher prices, Dietz says. Inventories are beginning to rise in response, he says, but rising interest rates are keeping housing affordability, demand and sales volumes subdued. The average commitment rate for a 30-year, conventional, fixed-rate mortgage was 4.63 percent in September, as compared to an average commitment rate of 3.99 percent for all of 2017, according to NAR.
Bishop says current housing price growth represents a stable pace and one that offers helpful predictability for both buyers and sellers. "Even if growth is a little slower than it was a few months ago, it's not overall a bad thing because prices need to be in line with what people are earning to maintain that affordability," Bishop says.
For the near future, Bishop says, ideally, "the housing market should come to some kind of balance again where home prices are rising but not at a pace that causes affordability to be as much of a challenge, even in an environment where interest rates are rising."
Renovation, construction and 'a soft landing'
Sitchinava points to overall home equity levels at record highs, unemployment at record lows, and signs of wage growth as positive signs for the home improvement field. She notes marked differences in today's housing climate compared to the mid-2000s. In particular, today's housing market deceleration is not traced to overbuilding and overborrowing, as it was in the lead-up to the Great Recession, Sitchinava says.
"In fact, the opposite holds true today. With tight housing inventories and high costs of new construction today, homeowners have become increasingly less mobile and more likely to perceive their home as a long-term investment," Sitchinava says. "Furthermore, today's homeowners are mostly older, established generations with significant purchasing power. Finally, half of homes today are over 37 years of age, increasingly requiring improvement and repair. These three factors are important pillars of stability for the home improvement industry. In other words, while a recession is likely in an overheating economy, the home improvement industry should fare relatively well given the market fundamentals."
Boud, Bishop and Dietz generally agree. Boud says current homeowners will be reluctant to move and take on higher mortgage rates as interest rates continue to rise, but "that doesn't necessarily mean the demand for windows and doors goes down—it just gets converted to renovation as opposed to new home purchases."
Boud says he believes strength in the house renovation market, including for windows and doors, will allow for a softer landing for the overall housing market if a recession strikes. "A recession has ramifications for slower global growth or contraction for windows and doors, but it's not nearly as serious as the past cycle," he says.
Regarding new house construction, Dietz says the market could differ sharply between different regional areas in the coming years, though NAHB has modest growth forecast to continue overall for single-family housing. "I think it's really going to depend market to market," he says. "Where the population is growing, being in the new construction sector is going to be worthwhile."
One demographic development to consider, he continues, is that millennials are aging into purchasing homes, and consumer preference surveys show they are seeking single-family homes and a suburban aesthetic, but with walkable neighborhoods. "That's why one of the sub-markets that we're particularly bullish on over the next five to 10 years is townhouse construction," says Dietz.
The bottom line
For those in the window and door industry, a stable housing market can be paramount to a stable business. Fortunately, economists see positive signs that opportunities should remain for those in the fenestration market even if the overall economy falters.
Intro
Employment Trends
Sales Trends & Demand
Tariffs & Trade Policy
Product Trends
Economic Insights