Industry Pulse: Tariffs & Trade Policy
This last year saw major changes to trade policy, especially the metal tariffs placed on aluminum and steel. In light of these new market factors, industry respondents seem evenly split across segments, with exactly half reporting negative effects to business due to these changes, and 38 percent reporting that the policies had no effect. A majority of respondents—60 percent—said they did not plan to alter product offerings in 2019 due to the tariffs. While the industry expects product lines to hold steady, a 93 percent majority of respondents said they anticipated increased material costs in 2019. Across the board, respondents plan to raise prices in order to offset the effects of higher material costs.
What kind of impact do the changes to tariffs and trade policy have on your business?

Does your company plan to alter its offerings due to the new tariffs?

Do you anticipate material prices to increase in 2019?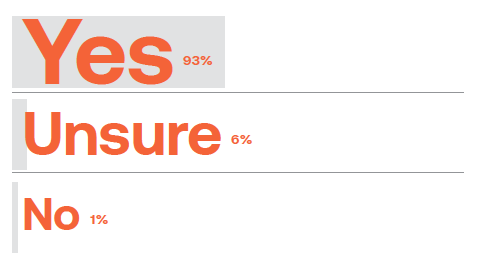 Tackling Trade and Transportation
"The effect of the current trade climate on business for manufacturers and suppliers will be seen in rising costs for imports, which is expected to impact businesses and consumers alike, although in 2018 consumer confidence has continued to climb." —Chris Dimou, president and CEO, Roto North America
"Rising material costs along with the rising costs of labor and regulations will continue to negatively impact affordability and growth in the industry. As these costs continue to rise, homeowners will continue to look for more affordable options available to them." —Rachel McKinnon, director, market intelligence, Marvin Windows and Doors
"The simple fact is that the current trade climate is causing uncertainty—and no one likes uncertainty. Raw materials that builders depend on are fluctuating in price, and importers and supply chain experts need to be staying on their toes. We do know that 2019 brings an increase in tariffs from 10 percent to 25 percent on Chinese imports, which is likely to cause some more heartburn. We'll be keeping a close watch on the situation as 2019 progresses." —Ric Jackson, director of government relations, Quanex Building Products
"It's really becoming more of a science to work with the transportation industry [regarding freight]. It's a very competitive market for truckdrivers—their hours have been limited and then, so has their income potential. Now, with more and more regulations on the trucking industry, it's going to be a tough issue for the foreseeable future. That's why Veka is working with a certified logistics provider to supplement our own planning process." —Joe Peilert, CEO, Veka Inc.
Intro
Employment Trends
Sales Trends & Demand
Tariffs & Trade Policy
Product Trends
Economic Insights