Sizing Up the Competition
Insights into the dealer segment of the fenestration market
To better understand the current climate of the window and door dealer sector, The Farnsworth Group, partnered with the Window & Door Dealers Alliance, to conduct a benchmarking study measuring the sales, trade association interest, value propositions, and business confidence of window and door dealers, wholesale dealers, lumber and building material dealers, and window retailers/replacement dealers. What follows are some key takeaways from that study.
Business Composition
Of the dealers surveyed, 60 percent are sole proprietorships, while 19 percent are partnerships. Other ownership structures such as LLC, investor and corporation are all far less popular in this sector. Most owners in the industry are hands-on, as 95 percent of respondents said owners are involved in day-to-day operations.
Window and door dealers are an enduring, mature group—59 percent of dealerships have been in business for 25 years or more, and 52 percent of respondents are over 50 years old. The industry is also overwhelmingly male at 80 percent of dealers surveyed.
Editor's Note: The aging population and lack of diversity within the entire fenestration industry are issues that are well documented in the context of the labor crisis at large. Window & Door magazine offers resources and commentary on the subject through its ongoing Workforce Development series. The WDDA is also committed to facilitating solutions-oriented conversations through its networking events, and live and distance-learning education opportunities. Learn more about upcoming events at wddalliance.org.
Product Mix
The benchmarking report also queried dealers about the variety of products each business sells. The results suggest that dealers tend not to specialize in certain products within the window and door category. Nearly all sell a combination of both windows and doors, with just
4 percent selling only windows and 1 percent selling only doors. Additionally, 72 percent of dealers sell both interior and exterior doors, while 26 percent sell only exterior and 1 percent sell only interior.
Vinyl windows hold the most market space, with 88 percent of dealers selling vinyl windows, compared with those selling wood (46 percent) and aluminum (36 percent). Vinyl also has the largest share of window sales, averaging 63 percent of window sales across all dealer types. In terms of entry doors, fiberglass is the most commonly stocked, with 75 percent of dealers selling fiberglass doors. Wood and vinyl doors are less common at 46 and 34 percent, respectively.
This product mix may change as the strong housing industry continues to build more homes at a higher price point and fewer entry-level ones.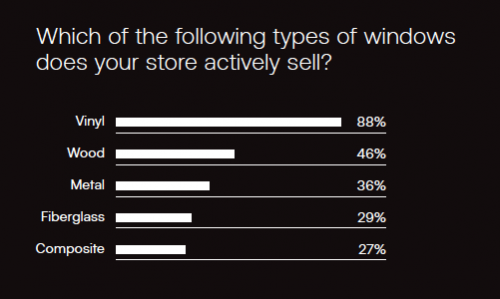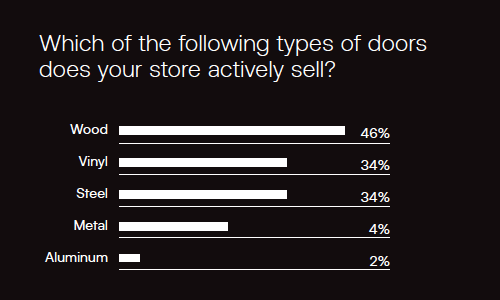 Business and Sales Models
When respondents were asked to estimate which customer types make up their sales in terms of percentages, the average dealer said homeowners account for 52 percent of sales; builders comprise 33 percent; and remodelers, just 10 percent. Architects do not represent a large customer pool, making up only 3 percent of sales for respondents.
Despite the rise of e-commerce, showrooms are the most popular marketing method at 42 percent. Other top methods of sales and distribution are in-home/on jobsites at 35 percent and by phone at 17 percent. Only 14 percent of dealers surveyed sell online, but that number is increasing.

Differentiating Factors for Dealers
While over half of dealers reported increases in sales over the last quarter and expect increases in the next year, the study found that some dealers might not be doing enough to stand out from the competition. Considering that the study also revealed that the mean number of direct competitors for a dealer is 12, it is especially important to distinguish from the competition.
However, those that claim service or quality as a differentiating factor are not alone: 64 percent of dealers claimed service as their value proposition and 49 percent claimed quality. While service and quality are competitive necessities in this market, the habit of emphasizing service and quality weakens the impact of these statements on customers.
This indicates there may be an opportunity for dealers to devise better ways to express unique value to customers. Dealers should consider the additional value, support or experience their businesses can provide and distinguish themselves by communicating how their quality or service is superior. Think beyond terms of quality and service and consider specific ways to add value for customers.
Compounding the necessity to differentiate, competition also overlaps in geographic areas. The study reveals that 45 percent of respondents focus their sales efforts in a 50-mile or less radius, with 38 percent focusing efforts on a 51- to 100-mile radius, and only 17 percent with a focus beyond the 100-mile radius. Do you know all the competitors within your 50-mile radius?
Industry Engagement
As a group, window and door dealers are not involved in industry trade associations. But the lack of interest may be due to a lack of awareness: 37 percent of dealers said they weren't aware of any trade organizations. Dealers might become interested once they know more about associations. In a sector where many dealers don't know about trade organizations, the study found that the WDDA has achieved broader awareness.
Editor's Note: As an initiative of the National Glass Association, the WDDA's mission is to represent the interests of retail, wholesale and installing dealers of new and replacement windows, doors, skylights and related building products. The WDDA is the only national business organization advancing the interests of independent window and door dealers.
The WDDA offers peer interaction, delivers relevant, timely information and aims to help window and door dealers' bottom line by securing cost-cutting services with leading brands such as FedEx and UPS. The Alliance is also dedicated to extending its members' marketing capabilities through educational forums.
The WDDA commissioned this study in order to provide members and potential members insights into the market at large. By studying the norms and standard practices of the industry at large, the intent is for dealers to be able to identify where their business lands in the scope of the competition and recognize opportunities for growth. For more information on the study or the WDDA, connect with Katie Gregg, associate director of industry and member engagement for the WDDA, at kgregg@glass.org.