Machinery Integration
Three keys to successfully adding new equipment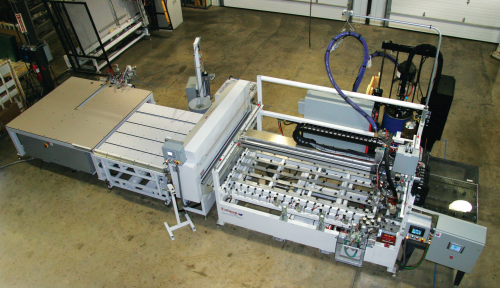 Realize how fast operators can supply and take away finished product. Faster production may require more floor space. (Image courtesy of Erdman Automation Corp.)
In order to successfully integrate equipment, it's critical to think through every piece of the process. It starts even before specifying equipment and soliciting quotes. The first step is to identify the problem the equipment will solve.
Improved ergonomics, enhanced craftsmanship and/or increased production output are all good examples of issues machinery can solve. Make sure you have a strong understanding of what your problem is and what solution you require.
To find the best solution, you need to identify the exact problem, which will help narrow down the type of equipment that will help your business. Once you've taken this critical step, there are three keys to making implementation successful.
Key #1: People
Assign a project manager as soon as possible. Assigning accountability on the front end goes a long way to ensure the project stays on track. This person will act as a liaison between your company and the machine builder. The project manager will be responsible throughout the entire process of machine integration; including conceptualizing, quoting, purchasing, providing needed product drawings and samples, as well as training.
On that note, prior to training, it is a good idea to work with operators to ensure they understand that there really is a need for the machines. Ask your operators what options they think would make their jobs easier or more efficient. Show them that you value their input by taking it into careful consideration.
Getting your operators on board is much easier at the start of the project than at the end. It is very difficult to be successful if your operators think the equipment is unnecessary or acting as a replacement for existing personnel. Operators should have a clear understanding of the challenges the machinery helps overcome.
Try to get a feel for the level of machine complexity your operators are capable of running. Over-sophisticated equipment often goes unused. Additionally, spend some time observing where operators like to keep their tools, their patterns for loading and unloading products, and where existing parts/hardware are. Pick locations they are accustomed to. Rapid change with no operator input is frequently accompanied by an unwelcoming attitude.
Finally, make sure to have a dedicated maintenance person work with the installation technicians. This dedicated point of contact will be able to get the installation techs what they need to do the installation efficiently. Your maintenance person will learn how to run and maintain the machine by working closely with the technicians.
Consider recording the machine training session provided by the installation technicians. Your machine builder will supply a machine manual of course, but recording the training session will provide easy access to the specific information your team needs in the future.
Key #2: Capabilities
Consider not just the overall footprint of the machinery but also the area required around it. (Image courtesy of Erdman Automation Corp.)
It's obvious that you need to make a detailed layout to be certain your facility is capable of housing the equipment, but it is easy to forget some details that can become a headache later on. For example, be certain that your facility can service the utility requirements of the equipment. Do you want your electricity to run overhead or on the floor?
Consider not just the overall footprint of the machinery but also the area required around it. Consider the following questions:
Will you have room to open electrical boxes and maintenance doors to access the machine?
Is your ceiling high enough to accommodate the tallest point?
Are you being mindful of obstacles (columns, stairways, aisles, etc.)?
Is there enough room for product carts and product presentation?
Did you lay out additional units like supply pumps and bowl feeders?
Are your facility doors big enough to receive the machine?
If any of the above answers are "no," the machine builder needs to be aware during the design phase. Most likely, they can split the machine frame easily at the front end of the project, but it is difficult and sometimes impossible at the end of the project. Overlooking any of these details may lead to some unwanted plant renovations.
Another consideration: if you are trying to increase production output, will your ancillary equipment be fast enough to keep up with a new piece of high speed equipment? Your production can only go as fast as your slowest piece of equipment.
Also, consider how fast your operators can supply and take away the finished product. Faster production may require more floor space to store the finished product. It may be necessary to revamp your shipping and receiving schedules so you can move the product at an increased rate.
Key #3: Communication
The key to success is being upfront with the machine supplier regarding any potential challenges you expect to encounter. The overall integration of your equipment will go much smoother if you face these issues head-on. Sugar coating challenges, such as out-of-tolerance product, leads to unexpected costs at the end of the project and extended delivery times.
You and your machine builder should be on the same page about the problems you are trying to solve and the agreed-upon solutions. Supply complete product drawings and samples throughout the project. Provide variety and plenty of product during machine set up, debug, run off and installation to ensure your machines can accommodate everything you are planning to run.
No matter what type of equipment you need to manufacture products to the best of your plant's ability, these three keys are universal.
Read more about the three critical areas of production to consider before integrating new machinery.