Managing Growth
How one window manufacturer navigated incremental growth with its processes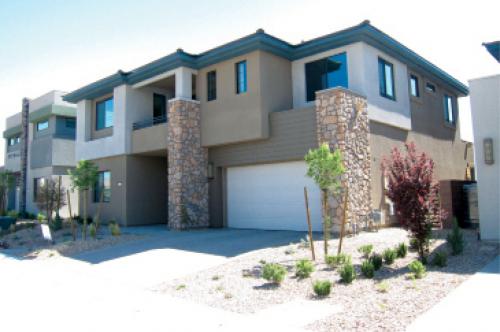 One of Avanti's many finished projects in a Las Vegas community. The company installs and manufactures its windows. (All images courtesy of the author.)
Editor's Note: One of the top three challenges our manufacturers consistently report is the struggle to keep up with the tremendous demand for products in this current growth spurt for the industry. Window & Door identified one of our Top 100 Manufacturers that's been climbing the list over the past three years and asked the company to share insights and strategies on how it has navigated this particular challenge.
Dustin Petty, president of Avanti Industries, believes that the key for any business to manage growth is through experiencing growth, recognizing where an organization lacks customer-centric processes, and making a commitment toward continual improvement of the processes created. Here, he shares the particulars of that process.
The Avanti operation revolves around what the window industry generally refers to as the builder-direct approach; a model in which the window manufacturer controls the process from start to finish, by both building and installing windows for the customer. A customer-centric focus and the return of home building in the U.S. has accelerated Avanti's growth, allowing the company to earn a large portion of the market in Phoenix, Tucson and Las Vegas.
Built upon the relationships with big homebuilders that founder Jerry Petty had fostered over decades as a window distributor, he launched Avanti Industries in 2014 with his wife Beverly and son Dustin. Avanti now serves 19 of the Big Builder top 30 national homebuilders. The success has come quickly, with the Avanti team focused on managing what has become a top vinyl window and door systems manufacturing operation, experiencing over 32M in revenue in 2017, nearly doubling its gross sales in two years. Avanti's ability to manage the tremendous growth relies heavily on processes.
A customer-centric approach
You must first experience growth before you can properly learn to manage it. Growth and the processes that help to wrangle it fall victim to the old chicken/egg dilemma. For Avanti, the key was to become comfortable growing first and circling back to manage with proper processes second.
Admittedly, that is a tough dynamic to learn and, generally, an uncomfortable one to anyone concerned about their processes. It's hard to focus on processes when you are unsure where your next payroll is going to come from. Impressive operations with great processes likely took decades to develop and have full-time staff dedicated to the effort; a sign that good processes take time and considerable bandwidth to bring to fruition.
However, big companies that have decades of process development under their belt also tend to run the risk of becoming too far removed from what matters. As someone responsible for running a business that is customer-facing, the fact that you are even concerned about proper process puts you ahead of the game when compared to even the largest of our peers in the industry. Once you have a sustainable business, you are in the best position to affect the greatest change with your processes.
Recognizing where you lack customer-centric processes is key. A good organization needs to have a process for everything: how sales tickets are written, managing the loading and unloading of trucks, even what it takes to make sure the office has coffee.
While necessary for day-to-day operations, those are not the most important processes. Empower your team to build processes so that those day-to-day items do not get in the way of your company's growth. This leaves time for you, as a leader, to focus on the most important processes—that is, those that ensure you support the critical catalyst of growth: customer service.
Customer-centric processes are difficult because they often go against what is easiest for your operation and its people. Most organizations fall victim over time to instituting processes that tell a customer how they ought to conduct themselves when they are buying from the company; a simply fatal mistake.
Focus on what you are going to do to ensure that priority number one is satisfied at every turn, not what is easiest or most convenient. Examples include ensuring that you build quality product, deliver on time, and numerous others; all centered around making it easy for your customer to do business with you.
When you are keeping the customer happy, you are properly managing your growth. The bonus is that having a happy customer also fuels the future of your operation. If you take time to embrace the growth and continually support your customer with great processes, you will build a cycle of continued growth and prosperity.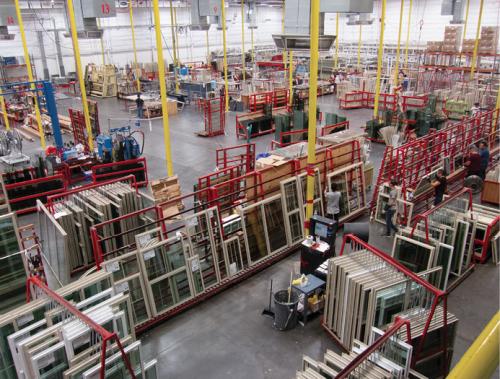 Once customer-centric processes are in place, Petty advises leadership to circle back often and focus on where the team falls short. Where things find their way through the cracks indicate where you have room for improvement.
Building the methods
It is difficult to build good processes out of the gate; it is impossible to build great ones. Excellent customer-centric processes are extremely difficult to create as they take tons of focus and effort, two resources that are often scarce in a rapidly growing company.
The key to implementing great processes is to get good processes in use and commit to using them until you determine how to make them excellent. They also need to evolve over time as you and your team become more familiar with the dynamics and lessons that come from doing something the same way day-in and day-out.
It is important to follow the something-is-better-than-nothing approach. Get process version 1.0 out there and in use by your organization and ensure everyone sticks to using it. While this version will not be excellent out of the gate, it's difficult to determine where you can improve if your team doesn't make the commitment to stick with the process.
Once these customer-centric processes are in place, make sure to circle back often and focus on where your team falls short. At Avanti, we do this daily. Where things find their way through the cracks indicate where you have room for improvement. Identifying these holes allows companies to massage good processes into great ones.
The key to both managing and fueling growth is to grow first, then build customer-centric processes that you and your team commit to using. It takes great effort to identify and build those processes and put them in use. It takes even more effort to constantly review the processes by listening to your people and their input, which ultimately promotes the evolution and continued buy-in for the organization. Finally, doing so with a steadfast focus on placing the customer first will ensure continued growth of the company.