Big Doors, Big Installs
Manufacturers and dealers work together to install large-format doors
Above: An Andersen Architectural Collection large-door install in progress. (Image courtesy of Andersen Architectural Collection.) Below: Mountain View Window & Door prepares to install a door in Colorado. (Image courtesy of Mountain View Window & Door.)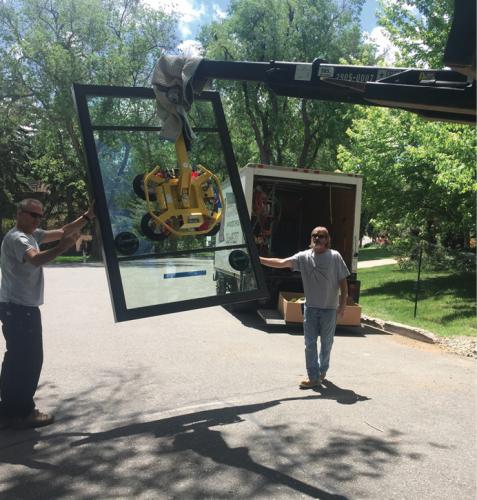 Successful Partnerships
What do manufacturers and dealers need from each other?
Understand the importance
"Realize how important it is to get this right. There's no such thing as an inexpensive mistake in this market segment."—Steve Donner, director of big door sales & installation, Andersen Architectural Collection
Provide a technically proficient contact
"Establish contacts at the manufacturers who are familiar with installation. Find someone who has done this work and understands the process." —Michael Nied, Architectural Specialist, Grand Openings
Respect the process
"The installer needs to look at the complexity of the project and give it the respect it deserves. Once the product is out of our hands, they have to take that baton gently and move it across the finish line."
—Tom Vosicky, creative director and marketing coordinator, Panda Windows and Doors
Build a platform
"Find the needle in the haystack. Every job is different, you have to build a platform to tee up that needle in the haystack."
— Devon Tilly, owner, Mountain View Window & Door
Manage the partnership
"We want to look at this as a partnership between the dealer and the manufacturer to make this work for the end user. Specific communication—with not much left to be interpreted—is helpful."
—Benji Hershberger, vice president of customer care, PGT innovations
Get everyone involved
"Everyone involved—installer, builder, architect—should meet to evaluate everything from the finished floor to the transition and flashing. I communicate the order to the factory properly and the manufacturer delivers the product to us properly and in a timely manner." —Michael Nied, Architectural Specialist, Grand Openings
Set expectations
"Education is the key, people don't know what they don't know; set realistic expectations with the customer and be clear and honest about the negatives and the positives; make sure there are no surprises at the end."— Tom Vosicky, creative director and marketing coordinator, Panda Windows and Doors
The residential market demand for large-format doors is healthy. Product trends in the Window & Door 2018 Industry Pulse survey revealed that multi-panel doors ranked second only to vinyl windows both for products in demand in 2017 and anticipated new launches in 2018. At the same time, the installation process for these heavy, expansive products is more exacting than it is for traditional, standard-sized doors. In response to this challenge, manufacturers and dealers are working together to ensure that the installation process goes as smoothly as possible, resulting in a product that performs in accordance with design and test standards.
Industry insiders agree about the need for quality installation in these products. "The specifying and ordering of large door systems can be an onerous task," says Jon Sawatzky, director of product and marketing, Loewen Windows. "The installation needs to be precise to have these systems operating and performing at their best." Devon Tilly, owner at Mountain View Window & Door, concurs, saying, "Specialty tools and knowledge are required to install these bigger units properly."
Window and Door magazine talked with big door manufacturers and dealers and asked them to share their best practices to plan, engineer and execute a quality installation that ensures the best possible outcome for the homeowner. They also offer insights about how they can help each other succeed along with their take on what makes a seamless project.
Communication
Not surprisingly, both parties agree that communication is critical in a successful install. Open, clearly defined channels of relaying information in advance bodes well for the project. Mountain View's Tilly and his team hold a "locker room" meeting before an installation, to establish a game plan, address any specific challenges and talk about how potential problems will be handled.
Proactive communication helps to avert jobsite issues. A representative from Weiland Sliding Doors, an Andersen Corp. company, contacts the client to confirm who the installer will be, determines what experience they have and offers additional training if necessary, relates Steve Donner, director of big door sales and installation at Andersen. "We also offer a configurator software to generate install instructions specific to each door," Donner says. "Install guides can then be printed in advance or accessed onsite via phone or laptop."
Solid communication along the entire supply chain can ensure a quality outcome. Grand Openings installs everything the company sells. With a large, multi-slide project, the staff communicates with the builder even before framing is complete, to ensure that important factors such as waterproofing are in place and that all necessary tools will be available on the site. "If we do it right on the front end, the back end goes smooth," says Michael Nied, Architectural Specialist at Grand Openings.
Mark Montgomery, vice president of marketing at Ply Gem Industries, also cites early interaction between the manufacturer and dealer as crucial for success. A homeowner and architect may have a specific solution they want to achieve with an expansive opening, he says. The manufacturer can provide input to engineer that solution but needs information to do so. Then, he says, elements like the slab and the planned overhang all become part of the engineered design. "Getting us involved on the front end ensures that when we install the door, it's correct," Montgomery says.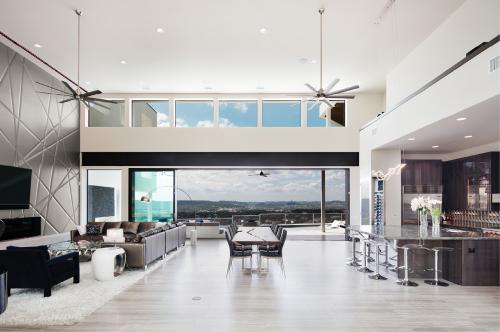 Guido Construction installed this LaCantina Doors large-format door in a Texas custom home. (Image courtesy of Guido Construction, photography by Dror Baldinge)
Education
Quality training for installers is a pivotal element in a successful project. Manufacturers know all about this and offer that training with methods ranging from written specs and plans to face-to-face classes and jobsite visits. The key is getting the information in place so that the right people get it at the right time.
A mix of formal certification and informal site visits can help create a well-rounded body of knowledge. Loewen Windows requires that the dedicated installers in its dealer network are certified to install its systems. Along with this, the company makes it a point to inform new customers and dealers through exposure to in-process projects. This helps them understand how things really work onsite and what they can expect in terms of packaging, quality, aesthetics and required labor to perform the installation, explains Sawatzky. "It also gives them a chance to connect with other architects, builders and customers to learn what their experiences were," he says. "They often pick up tips and tricks when this happens, which helps everyone develop trust."
Donner's team offers installation training including documentation along with in-person sessions. "Those installations are so much more successful, when we have been involved in the training process," he relates.
PGT Innovations operates PGT University, with training centers at each of the company's facilities, featuring products installed in openings. Dealers and partners can choose classes from a recurring calendar, with new options added as products are introduced. If it's necessary, PGTI trainers will take their training on the road, using conference centers for the classes. Benji Hershberger, vice president of customer care, says, "We go onsite on a case-by-case basis. We use a job-specific engineering program if the situation requires an alternate configuration."
Grand Openings Architectural Specialist Michael Nied takes advantage of certification offered by his manufacturer partners. He finds these manufacturer certifications provide confidence for his customers, keep dealers on the cutting edge of installation trends and techniques, and can deliver a competitive advantage. "They can be 100 percent confident in our work," he says.
Technology plays a big part for Mountain View Windows & Doors. As part of his company's training and education outreach, owner Devon Tilly creates YouTube videos that illustrate installations on a variety of projects, along with a number of other topics. He and fellow staff create the videos, which are then posted to the company's website. Of the videos, Tilly subscribes to the notion that, if a picture is worth 1,000 words, then a video is worth 1,000 pictures.
Material handling and logistics
Handling and moving large, heavy panels is a challenge. Managing a successful handoff of the materials from the factory to the jobsite can be complicated, as the dealers/installers may not have access to the same equipment that a factory does.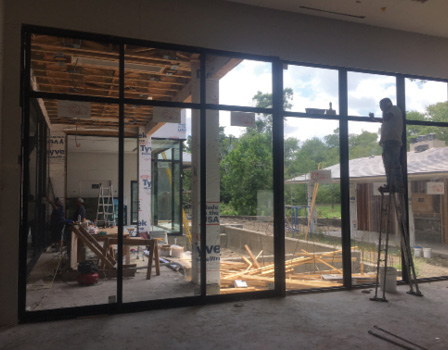 Above, below: Grand Openings installed this Western Window Systems product in Texas. (Images courtesy of Grand Openings.)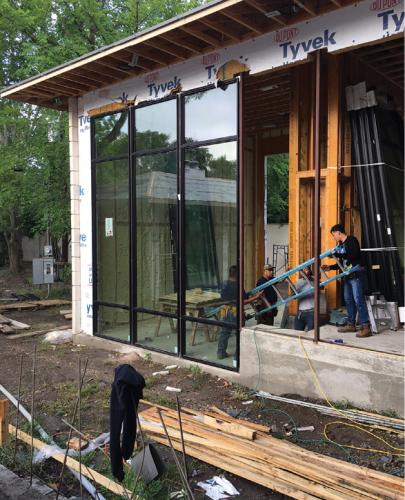 Hershberger welcomes the opportunity to share best practices around material handling. He relates that a 12-foot tall, 5-foot wide panel can weigh upwards of 600 pounds, making jobsite handling difficult. "They have to move them and manipulate them on the jobsite, and we have to move and manipulate them at our facility," he says. "In terms of material handling and working together, maybe there's some synergy that could be had by coming together."
Echoing that sentiment, Nied shares that one of the most difficult aspects of an install is the logistics of moving the 600-pound panels. "(Factories) have cranes and suction cup lifts," he says. "I have a bunch of guys that have to carry this stuff."
Ply Gem's Montgomery acknowledges that the sheer weight of the products makes it tough for dealers to be able to handle it in the field. They may ship a large door knocked down, so that the installers assemble panels onsite. "This way, they are not handing 12- to 16-foot door panels out of the back of a truck," Montgomery says.
Consumers have spoken, telling our industry they want to use these big doors to integrate their indoor and outdoor spaces. Manufacturers are answering that call, providing a steady stream of bigger, stronger products. Their partnership with dealers and installers is more important than ever in order to close the loop and ensure that the finished installation lives up to the promise of the product.