Plant Safety 101
Creating a culture of safety and preventing injuries in the manufacturing facility
Editor's Note: In the Trenches is a new column from Window & Door where we'll delve into all angles of the issues from the factory floor that matter most to manufacturers and fabricators. Have a suggestion for a topic? Email ethompson@glass.org with your comments, thoughts and suggestions.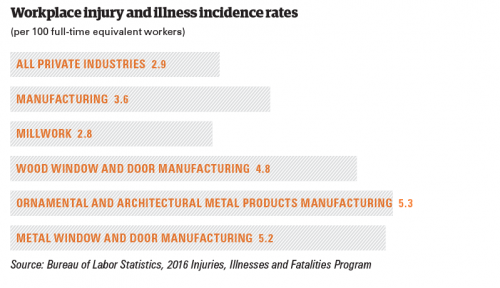 According to the Bureau of Labor Statistics, the window and door manufacturing industry reports higher-than-average incidence rates for workplace injuries. In 2016, the wood window and door manufacturing segment reported an incidence rate of 4.8 injuries or illnesses per 100 full-time workers, while the metal window and door manufacturing segment reported an incidence rate of 5.2, according to BLS. This is higher than the total injury and illness rate of 2.9 for all private industries, and 3.6 for all manufacturing.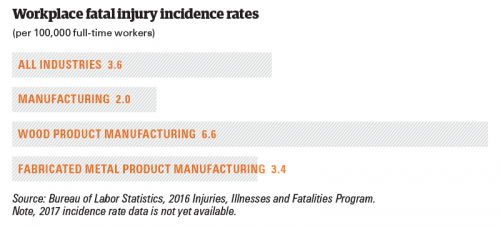 Best Practices
Employers should…
• Create a workplace safety committee
• Hold regular safety meetings and trainings
• Create an Emergency Action Plan, per OSHA regulations
• Complete regular walkthroughs to ensure compliance with OSHA safety standards
• Create and implement a clear injury response program
• Create case management procedures when injuries happen to reduce time lost and hasten recovery
• Document and analyze near misses
• Establish reporting procedures for unsafe behaviors
• Clearly mark aisles and keep them clear
• Create safety protocols for visitors
• Provide visitors and non-full-time personnel with brightly colored vests
• Train employees to use and maintain equipment for welding or heating/melting
• Ensure proper ventilation if employees are exposed to paint fumes
Employees should…
• Follow all safety procedures
• Participate in all safety trainings/education
• Hold other employees accountable for following safety protocols
• Follow reporting procedures when unsafe behaviors or incidents occur
• Be aware of visitors or non-full-time personnel who are in their work area
Looking at workplace fatalities across industries, 5,190 workers were killed on the job in the United States in 2016, a seven percent increase from 2015. This marks the third consecutive year of increased workplace fatalities, and the first time that the number of fatalities has exceeded 5,000 since 2008. The rate of fatal work injuries per 100,000 full-time workers in 2016 was 3.6. By industry segment, other wood product manufacturing, of which wood window and door manufacturing is a part, saw 28 fatalities at a rate of 6.6 per 100,000 workers, above the average rate across industries. By contrast, fabricated metal product manufacturing, which includes metal window and door manufacturing, experienced a lower-than-average rate of 3.4 fatalities per 100,000 workers, with a total of 41 fatal injuries.
Workers most at risk of suffering injuries across industries include older employees. Workers age 55 and over had 1,848 fatal injuries, according to BLS, which is the highest reading since the beginning of national data collection in 1992. Out of all age groups, this segment experiences the highest number of fatalities, representing 36 percent of all fatalities. New employees are also at higher risk for injury, according to Mike Burk. Mike Burk, North American technical representative, Sparklike. "New people don't know where they're walking or going [in the plant], or what safety gear is required," he says.
To prevent accidents and keep employees safe, workplaces should establish a safety culture that combines training with enforcement. Safety training should begin on day one of employment and continue on a regular basis, Burk says. Additionally, management officials should make it easy for employees to report unsafe behaviors, carefully investigate accidents or injuries when they do occur, and track near misses, he says.
General plant safety
Ensuring worker safety in a window and door manufacturing environment means creating a culture of safety. Creating that culture depends on implementing safety policies that are consistently enforced and holding workers accountable if policies are not followed, sources say. Everyone on a factory floor—from management to workers to visitors—plays a part in creating and maintaining a culture of safety.
"Creating and maintaining a standard safety protocol tailored for each workstation and job is imperative," says Bill Briese, research and development/engineering manager, GED Integrated Solutions, who emphasizes "training, training, training for each specific job." Briese also agrees with Burk that special consideration needs to be given to new employees.
Burk recommends having direct, one-on-one conversations with employees every time they are seen to ignore regulations. Companies should establish consequences of not abiding by safety protocols and must enforce those consequences.
Companies could consider a two-strikes safety policy, Burk says. "Employees get one warning. On the second warning, they're gone," he says, acknowledging that the labor shortage makes it hard. Suspension policies are another option, in that case. "In some facilities, you get a day suspension without pay," Burk says.
An area that requires particular care for window and door manufacturing facilities is the transport, delivery and storage of glass between the fabricating equipment and workstation. Briese says safety measures should consider if the insulating glass unit is properly secured to the sling or rack, and if the glass rack is properly sized. "How many racks or pallets of product can be stacked on each other?" is a question Briese would want a safety policy to answer. "Can you clearly see the forklift or crane coming your way, and can the forklift or crane operator see you?"
Burk also emphasizes the importance of analyzing near misses. "Examine situations where no one was hurt, but they could have been," says Burk. "Take it to your production meeting every morning. Get everyone looking at those near misses, so everyone can look for [similar] circumstances."