Strategies for Hardware Selection
Patio and entry door manufacturers need to focus on the critical demands of their targeted market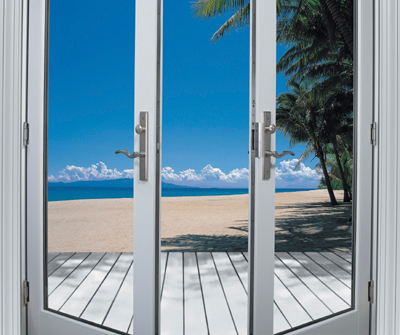 Hardware plays a key role in the look of an entry or patio door.
Given the current market weakness, many window and door manufacturers are preparing themselves for a slow and competitive recovery cycle. Many are turning to hardware manufacturers for help. Component suppliers can offer a variety of solutions, of course, but the best answer for each manufacturer will depend greatly on the market it serves.

A common response to a weak window and door market is to look for cheaper hardware in order to reduce cost and become more competitive. This can be risky no matter what market segment is targeted. Hardware plays a critical role in how a patio and entry door functions and performs. In addition, the type of hardware used can greatly influence the end customer's perception of quality and value.
In targeting lower end markets, manufacturers understandably focus on superior cost efficiency in the design and production of their patio and entry doors. It is a common myth, however, that low cost hardware necessarily translates into lower overall costs for the manufacturer. Service calls that result from the use of inferior quality components quickly erode any perceived cost advantages. Even a suppliers' limited lifetime warranty will not protect a manufacturer from expensive service calls, because it typically covers the component only.

The cost efficiencies of low-cost hardware can also be quickly lost when suppliers have long, inconsistent lead-times or lack the necessary flexibility to react quickly to shifting demands. Rather than simply looking for the lowest price components, the most successful companies in the lower-end categories cut away everything that does not add significant value for their customers. Lowering costs without lowering the quality and perceived value of the product is the goal.
As an example of this approach in hardware selection, a manufacturer might want to reconsider the use of stainless steel components. Stainless steel has grown increasingly common among all types of windows and doors. Yet it is approximately three times as expensive as mild steel. Even so, some manufacturers that produce doors for mid-range or low-end markets use stainless steel locking hardware on all their doors. They do this even when it is clear that the door will not be installed in a coastal environment. For applications where corrosion resistance is not a predominant issue, these manufacturers might be better served by a mild steel hardware product that will perform well for many years. There may be no added value to the end user in using more expensive stainless steel components.

This approach will not work across the board, however. Stainless steel locking hardware might be a prerequisite for companies that target upper-end to high-end market segments–regardless of where the door will be installed. Their doors also need additional features that consumers value in order to distinguish their products from the low- and mid-range. Regardless of the market served, however, most manufacturers want to find ways to enhance appearance, performance and functionality of their patio and entry doors.

Working with the right hardware supplier can be beneficial in all these areas.

Hardware plays a key role in the appearance of a patio and entry door. Some high-end customers prefer a more traditional look and others a more contemporary one. Tastes are different, but these customers demand a choice. They also expect consistently high quality. For example, they want the finishes of different hardware components to match perfectly, something that may not be as critical in lower-end products. Whatever markets they serve, manufacturers need to work with hardware suppliers to determine what is critical to the targeted customers and then decide what options will satisfy the different tastes and quality demands of those customers.

Since doors experience high usage, functionality is very important. Consumers prefer intuitive functionality to open or close a door, without sacrificing the benefits of multipoint locking hardware. Adjustability is a must, in order to ensure the functionality of all the categories of patio and entry doors. Different levels of humidity make wood doors swell or shrink, and the installation is not always perfect. These factors are hard to control for a door manufacturer. Adjustable hardware, such as hinges and strike plates, are helpful in making it possible to fix a situation relatively easily without incurring a tremendous amount of cost.

Safety and security are also very critical features, especially for the upper- to high-end market. Locking points that provide a positive interlock, such as hooks that engage behind the strike plate, can address these safety and security issues far better than locking points that compress the door in only one direction against the weather seal.
Another important element in meeting customer standards is the durability of the trim finish. Handles and trim will be exposed to a large amount of wear and tear. Rings can scratch a handle and damage the surface. The surface may then start to react to its environment and tarnish or discolor. During the last two decades, suppliers have developed many different methods to protect finish hardware from environmental influences, such as salty air or ultraviolet light. The most successful method worldwide to protect finish hardware is the physical vapor deposition process. The PVD process creates metallic vapors in a vacuum, which allows the deposition of metallic compounds on the component through the introduction of reactive gases in the vacuum chamber. In the past, only gold colored finishes could be applied with this method, but now other finishes, such as brushed silver finishes (similar to nickel) and dark bronze finishes (similar to oil rubbed) can be applied with this process.

Manufacturers need to be aware, however, that not every PVD finish is equal. The methods of electroplating, cleaning and degreasing are very critical as well. If these processes are not properly controlled, the PVD coating will not deliver the desired results.

History has proven that manufacturers that market their products between the low and high end can feel tremendous pressure from both sides. This can be the toughest position to be in when demand crumbles, because this large middle range category shrinks faster than the upper- and low-end markets and experiences a longer recovery cycle. Typically, mid-range manufacturers find their prices are not low enough to compete with low-end producers, while on the other hand the features of their products are not significantly distinguished enough to compete with products from the upper-end to high-end market.

In an increasingly competitive environment, now is the time to rethink products and find the competitive edge for a successful future. Hardware choices can be a key to support efforts to successfully market a finished patio and entry door.
Rudy Kessler is president of Winkhaus North America Inc., the U.S. arm of the Winkhaus Group, based in Whitewater, Wis. The company manufactures multipoint door systems for sliding and swinging doors in a variety of finishes. Founded in 1854, its German parent is a leading producer of window and door hardware, as well as automated systems, serving the European and other global markets. More information is available at www.winkhaus.us.com or by calling 262/472-8800.