Lessons from Irma
Part 2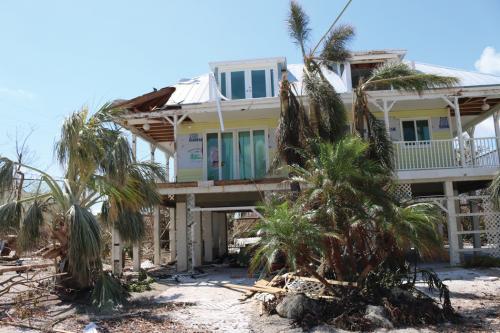 In the Florida Keys, this newer home suffered extensive windborne debris impacts during the storm due to the widespread structural failure of an adjacent, older home. (Images courtesy of the author.)
Editor's Note: This article is the second installment based on a presentation Dean Ruark delivered at the American Architectural Manufacturers Association 2017 Fall Conference in Greenville, South Carolina. Read part one in the March/April issue or online at windowanddoor.com/May2018. Ruark also wrote a blog about his experience, available at aamanet.org/blog.
In the March/April issue of Window & Door, we discovered that, as long as they're enforced, it seems that the codes are working to sustain damage from the destruction of hurricanes, such as Irma and Harvey that hit parts of the U.S. and Puerto Rico last fall. In this last installment of Lessons from Irma, part two of the series, we'll take a look at some of the harder lessons from the storm, including ASTM test standards and water intrusion.
Last fall, I joined engineers Lynn Miller, Robert Beaird and Erin Koss from PGT Innovations to assess structural damage caused by Hurricane Irma with a focus on windows and doors. We toured heavily impacted areas in the Florida Keys on two occasions, as part of a study led by the University of Florida, to examine the impact of Irma on buildings and infrastructure throughout the state and visited the area a third time with FEMA for additional analysis.
As we spent more time in the area, news traveled around that we were looking into damage—particularly damage to windows and doors. We began taking calls from homeowners with reports of damage, as well as testimonials of success. We also received calls from other engineers working on damage assessments, which pointed us to areas with fenestration damage that enabled us to gather useful data on the types of failures seen in some of the heaviest hit areas.
It's never an easy task to survey damage after a hurricane, especially one of the magnitude and intensity of Hurricane Irma. The damage can feel overwhelming. Many structures collapsed—many of which were wood-framed homes that couldn't withstand the wind and windborne debris. For such structures where there is very little left, it is hard to understand the root cause of the failure. However, what follows is what we did learn through research and experience.
New ASTM criteria should be revisited
ASTM recently loosened impact test standards and protection requirements for the Florida Keys. Until mid-2014, ASTM E1996 required that areas in Wind Zone 4, including the Keys, meet the same strict requirements as the High Velocity Hurricane Zone that covers Miami-Dade and Broward counties. These stricter requirements demand that windows be tested for multiple large missile impacts—a center-of-glass impact as well as a corner impact—and for large missile impacts to the framing.
The recent changes to the ASTM standard makes these requirements nonmandatory. However, we saw real-world results in Hurricane Irma's aftermath in the Florida Keys where windows and doors took major debris impacts to window framing members as well as multiple debris strikes to the glazing. We saw types of impact that pushed beyond the way that most windows are tested.
We will continue to share our findings and our post-Irma data with the industry, researchers and regulators, and ensure we discuss impact and pass/fail criteria in vulnerable areas like the Florida Keys. We also recommend specifying and choosing products that adhere to Miami-Dade County protocols, which require doors and windows to be tested for multiple impacts, both glazing and framing.
It's time to look at water intrusion
In homes that survived and fared well structurally, the biggest issue reported was water intrusion that caused damage to the inside. The impact windows and doors performed as intended against wind and windborne debris. However, Irma's driving winds and rains penetrated.
Residential windows and doors are tested for water performance to 15 percent of the positive design pressure. That water performance rating is not impenetrable to hurricane force winds and driving rains.
Our industry needs to look at the opportunities from a product, testing, certification and installation standpoint for better performance in resisting wind-driven rain.
This is the next step in the evolution of hurricane products. First, we made products to keep the home safe—to protect the occupants and the structure. Now, we need to look at the secondary priorities and face the next set of challenges.
As we come together to rebuild, we must continue to collaborate to generate new and better ways to prepare for the next storm. It has been gratifying to see how impact-resistant windows and doors helped limit windborne debris destruction. However, our work is far from over.
In the 25 years since Andrew, we've made tremendous progress keeping families, homes and business more secure, and we remain focused on developing products to withstand some of the toughest conditions on earth.