Surviving the Busy Season
Dealers keep up with demand even as labor issues take a toll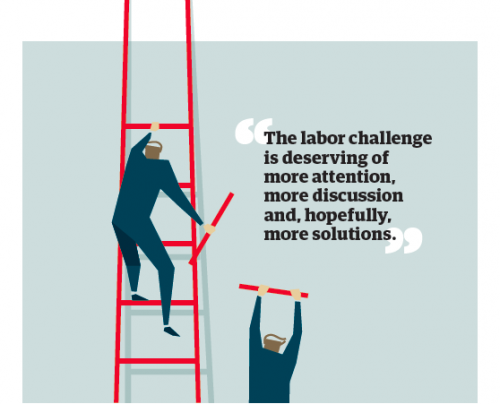 Spring is well underway and has brought with it renewed energy and focus—a good thing, seeing as Window & Door Dealers Alliance members find themselves in the midst of their busy season. If the conversations I've had with our members are any indication, dealers are experiencing thriving market conditions and an industry poised for prosperity. I'm told there are more products on the market than ever before and sales are expected to continue a positive trajectory through 2018.
This optimism, however, is tempered slightly by labor issues, as dealers continue to struggle to hire and retain talented employees. The lack of skilled labor presents a challenge in the execution of ever-increasing sales plans, our members report.
Dealers are tackling this challenge with both practical and creative solutions. Our members are getting involved by educating schools and helping them to promote their trade and vocational options as viable post-grad alternatives. Other dealers are appealing to the practical side of potential employees by advertising valuable and enviable benefits. And others yet are offering complimentary training to enhance the skills of new employees and provide a clear path for career advancement.
At WDDA, we are poised to guide our members through these obstacles and through their busy sales season with additional resources. One is the new and exclusive dealer edition of Window & Door's Industry Pulse report that highlights information that matters most to dealers, including a housing outlook, and trends in products, sales and employment. We are also pleased to introduce distance online learning opportunities as a new member benefit. These complimentary webinars are a convenient way for members to receive education that addresses their top challenges. The first opportunity is launching on May 8, when presenter Madeleine MacRae, MM MacRae Consulting & Coaching will focus on making your busy season count.
Looking ahead, WDDA members and industry dealers are also encouraged to join us Sept. 13 in Las Vegas for Window & Door Dealer Day to continue the conversation on the labor challenge and other topics including business operations, sales and marketing. For more information and registration details, visit wddalliance.org/window-door-dealer-day.html.
The labor challenge is deserving of more attention, more discussion and, hopefully, more solutions. WDDA continually strives to uncover what dealers just like you are doing in an effort to share best practices and ideas that can advance the industry. Do you have a fresh perspective or best practice to share? Send your solutions to kgregg@glass.org—I look forward to hearing from you!