Top 100 In Perspective
Acquisition-driven growth remains a primary strategic initiative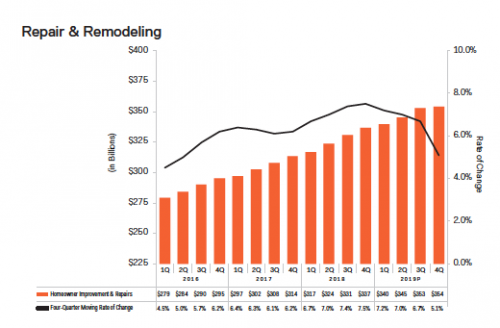 Source: NAHB, JCHS. (Charts provided by the author.) Click to view larger images.
2019 Acquisitions of Note
Acquisition pipelines are active, with recent transaction announcements signaling continuing consolidation.
Jeld-Wen announced the acquisition of VPI Quality Windows in March, a move to extend its reach into the multi-family window market, establishing a platform for growth. VPI will add approximately $60 million in annual revenue.
The deal follows on the heels of an active 2018, with three acquisitions: $275 million revenue American Building Supply, a supplier of value-added millwork services in the U.S.; Australia-based A&L Windows Pty Limited, a manufacturer of residential aluminum windows and patio doors to the first-time home buyer market; and Domoferm International, a €100 million revenue manufacturer of steel doors and frame systems in Europe.
Marvin completed the acquisition of SIW Windows & Doors, in January 2019. SIW manufactures impact-resistant windows and doors for the high-end residential and commercial markets and will expand Marvin's coastal window and door capabilities.
Economic expansion and positive momentum in the housing market are driving a high level of strategic merger and acquisition activity in the residential building products industry. The fenestration market is no exception. Acquisition-driven growth remains a primary strategic initiative, with valuation premiums paid for assets that bring portfolio diversification, margin expansion, and access to new markets.
Illustrative of this trend and a barometer of current aggressive market conditions,
NCI Building Systems
purchased
Ply Gem Industries
for $3.1 billion in November 2018, and
PGT Innovations
acquired
Western Window Systems
in August 2018 for $360 million. Both were considered transformative deals that significantly enhanced the growth and margin profiles of the acquiring businesses.
PGTI diversified its geographic footprint and solidified a market-leading position in several fast-growing Western states, establishing a growth platform in the region. PGTI also broadened its portfolio offering, gaining an entry into high-end, niche non-impact products to become a national leader in the premium window and door space. NCI gained a market leader with the number one position in vinyl windows to create a leading North American exterior building products platform serving commercial markets as well as residential new construction and remodeling.
These valuations are in line with the broader M&A market in 2018 where strategic acquisition was supported by a strong capital markets environment in which competitive lending dynamics increased borrowing capacity. Further segmentation highlights a size premium, with deals above $500 million garnering a 10.3 times multiple of EBITDA, 9.1 times for values between $250 and $500 million, and 8.5 times below $250 million in value.
Private equity drives consolidation
While the industry has undergone consolidation over the past decade, the competitive landscape remains highly fragmented and comprised largely of regional and local manufacturers. Eight companies are estimated to have annual sales of at least $1 billion, according to Window & Door's 2019 ranking of the top residential manufacturers, which compares to 65 companies with estimated sales of $100 million or less, the majority of which are privately-held or family-owned businesses. As consolidation in the industry is expected to continue and larger players seek acquisitions to leverage scale efficiencies, smaller companies may find it increasingly difficult to remain competitive.
Private equity will continue to drive industry consolidation. Fragmentation provides a foundation to make strategic tuck-in acquisitions—where a larger company completely absorbs another, usually smaller, company and completely integrates it into the acquirer's platform. And, sponsors are aggressively pursuing acquisitive growth for current investments. Sponsors with aging portfolio investments will look for opportunities to monetize assets with current favorable market conditions likely to drive more sale activity. For example: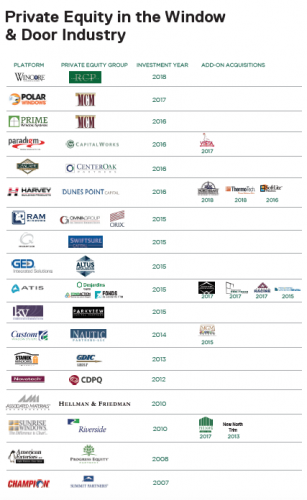 Clayton, Dubilier & Rice paid for a take-private of Ply Gem Industries in April 2018 for an enterprise value of $2.26 billion. Concurrent with the acquisition, CD&R then merged the company with Atrium Windows, which would secure a dominant position in the U.S. window market. In October, Ply Gem acquired the Silver Line vinyl window and patio door division from Andersen Corporation for $190 million. Assets included Andersen's hollow-vinyl window and patio door business and the Silver Line and American Craftsman brands which generate in excess of $440 million in annual revenues. The move adds scale to its national residential windows platform and balances its exposure to the repair and remodeling and new construction markets.
Harvey Building Products, backed by investment firm Dunes Point Capital, announced two acquisitions in 2018—Northeast Building Products in November and Thermo-Tech Windows and Doors in March. This move marked three tuck-in acquisitions in the last two years. (Harvey acquired Soft-Lite Windows in 2016.) NBP sells its line of vinyl windows and doors in 14 U.S. states. Thermo-Tech manufactures vinyl new construction and replacement windows and sliding patio doors for residential and light commercial applications in the Midwest. Both acquisitions represent product line and geographic expansion opportunities for Harvey, which has a dominant footprint in the Northeast.
Looking ahead
2019 promises to be another active year, with buyers aggressively pursuing acquisitive growth to increase scale, market position and profitability. Macro indicators point to continued near-term growth, as modest gains in housing starts and repair/remodel expenditures are predicted. The National Association of Home Builders projects 2.1 percent growth in total housing starts for 1.27 million units in 2019 and 2.6 percent growth in 2020. Continued, albeit slower, growth in repair/remodel activity is forecasted, with spending decelerating to 5.1 percent from 7.5 percent in 2018. Spending is expected to surpass $350 billion in 2019.
Author's Note: Sources for this article include S&P Global Market Intelligence, NAHB, JCHS, Window & Door, equity research, company filings and public data.