GlassBuild America "a Pleasant Surprise"
Attendance holds up well in weak economic environment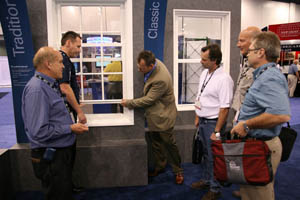 Las Vegas—As the stock market tumbled, GlassBuild America: The Glass, Window & Door Expo, enjoyed a surprise success last week, as more than 8,000 attendees came to the convention center here. "All the exhibitors at the show were concerned about turnout this year given the down economy," said Mike Hovan, president of Edgetech IG, one of the event's largest exhibitors. "However, the show has surpassed 150 percent of my expectation. Attendance has been great and all of us in the booth have been swamped from the moment the show opens to the moment the show closes."
"We are so pleased with the turnout this year," said Denise Sheehan, VP of industry events for the National Glass Association, organizers of the event (and publisher of Window & Door). "We had 9,000 or so visitors registered to come this year, with 8,000 of them actually coming and walking the aisles--it's definitely a sign of the current economic times that not everyone was able to join us this year, but we had 8,000 decision-makers in the aisles and a lot of happy exhibitors."
Last week's WDweekly report highlighted some of the activity at the show, including considerable discussion among attendees looking to get ready for new, more stringent Energy Star requirements. That kept the booth of Edgetech, which featured an educational theme and experts helping manufacturers with questions on such topics as testing and certification requirements, particularly busy. Truseal Technologies, which offered detailed information on proposed Energy Star numbers also attracted numerous attendees, but suppliers of all types of products were reporting "a good show."
"It was the best show I've ever had," said Glasslam's Steve Howes. He reported said there was "huge interest" in the Sudden Impact system for manufacturing impact-rated IG units with only two lites of glass and several sales of the equipment line.
Chelsea Building Products featured a variety of new color and woodgrain finishes for its profiles, as well as a new composite sash reinforcement that enables windows to provide both high structural performance as well as good insulating value. In discussing the expanded design offerings, Chelsea's Gary Hartman noted that for extruders, value-added options have long been a "push rather than a pull" as many window fabricators have been hesitant to take on added options and features. "That's changing," he continued, echoing the sentiment of many suppliers in Las Vegas. "More fabricators see the need to differentiate."
Equipment
GlassBuild America typically features more window and door equipment when it's held in Atlanta, but the Las Vegas edition did see its share of new offerings. Greller & Co. featured its four-point welder as well as a new single-head CNC corner cleaner, which Pat Greller said was the first to use linear rather than rotary servo motors. The change speeds movement of the tools, shortening cycle times about 30 percent, depending on the profile, he noted.

Greller featured a new CNC corner cleaner.
Joseph Machine Co. unveiled its new equipment design for sash welding and cleaning using a pass-through process. The system incorporates an automated four-point welder with preloader. A gantry system moves profiles from the pre-loader to the welder and also transfers the welded squares automatically to a four-point cleaner. The firm's Chris Cooper reports the new line is capable of producing 1,000 squares per shift, while requiring only one person to operate and only 308 square feet of floor space.
Erdman Automation featured its IG secondary sealer. Morgan Donahue noted that typically automated machines for this process are part of European vertical lines. The Erdman line is horizontal and provides a cost-effective alternative for manufacturers with horizontal IG lines to automate this process.
Hardware
GlassBuild featured a host of new hardware offerings. Vision Products displayed a variety of products designed with features that speed manufacturing, according to the company's Luke Liang. A new balance system designed by the firm can be loaded into the frame much more quickly than other models, he noted. Not as new, but continuing to gain in popularity is a vent latch that clicks in place easily, speeding fabrication, he also noted.
Roto focused on its complete line of hardware in a new larger display at this year's show. "We're emphasizing partnering, as well as our worldwide resources," noted Greg Koch. The company has gradually expanded its offerings and now offers a full-range of both North American and European hardware options.

Roto emphasized the breadth of its product line.
Truth Hardware was showing a new, smaller automatic sash lock, as well as a new multipoint system and expanded cover and handle options for its casement hardware. Noting that manufacturers were increasingly looking to add new features to their products, Truth's Matt Kottke also reported that the company's Fusion System combination sash lock/tilt latch system was being adopted by more companies.
Ashland Hardware Systems featured a variety of new trim set options. It also promoted its concealed multipoint system. Tim O'Dell, the company's door product manager noted that the concealed multipoints offer maximum performance but minimize the appearance of metal on the door edge, preserving the beauty of the wood door. The product is enjoying momentum in the market, he noted, because the fact that it uses less material translates into an attractive price, while it also adapts to custom door heights easily as well.
Caldwell Manufacturing featured new high performance Mega Lift sash balances. Doug Zinter, product marketing manager, noted that the line is geared more for commercial products, but both new impact ratings and higher end customers requesting heavier (more glass) products, has meant they are finding a place in the residential market. Changes in the residential industry – Energy Star especially, and the likely need for triple glazing–are creating new needs, he reported.
John Evans' Sons displayed a new side-load constant force balance system, offering a side-tilt rather than traditional tilt function. The company's Edward Jones noted that the system is designed for vinyl, but it's also being requested for aluminum products by customers that offer both.
Software
This year's show also featured a strong contingent of software suppliers. Friedman Corp. promoted the latest version of its Frontier software that features a brand new interface, as well as a new visual configuration and service management modules. TDCI, which offers BuyDesign front-end systems, recently added some new dealer-related components, including Web elements intended to be accessed by the consumer. TDCI's Daniel Demeuth noted that the latest version of its system also provides new tracking features that allow manufacturers to watch trends from their customers, and better anticipate customer needs.
Making its GlassBuild debut was NetAppsID, which offers the Victor ERP system for window and door manufacturers. Alain Ackad said the Canadian company was looking to broaden awareness of its product. "The advantage with our workflow is that everyone gets to see what everyone else is doing – it reduces human error," he stated.
GlassBuild America is organized by the National Glass Association and co-sponsored by the American Architectural Manufacturers Association, the Glass Association of North America, the Insulating Glass Manufacturers Alliance and the Bath Enclosure Manufacturers Association.
As noted, most exhibitors expressed satisfaction with the show, and organizers have already started making plans for the next edition of the event, scheduled for Sept. 30 to Oct. 2, 2009. Show management reports 168 exhibiting companies signed up while in Las Vegas for nearly 100,000 square feet of exhibit space for next year's GlassBuild America in Atlanta. More information on that event is available at www.glassbuild.com.