Synthetic Millwork Continues to See Gains
Suppliers say cellular PVC and urethane products are poised for more growth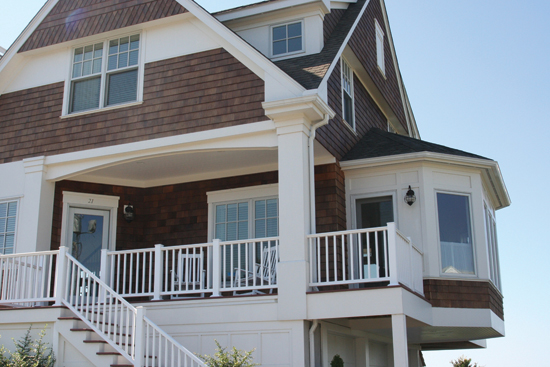 Trim and moulding products such as these from the Azek line allow homeowners and builders a way to add a unique look to the façade.
Synthetic millwork and trim may cost more than traditional wood, but companies pushing the product see it continuing to gain market share. While the housing downturn may be slowing that trend, these suppliers see more builders and remodelers making the change in the long run.
Cellular PVC millwork and trim products, which started out eight to 10 years ago as a "novelty," have become the biggest trend in the industry in the last two years, according to Greg Wolf, marketing director for Fypon Ltd.

"What happens next is a shift in market share," predicts Mike Kunard, business development manager with Azek Building Products. "Wood is still the majority, but cellular PVC was less than 1 percent of trim in 2001. It's probably at 12 percent now."

"Composite materials continue to take more and more market share and the trend to 100 percent cellular vinyl is growing even more," notes Tim Dykstra, Royal Mouldings. "This trend is being driven by performance and field experience of many different materials and applications."

Wolf reports that currently synthetic products account for about 14 percent of all millwork and trim sold, and although tightening financial realities have shrunk the changeover rate from its 21 percent high, he says the trend is still overwhelmingly upward due to reduced waste and increased practicality of non-wood products.

"The trend is conversion from traditional wood to synthetics, particularly PVC flat trim," Wolf says. "It all depends on the knowledge and experience of the individual builder. Those who can do it love it. When a trim carpenter puts it through a saw, it's like the light bulb goes on."

Synthetic product suppliers have long touted the low maintenance characteristics of their products, including their resistance to moisture, rot and insects. They are now talking about enhanced looks as well. "PVC gives the look of painted wood, not that super-high-gloss plastic," notes Kunard.
"In our woodgrain pieces the mold is cast from pieces of real wood to achieve authentic woodgrain patterns and the unique characteristics inherent to each piece," Wolf says. "Coupled with the product's low-maintenance aspects, these features make urethane woodgrain mouldings appealing to homeowners and building industry professionals."

HURDLES STILL OUT THERE
While synthetics are gaining, suppliers admit there are hurdles in the market, including higher cost. "I know it's a tough call—balancing the benefits with keeping costs down," Wolf says. "Waste is a big issue in calculating the true cost of having trim on a house," he adds, however. "Builders have split wood pieces; they are taking a gamble when they put that on a house that the split will continue."

Wolf adds that with homeowners tending to opt for white trim, PVC allows them to skip the painting step and offers a sealed, moisture-resistant material that is still easy to paint if the buyer so chooses. He also notes that when housing starts were way up, the cost of wood shot up and PVC didn't carry such a large cost gap. With the market continuing to settle, wood prices are back down and that price gap has returned. However, he did not go so far as to predict a reversal of the move to PVC.

These suppliers must also address issues emerging with green building—as the "plastics rather than wood" mentality can seem counterintuitive to those with an eco-friendly mindset. "Nine times out of 10, the first thing in a builder newsletter is something related to green," Kunard notes. "It is a player, and it will be a fixture in the market for the next 20 years."

"We're not trying to greenwash our product, or pretend that synthetic is green," Wolf says. "There's a lot of talk about green building, and we've seen synthetic manufacturers make a case for green. We're just trying to tell it the way it is." By recycling materials and looking at soy-based materials for future use, synthetic producers can be good environmental stewards, Wolf points out. "The sustainability of PVC is the best angle, versus second-growth wood with a lifespan of maybe seven years," he notes. "Like a vinyl-clad window or door, PVC can last the life of the home."

NO CEILING IN SITE
"The largest trend we are seeing in trim and exterior millwork is in the space around windows and doors," notes Royal's Dykstra. "Today most well designed homes are built with high-energy, low-maintenance vinyl or other type windows. This also holds true for replacement. Each customer is looking to lower their monthly bills and grow their home's resale value. Windows are a good start, but visible value gain is with decorative casings and build outs that catch the eye from a distance and separate your home from the mass produced look most have. We are seeing not only remodeling take hold of this trend but new construction, especially in the custom home area. Builders want to separate themselves the same way the home owner themselves do."

Kunard sees ample opportunity for synthetic manufacturers to grow their piece of the pie. "Even if the housing crisis means the whole category shrinks, we can still grow our portion of the market as people change from wood to PVC," Kunard says. "This is true even in areas where the price of wood is down and the price of resin is up."

"This trend isn't going to change," Wolf adds. "More and more people are getting into the game, and when we ask builders if they see the trend continuing, more and more say yes."

Suppliers say that same sort of conversion will happen as a focus of the remodeling market. "We're positioned in the right place; remodeling is the right opportunity for us," Kunard says. "You have someone who has dealt with the drawbacks with maintenance of a wood-based product. We hear, 'we have to paint it every few years,' and other comments that draw from people's personal experience with wood-based products."

Wolf predict that the next trend in millwork and trim would be not a new product or material but a change in the way companies look at installation of their product. "Installation isn't the problem—the product is fairly straightforward—but where we fall short is the programs that help a remodeler show what the house will look like with new trim, those visual aids," Wolf adds. "These tools, which already exist for windows, doors and siding, are what we'll need to develop."

Kunard agrees there is no "next generation" of millwork and trim coming down the line; and also suggests it will be enhanced programs and increased awareness of synthetics that will enable them to gobble up a greater slice of the pie. "We are seeing a lot of opportunities to continue to convert the market," he concludes. "There is a cap. I don't know what it is, but we're a long way from it. The future is robust."
Further evidence of the changing moulding and millwork market is evident in a change in the association serving this industry. Read this sidebar to learn more.