Cheers to Excellence
Dealers of the Year recognized at Window & Door Dealer Days
Innovative Enterprise
Weather-Tek Windows & Doors
A focused, strategic approach to serve numerous market segments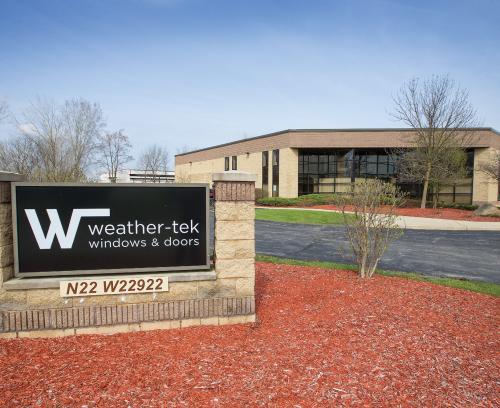 Weather-Tek has an 8,000-square-foot showroom with display groups featuring a variety of manufacturers and teams of dedicated specialists grouped around market segments. (Images courtesy of Weather-Tek Windows & Doors.)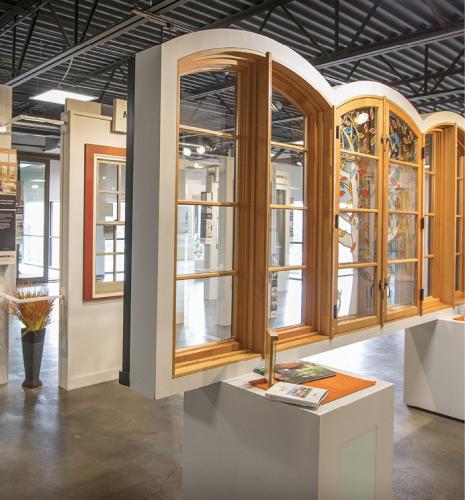 Weather-Tek has undergone a transformation into the super-store category, as it creates a dominant market presence with multiple major brands serving all market segments, including trade sales, production builders, installed sales, retail in-home sales, and commercial sales.
Award-Winning Takeaways
• People are the key to success. Traits that attract talent and build a reputation are honesty and being direct.
• Embrace change and be willing to try new things. It takes upfront investment and learning, but that's how the company is innovative, Patchin explains. "They talk to people who are already doing something well."
• "No one aspect of vendor relations is the most important," Edberg says. "We are on the same team. Meeting regularly to make sure our goals are on track is an important part of our relationship."
In recent years, Waukesha, Wisconsin-based Weather-Tek Windows & Doors has undergone a transformation, creating an organization with multiple major brands serving market segments. The company sells into the trade, production builder-installed, retail in-home, historic renovation and commercial sales markets.
Weather-Tek utilizes a variety of methods to support this fast-moving, diverse business. It has an 8,000 square-foot showroom with display groups featuring a variety of manufacturers and teams of dedicated specialists grouped around market segments. The company also uses a marketing agency to provide strategic direction and guidance and has a disciplined approach to rapid growth.
Weather-Tek utilizes an enterprise resource planning software system to manage the workflow and processes to support this multi-faceted approach. Craig Patchin, principal at Endao, the company's software supplier, sums it up: "Weather-Tek has the power of a united message and united back end." He says that they combine that with a different sales force for each segment.
Mark Edberg, president of Weather-Tek, discusses this business model. "With a history of trade and commercial sales, we decided to put a strong focus on our commercial division to balance our market exposure and grow sales at a perceived lower acquisition and capital cost," he explains.
The company then developed a unique historic renovation segment, and the builder-installed team secured sales from three large volume production builders. Just last year, Weather-Tek had an opportunity to bring a seasoned retail/replacement sales manager on board, so decided to grow into that competitive market segment and hired a team of experienced replacement installers.
"This gives us a diversified sales base to help level out the ebbs and flows of the economy," Edberg explains. "It also makes our company more attractive to manufacturers/vendors in terms of overall volume as well as functional, administrative and technical expertise."
There are challenges of such an encompassing approach, Edberg tells us. These include having segregated management functions, allocating capital and human resources and the physical space needs, and figuring out "who plans the Christmas party," he jokes.
Marketing Model
Weather-Tek works with a marketing agency, Mangold Creative, to provide strategic direction. The time commitment each side puts in to grow the business is fairly substantial, spending what amounts to almost a full day a month together. The firm assists with branding, the website, social media and advertising, and helps maintain a relationship with local trade association networks.
"The company has a 'what's next' mentality; they very much have made a consistent choice to grow a certain aspect of their business, one at a time," Mangold Creative owner Heather Mangold observes. She says Weather-Tek looks at where the opportunities are in the marketplace and puts resources behind those opportunities.
For example, she discusses historic renovation, one aspect of the market that has made a big impact for the company. Mangold explains that there has been a significant push in the historic renovation and revitalization of the city of Milwaukee, especially the downtown area. "Weather-Tek has been a really big part of that community—working with local municipalities and at the state level, the architectural community and developers—to become a real force, and resource, in that area," she says.
For Edberg and his team, innovation evolves around staff strengths, their backgrounds, and making sure they listen to the customer at all levels of interaction—from accounting to sales to warehouse and delivery. He relates that internal innovation can be just as important as external programs, mentioning the company's partnership with both an ERP and their marketing firm to illustrate. "We try to be entrepreneurial every day across all our segments," he says.