Cheers to Excellence
Dealers of the Year recognized at Window & Door Dealer Days
Excellence in Installation
Tom Adams Windows and Carpets
Communication, training and service provide an unmatched installation experience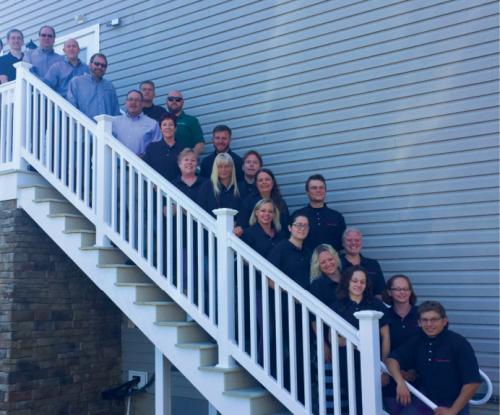 Above: Tom Adams employees at the company's Churchville, Pa. showroom. Below: Tom Adams strives to educate and train its installation teams and provide excellence in workmanship and service. (Images courtesy of Tom Adams Windows and Carpets.)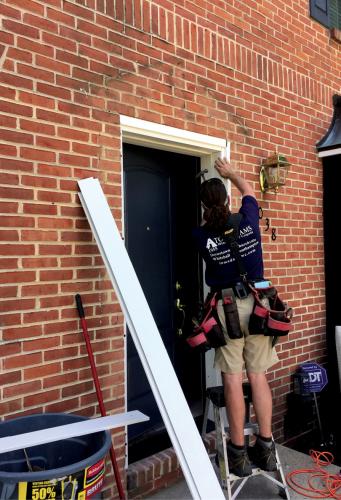 Award-Winning Takeaways
• Emphasize and market your niche. It is imperative to find what you do better than the competition— whether that is lower overhead, better service or faster turnaround—and do it.
• Hire, train and review installations to do the best installation possible the first time. Inspect your own work and reward installers for doing the job right.
• Surround yourself with honest people that share the same values and understanding of your business model.
• Every day is a teachable moment for employees and installers; show them how you want to be perceived in the marketplace by your actions, not just your words.
For sales manager Robert Barufkin, identifying and developing a company's edge—that component of the work that you excel at—is the key to success. "At Tom Adams, our edge has been our people," he relates. "We hire, train and review our installations to do the best installation possible the first time. We inspect our own work and reward installers for doing the job right. We have a mantra, 'do the job right, the first time,' which sounds easier than it really is." Team members follow that mantra from the first meeting and needs analysis of the homeowner's vision to the final phone call, thanking them for their business and asking if they are happy with the work that was completed.
The company has a comprehensive process that ensures every detail and concern is addressed; training, industry certifications and technology are the foundation of that process. It seems to work, as 78 percent of their business is repeat customers or referrals.
The staff works with the sales representative, project manager and home owner prior to the installation team's measurement to ensure the client's satisfaction. Salespeople take photos of the project with tablets, then create a slideshow for the customer of what the completed project will look like.
After installation, the sales representative calls their customer and sends an email to rate each part of the process and team. Less than a five-star rating gets a phone call from the sales manager to investigate what the staff could have done differently. "Customer satisfaction is our goal," says Barufkin.
The company offers a lifetime warranty that covers the cost of labor, which, he says, "forces an installation that will stand the test of time and meet the expectations of the homeowner."
Service trucks respond within 24 hours to any issues the installation team wasn't able to resolve, and the company sends technicians out on service calls for work they didn't initially do. "We go out on our competitor's issues and solve and repair them, at a charge, to meet the customer's needs and earn their business next time they need any of our services," Barufkin explains.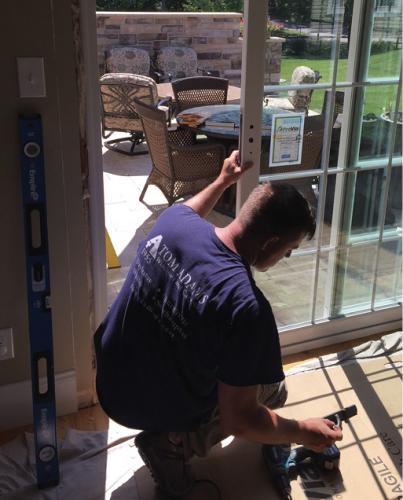 Above: Installers wear Tom Adams-branded apparel to keep uniformity in appearance and to promote its sub-contractors as part of the team.
Training Program
Training is a key factor for Tom Adams. Staff and service teams receive training including AAMA classes, specialty manufacturer training programs, Marvin/Integrity and Provia Window and Door installation classes. "Our project managers are out in the field reviewing completed jobs and taking pictures to use for teaching and explaining to other installers about what our expectations are from an installation," Barufkin says.
The company pursues a variety of certifications; lead safety certifications are renewed every five years, and all AAMA certifications are met prior to a new employee being hired. In terms of voluntary certifications, Tom Adams trains employees on all of the seven manufacturers the company represents, stating that it's imperative to be an expert in each one, in order to be able to offer a lifetime installation warranty.
Manufacturers keep the company updated on installation and product and recommendations, Barufkin says, and remarks that employees read Window and Door magazine to see what is new, and to learn about industry challenges. "At the end of the day, we cannot control the manufacturing of the product, but we can control how we install it," he says.
The all-important manufacturer relationship is yet another piece of the installation foundation. "Communication is the key to our relationships with our manufacturers, from product, pricing and services needed, to enhance our offerings to our customers," Barufkin relates. "We are constantly in communication with the marketing, sales and installation departments of our manufacturers. We take feedback from our installers, warehouse, sales department and office and communicate that with our manufacturers to help both of us be better for our homeowners. Many of our manufacturers help in training our people, whether it is service, installation or sales; we take advantage of their classes, educational meetings, seminars and training as often as possible."
Finding Labor in a Tight Market
It's difficult to have a conversation about installation without acknowledging the labor crisis facing all industries, but especially skilled trades. So how does a company build such a stellar reputation with a limited talent pool?
Barufkin reports that Tom Adams looks to hire installers and pay them fairly for a quality installation. The company reviews their work before they hire and send employees through training based on their needs. Installers wear Tom Adams-branded apparel to keep uniformity in appearance and to promote its sub-contractors as part of the team.
"We look for opportunities to bring our teams, service and sub-contractors together and share the same goals in order to meet our customer's expectations, he says. The company encourages installers to grow their business by hiring of apprentices. "Hopefully, that apprentice grows and eventually becomes a team leader for his installation crew." Tom Adams also hosts an annual contractor day. This "party" is hosted by manufacturers and allows installers to take a day off and learn about new products and installing techniques from suppliers.