Cheers to Excellence
Dealers of the Year recognized at Window & Door Dealer Days
Best Showroom Design
Window and Door Design Center
This Ft. Lauderdale showroom echoes the design tastes of its Southern Florida clientele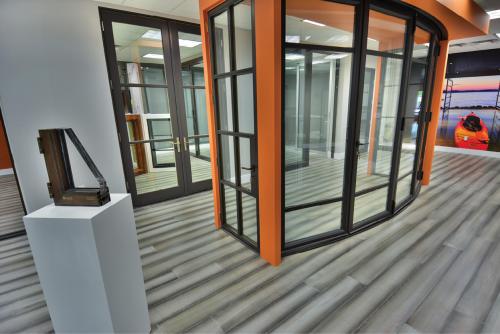 Above: A large walkway allows easy access and operability of products while featuring displays and corner samples. Below: A commercial channel illuminated sign maximizes branding ability in the space. (Images courtesy of Window and Door Design Center.)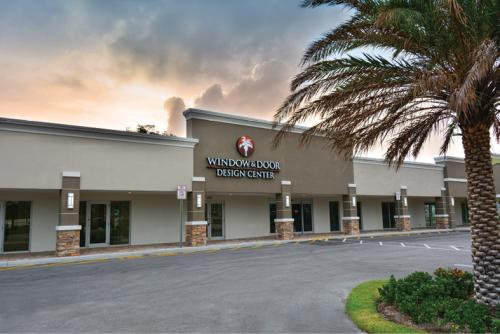 Award-Winning Takeaways
• Allow customers (architects and builders) to utilize the showroom as a selling tool by allowing access to conference rooms for meetings and product presentations.
• The showroom design should reflect what clients are looking for in your region—i.e. a clean, upscale, contemporary look, hurricane-rated products, etc.
• Choose partners carefully. It has to be a collaboration between dealer and the manufacturer. Think of manufacturers as business partners.
With existing locations in Jupiter, Tampa, Sarasota and Naples, Florida, Window and Door Design Center opened a new showroom in Ft. Lauderdale in 2017 to meet the demand of the company's expanding market in the Broward and Miami-Dade area.
The showroom was designed to reflect the contemporary tastes of the surrounding community, as well as to showcase a product mix that caters to both homeowners and luxury home builders. The company has four business segments, including commodity/volume work, a custom home division, an ultra-luxury division, and a separately-branded, in-home window and door replacement line. Each segment is represented in the showroom.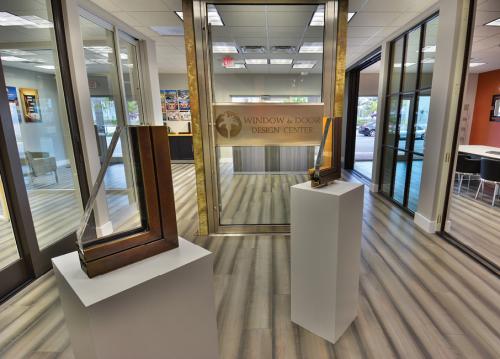 Above: The WDDC showroom was designed to reflect the contemporary tastes of the surrounding community and to showcase products that cater to homeowners and luxury home builders.
Architects, builders and designers can meet with clients and utilize the showroom's state-of-the-art equipment for multimedia presentations and a large conference table to lay out samples and blueprints. A second, more intimate conference room allows for presentations to smaller groups. Guests are welcomed with an espresso, cappuccino or cold water, and kiosks are strategically placed within the showroom to ensure that there is always a space for a sales consultant to lay out brochures and paperwork.
"Many clients have expressed the value of a showroom visit in the remodel or construction process," Scott Brussard, one of the company's four co-owners, says. "One of the greatest advantages of our design studio is the luxury of experiencing contours and dimensions such as riser heights, sliding glass door stacking and frame depths in order to illustrate unforeseen design features common in High Velocity Hurricane Zone-approved products, which are required in Broward and Miami-Dade counties."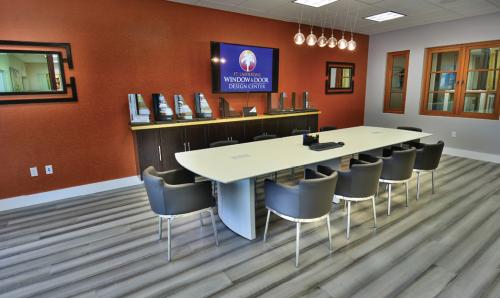 Above: A large conference room, that doubles as a Vivante display room, offers integrated technology and ample meeting space for staff and clients.
The 3,000 square-foot space features sleek lines and an upscale vibe, with cool, neutral colors and interactive experiences that help illustrate the functionality of the windows and doors on display. The sliding glass door display area doubles as a sound chamber to show the sound reduction offered by impact-resistant products, while the product mix includes materials ranging from stainless steel, solid bronze and wood to wood clad, aluminum, vinyl, fiberglass and iron.
"Being able to compare and contrast the weight, texture and feel of these materials also adds to the experience for our clients," Brussard explains. The showroom features products from more than 20 manufacturers, including ultra-luxury brands Brombal and Vivante and Florida favorites PGT, CGI and Windoor.
Manufacturers also appreciate the upscale environment that the showroom offers. "Window & Door Design Center's new showroom expresses their devotion to a market that demands luxury and style while ensuring best-of-class performance," says Dave Behan, CEO of Brombal USA. "They have built an impressive product portfolio from creating alliances with the world's top window and door manufacturers."
Editor's Note: With locations throughout South Florida, Window & Door Design Center was vulnerable to the damaging effects of Hurricane Irma. But, the company and employees weathered the storm with minimal damage. "Our main challenge with the approaching storm was securing all active job sites and then picking up on those jobs once the storm passed," reports WDDC's Elizabeth Dasch. "Aside from losing power for a few days, we are fortunate to have been spared any damage to our showrooms. Now that the immediate danger has passed, we are hoping to help rebuild the most impacted areas like the Florida Keys and the Caribbean."