Environmental Impact
Manufacturers talk about market forces that influence the "greening" of fenestration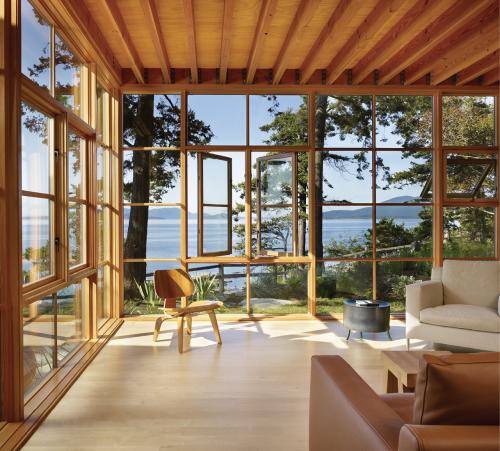 Above: Sierra Pacific Sedona pushout casement and awning windows feature certified and labeled (Sustainable Forestry Initiative) Douglas fir frame and sash. Below right: A Sierra Pacific registered professional forester plants a seedling on SPI-managed forest lands. This seedling will reportedly absorb carbon rapidly, aiding in SPI forest lands' sequestering carbon at almost twice the rate of an unmanaged forest. (Photos courtesy of Sierra Pacific.)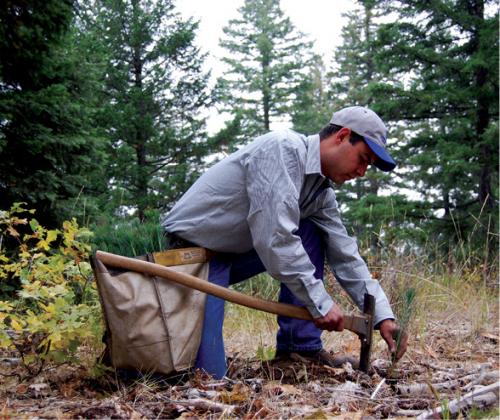 By the Numbers
There's no denying the financial impact that the green market has on the fenestration and construction industries. The 2015 Green Building Economic Impact Study conducted by Booz Allen for the United States Green Building Council finds the green building industry contributes more than $134.3 billion in labor income to working Americans. The study also found that green construction's growth rate is rapidly outpacing that of conventional construction and will continue to rise. By 2018, the study finds, green construction will account for more than 3.3 million U.S. jobs—more than one-third of the entire U.S. construction sector—and generate $190.3 billion in labor earnings. The industry's direct contribution to U.S. gross domestic product is also expected to reach $303.5 billion from 2015 to 2018. "Green building is playing a massive role in the U.S. construction sector, the clean and efficient energy sector and the U.S. economy as a whole," says Rick Fedrizzi, CEO and founding chair, USGBC. "Demand for green building will only continue to grow as individuals, businesses and institutions continue to prioritize sustainable approaches to the design, construction and operations of our built environment." Market research firm Allied Research published a recent report that indicates the global green building materials market size is expected to reach more than $377 million by 2022 from a market size of just over $171 million in 2015.
The word "green" may be one of the most over-used—and misused—in many businesses, but especially in the construction and fenestration industries. Clean technology website CleanTechnicha states that the term "green" manufacturing can be viewed in two ways: the manufacturing of "green," energy-efficient products, and the "greening" of manufacturing—reducing pollution and waste in the manufacturing process by minimizing natural resource use and recycling what was considered waste.
Window and door manufacturers and suppliers encounter a variety of market forces in terms of operating in a green, energy-efficient manner, as well as producing energy-efficient products. The perceptions and expectations of the buying public, the notion of corporate goodwill, and the potential competitive advantage of utilizing sustainable methods each factor into the business decisions that fenestration professionals make every day.
Perceptions
Public perception can be a strong motivator in the industry; customer demand feeds the supply chain.
"More and more owners are starting to realize the benefits of high-efficiency window technology," says Mike Battistel, president of Cascadia Windows, especially considering the growth of movements like Passive House, a voluntary, European-based sustainable house movement. "The public is realizing that windows are one of the key factors leading to poor-performing buildings, and are subsequently demanding more out of companies like ours so that their homes and buildings can be more efficient."
Still, as Sierra Pacific Windows Director of Architectural Sales Andrea White observes, there is an ever-present cost factor for consumers. She observes that homeowners fall into a wide spectrum of environmental concerns, mainly on energy efficiency, and how much they can save by improving thermal efficiency. "While there are exceptions, typically, once the consumer finds out the added cost and diminishing return, they often choose the lower-cost option."
For some, the customer expectations are so embedded into the product that it doesn't warrant discussion. "Most customers expect that their windows will be energy efficient," Josh Williard, product manager with MI Windows and Doors, says. "The talk of 'green windows' doesn't really happen anymore. However, in both new construction and replacement, people expect that the windows are going to help keep them comfortable in their homes and help to keep their energy bills down."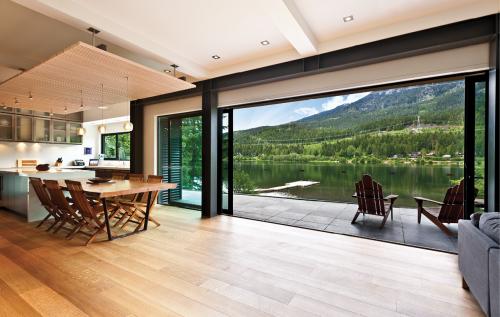 Above: Cascadia fiberglass 303 Series compression seal sliding door (28 feet wide). Below right: Cascadia triple-glazed fiberglass folding door installed at the Vanglo House. (Photos courtesy of Cascadia Windows & Doors.)
Corporate Goodwill
"Becoming more energy cognizant is the right thing to do. If we can help to reduce the energy consumption of homes throughout the country, it will not only reduce their energy bills, but reduce the amount of energy needed throughout the country," says Williard. This notion that a company is "doing the right thing" can be a powerful force. When a company creates, then models, a commitment to "going green," it can be rewarding on a number of levels.
Sierra Pacific's White remembers one of the first times she heard the company's past president share with a group of architects some of the measures they take to support the commitment to being environmentally responsible. One of the comments from the group was how smart to market the company that way, she recalls, to which the then-president replied, "We do it because it makes good business sense, not as a marketing gimmick."
For Cascadia, part of that goodwill is demonstrating to others that it's worth being environmentally responsible. The company has provided windows for some of the highest performance buildings in North America, including the first Net Zero house on the west coast of North America, The Harmony House in Burnaby, B.C., and for the Belmont Energy Retrofit in Vancouver, B.C., which won numerous awards for thermal performance improvements. "Having performed well on these types of projects gives designers the confidence to continue with other similar projects," Battistel says.
Competitive Advantage
There can be a competitive advantage to utilizing sustainable methods and technologies and producing sustainable products. Cascadia's Battistel describes the market, stating that until recently, the high-performance and green building market in North America was not mainstream. "Most of the directly comparable products in our field come from Europe," he says, noting the advantage of doing business in closer proximity to projects in North America.
"Manufacturers with a solid story about their long-term commitment to the environment and sustainability have an undeniable competitive advantage," says White. "There are all kinds of forces at work."
Following energy-efficient practices inside the company can factor into the profitability equation, as well. MI Windows & Doors reports that controlling energy costs allows the company to go to market competitively. "We have gone to LED lighting throughout our facilities to reduce the energy consumption. We also strive to recycle over 95 percent of our waste throughout our plants," Williard says. The company's COO, Mike DeSoto weighs in on the topic, noting, "MI manages active on-going programs to reduce, repurpose and recycle scrap around our operation. This not only saves money, but it culminates in a culture of conscientiousness that transcends into other areas of our business, such as safety and quality."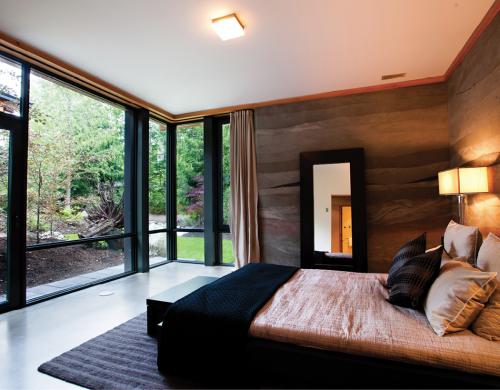 Cascadia fiberglass windows and doors in a rammed earth wall assembly. (Photo courtesy of Cascadia Windows & Doors.)
Other Forces
There are still other issues at play in the green fenestration industry; product durability goes hand-in-hand with sustainability. As Battistel relates, "People are becoming more aware of material properties and their effects on the environment. Not only is it important to use a thermally-efficient product, it is also important to ensure that the product has sufficient durability. People do not want to change their windows every 20 years anymore, so durability expectations are higher."
Speaking to the long-term direction of the industry, he says, "With thermal performance requirements and durability expectations becoming more and more stringent, many manufacturers will have difficulty meeting building code requirements. This will result in fewer manufacturers to select from."
White says that manufacturers will need to evolve in order to address ever-changing market demands to be energy efficient while still providing products to meet the changes in design trends and aesthetics. She cautions about the notion of greenwashing, or spreading disinformation as to appear to be environmentally sustainable. "Consumers really need to dig in to find what merits are behind that claim."