Resilience, Passion Manifest at GlassBuild America
In the wake of Irma, innovation and investment take center stage in Atlanta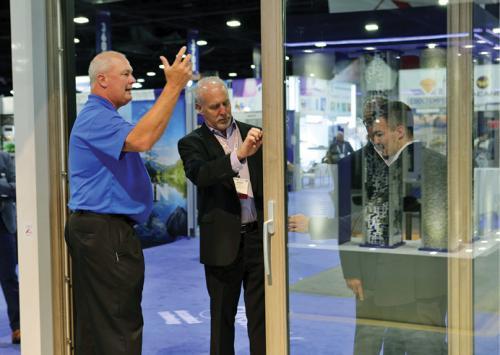 "Not even floods, geo-political threat of thermonuclear conflict or $1,000 iPhones could test the resilience and passion at [GlassBuild America] The Glass, Window & Door Expo in Atlanta," observes Steve Kleber, president and founder of Kleber & Associates, a marketing firm that specializes in the building products industry.
GlassBuild America: The Glass, Window & Door Expo opened its doors on Sept. 12 in Atlanta, just a day after Hurricane Irma, then downgraded to a tropical depression, moved through western Georgia and into Alabama.
While the storm caused travel delays and forced some attendees to stay home, the event served as a prime display of the current strength of the North American fenestration industry. Exhibitors filled the floor with new advancements and innovations, and attendees came looking to invest. In total, 458 exhibiting companies occupied 180,395 net square feet on the show floor, and the total verified attendance was just shy of 6,000 over the three-day event.
"What was shaping up to be the second largest GlassBuild in its history, was thrown a curve ball when first Hurricane Harvey hit in Texas, and then Hurricane Irma hit Florida and Georgia just days before the show," show organizers said in a statement. "Not surprisingly, those events took a toll on the exhibits and attendance number, but the industry's resilience and passion made sure the show was far from a wash out. What might have been lost in quantity was certainly made up for in quality with exhibitors and attendees alike appreciating the business done in Atlanta."
To this point, Joe Erb, commercial sales specialist for Quanex Building Products, notes that there "is a sense of urgency in the industry." He says, "Irma hit and people are still here. They are looking to invest, looking at plant transformation, to address the labor challenge and incorporate more automation."
This topic of labor continues to be a huge discussion, which we caught up about on the show floor. "The labor market is a major challenge today, both for us, and the people we talk to," says Dan Gray, director of sales, Roto North America, noting that extends to those looking for installers in the field, technical help within a company, or operational help in production. Still, he says, "We're excited about the future state of the industry in general."
A similar sense of optimism was apparent throughout the event. "The fact that we are adding two facilities is a sign of our confidence," Joe Peilert, president, Veka says, for example. He continues that the company expects to see generational growth in the next couple of years and solid growth rates. "There are a lot of things for us to be positive about."
GlassBuild America is organized by the National Glass Association and the Window and Door Dealers Alliance. It is co-sponsored by the American Architectural Manufacturers Association, the Glass Association of North America and the Insulating Glass Manufacturers Alliance.