An Adaptive Industry
Meet your Dealers of the Year
Emily Kay Thompson, Tom Gresham, and Steven H. Miller
October 23, 2018
FEATURE ARTICLE
Creative Approach to Service and Marketing |
Renewal by Andersen of Pittsburgh
By Steven H. Miller, for Window & Door magazine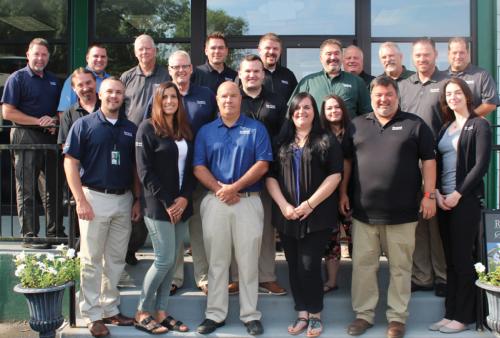 Virtual Complications
Yelp's software, an imperfect science
The Yelp page for Renewal by Andersen of Pittsburgh displays just three reviews, all very negative, all from people who were put off by sales experiences and did not become customers. Those are Yelp's "Recommended" reviews.
There are also about 40 "Not Recommended" reviews, which only display if users click a light gray link at the bottom of all the "Recommended" reviews. Those 40 hidden reviews are glowingly positive, but are not counted in the business's Yelp rating, which is a dismal single star, in stark contrast to the company's 4.8 (out of 5) stars on Google.
Yelp does not disclose why these specific reviews are "Not Recommended," but a Yelp spokesperson offered some general information about the process: "The recommendation software is engineered to weed out possible fakes (several reviews generated from the same IP address), biased reviews (written by a competitor or disgruntled employee, or solicited by a business owner from friends, family members or favorite customers), and unhelpful rants or raves. The software can also weed out reviews written by less active users, which can be real reviews based on real experiences, but we don't know enough about the user to recommend their opinion to our community."
The Yelp Content Guidelines stress that owners should not ask customers for reviews, which the Pittsburgh branch did, even sending customers the page link, not knowing it was a violation. Many of their Not Recommended reviews were first- or second-time reviewers, which might have suggested owner solicitation. However, Yelp says that, "first-time reviews are not automatically discounted. Our software is always working, evaluating and re-evaluating reviews. As a user becomes more active, the software learns more about them and could deem that user more trustworthy. It's possible for reviews to move from not recommended to recommended and vice-versa."
Yelp adds that the only way for a business to request human assessment of a review is to flag it for a Terms of Service violation.
Having a good reputation has always been a valuable asset. In the age of internet reviews and social media, it can be a matter of success or failure. But how can a business get a good reputation? Mike Bazala, branch manager of Renewal by Andersen of Pittsburgh, which maintains a 4.8 out of 5-star rating on Google, thinks that the best way is to earn it. He built the business around that idea.
Renewal by Andersen of Pittsburgh, one of almost 100 branches, opened its doors in 2001, and Bazala has been there from the beginning. The branch employs about 50 people and subcontracts with between 100 and 150 installers. The marching orders for all those people are to provide the best possible customer service.
"In the past, we went after homeowner satisfaction, to be the best company in the window and door industry," recalls Bazala, but the company has since raised its sights. "We want to be a world-class experience, compared to companies like Apple, Ritz-Carlton and Tesla."
Bazala's method for achieving that goal starts at first contact. "It comes down to how you treat people from the beginning. When you look at every interaction we have with clients and potential clients, we want to leave those people in a better, more informed situation than when we met them, whether or not we sell them windows and doors," he says. "We show them why we think we're the best solution, but sometimes we'll tell them we're not. We want them to make an informed decision. We'll do an inspection of their windows and doors, and sometimes they don't warrant replacing, they just need service."
Bazala's installation crews draw particular praise in online reviews. They are often complimented for their punctuality, politeness and respectfulness, neatness and cleanliness of the job, and professionalism. Bazala attributes that success largely to training. He says that the company offers a lot of in-the-field as well as classroom training as part of its onboarding. New employees are partnered with more seasoned staff, and best practices are shared within the company.
Moreover, though, he believes it's a matter of getting people to understand what a positive customer experience is all about. "We do this every day. Sometimes, we get into our rhythm and do our thing, especially when it's on the installation side," he points out. But he encourages staff to look at it through the customer's eyes. "Walk them through the process of what we're doing, how we're going to do it, get their take after the first window or door is installed and make sure they're okay with it. Really involve the customer in every step of [the] process from sale to completion of the install. Keep that line of communication open."
Lasting impressions
First impressions are important, but last impressions may be even more impactful. Once the install is completed, Bazala has instituted an extra service called the free 15, where his crew will approach the homeowner and ask if there's anything else they can help with around the house. The crew asks if anything needs to be done that they could do in the next 15 minutes, including cleaning gutters, shoveling driveways, or anything else they have the means and tools to do.
He adds that it is important for employees to reinforce the value of good customer service and promote positive behavior. "If somebody gets a good review, we send that out within our platforms internally, to get the behavior we want to see every day," he says.
In addition to striving for great service, Renewal by Anderson of Pittsburgh engages in many traditional marketing activities, sometimes with a twist. The company has a local marketing team, hosts showroom events, and attends local events throughout the community. "We'll do the home show piece and canvassing," Bazala says, "but there are only so many home shows or remodeling expos you can get to." He says the company thinks outside the box to get the Renewal name out there—for example, the company will have a booth at a bridal show or an arts-and-crafts fair.
He also cites corporate support from Renewal by Andersen as "a sizable piece of the effort."
Online communication—Instagram, Facebook, Google reviews—are also a very big factor in marketing. "The online piece has evolved tremendously," Bazala comments. "We realized [online reviews are] a great way to get our customers' experiences out to the community. We started asking customers if they'd be willing to write a review for us online. Before, it took direct word-of-mouth to get things out. Now, anybody can read it in a second when they're researching windows."
Bazala feels that the company's online presence has had a major, positive impact on his branch. "The internet has helped us grow our business," he believes, "because it's easier to spread the word of what we've been doing all along."