An Adaptive Industry
Meet your Dealers of the Year
Emily Kay Thompson, Tom Gresham, and Steven H. Miller
October 23, 2018
FEATURE ARTICLE
Overall Excellence |
Unified Window Systems Inc.
By Tom Gresham, for Window & Door magazine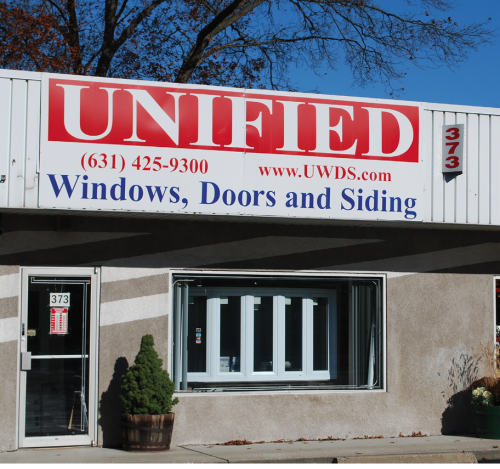 The headquarters of Unified Window Systems, in Hempstead, New York, has a conference room decorated with large posters. One poster given a particular place of prominence reads, "Treat every customer like they are your mother." For the leadership team at Unified Windows, those words go a long way toward explaining the company's success.
"It's kind of silly but it really works," says Chase Peres, president of Unified. "It's about us always trying to be honest with people, solving their problems and helping them with whatever they've called us for. We try to treat people like we would a family member. We try to do the right thing for them always. And they remember that."
Unified, this year's Window & Door award winner for Overall Excellence, has been in operation for 29 years. Most of its revenue stems from residential window and door sales, but Unified also provides roofing, siding and attic insulation, among other services. Unified, which has five showrooms in New York, represents 10 brands, including Andersen and Pella windows. Emblematic of Unified's longevity and strong ties to its partners, the company has been installing vinyl windows from Ideal Window, in Bayonne, New Jersey, since 1989.
Joe Ravana, director of purchasing for Allied Building Products, says Unified and his company have a strong relationship because of their collaborative push toward mutual success. Ravana says Unified distinguishes itself through its employees and commitment to excellence. "They have established a good reputation for quality work and customer service," Ravana says.
Steven DiMare, CEO of Unified, says the company thrives on a high-volume business that can reach 600 individual jobs in a month. Peres says Unified's approach leads to price benefits that prove attractive to customers.
"We're a volume-based dealer; we leverage our distributors and manufacturers based on our volume and pass that directly onto our consumers to make them happy," Peres says. "That's really what drives our business."
Best practices
Unified closely monitors customer feedback and sets goals related to it. The company currently has a 99.8 percent customer satisfaction rating, based on responses to GuildQuality surveys and a combination of other rating systems that include the Better Business Bureau, Facebook, Yelp and others that the company tracks. Unified maintains an A+ Better Business Bureau rating. DiMare says Unified treats those metrics as critical clues to how well the company is performing.
Unified's emphasis on customer service begins with communication, DiMare says. When a customer signs a contract, they receive a letter that details for them who will do the work, when they will do the work, how long the work will take and who to contact if they have any questions or concerns. DiMare says Unified preaches communication to its employees and tries to make it as simple as possible for customers to contact the company via the phone or internet. In fact, DiMare's email address is featured conspicuously on the company's website so anyone can reach straight to the top of the org chart.
"We really go out of our way to stay in touch with our customers," DiMare says. "We find that, when there's a problem, it's usually because of a lack of communication somehow or another. We do everything we can to avoid those failures in communication."
Mission-driven
DiMare says Unified's approximately 50 employees have bought into the company's culture. He says employees are unafraid of voicing their concerns if they think leadership's plans stray from the Unified mission.
"If we step away from our philosophy for even a second, our salespeople will come back to us and say, 'I'm not going to do that' or 'I don't think we should be doing that,'" DiMare says. "They won't do something that doesn't fit the idea of treating every customer like they are your mother. They really believe in it."
Peres says both he and DiMare have risen through the window and door industry ranks from the field to the boardroom, tackling about every job and task along the way. That experience gives them a thorough view of the industry and its trends and challenges. It also helps them relate to their employees and customers.
"Whether it's the person cleaning the warehouse, the installer putting in doors or windows or the person answering the phone, we've done all that," Peres says. "When we ask them to do something, they know that we've been in that same position and done that before ourselves. I think that goes a long way and really resonates with them."
Looking ahead, Unified plans to continue to grow within its market. The company advertises extensively in local papers, with outdoor ads and on TV and radio commercials, and has become more ambitious this year with digital marketing. DiMare says Unified is exploring the possibility of handling other products, such as interior shades, blinds and curtains, but will only take those steps after careful consideration.
"We're very, very conservative," DiMare says. "We never make quick moves. We always think things through and discuss them and go over them; we dip our feet in the water over and over again before we finally jump in. We're always aware of the opportunities out there, but we don't want to rush them. When it's the right time to do it, we'll do it."
Peres says Unified's steadiness helps explain its reliability and appeal to customers and others. "We've got the same license numbers, the same phone number, the same main location here in Hempstead from when we started," Peres says. "You can count on us to be there. I think that says a lot about who we are."