An Adaptive Industry
Meet your Dealers of the Year
Emily Kay Thompson, Tom Gresham, and Steven H. Miller
October 23, 2018
FEATURE ARTICLE
Best Showroom Design |
Windows, Doors & More Factory Store
By Steven H. Miller, for Window & Door magazine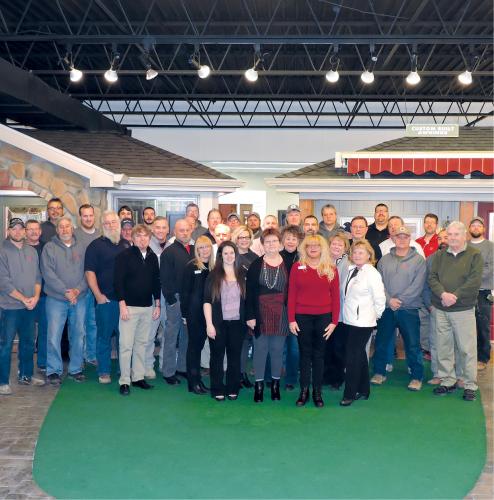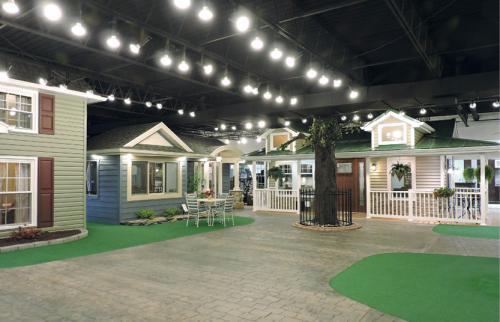 An Evolution of Commerce
In 1983, the original company sold the Home Guard doors it manufactured to the industry. The expansion into retail was not planned, but rather a bold move in response to opportunity, according to Hunter. He explains that word got around the community that the company was making wrought iron security doors. Homeowners began to show up and request to buy doors. Seeing the possibility of generating much-needed cash flow, Hunter and his partner Brian Barbieri started a retail company, allied to the products the company manufactured, but not exclusive to it.
The two companies grew in parallel. The manufacturing side expanded into vinyl windows, entry doors, siding and roofing. The retail side kept adding services until it became the full-service remodeling company it is today. Hunter says the company even currently has the capability to build new houses, though he has no intention to do so. Hunter says he and his partners are happy staying in the home improvement niche where, he says, "we can do pretty much everything from A to Z."
Currently, the showroom mainly represents the window and door products of sister company, Home Guard, which comprises about 85 percent of Windows, Doors & More Factory Store's window and door sales. The company also sells Great Lakes windows, Provia storm doors and Masonite entry doors.
In late 2008, when the Great Recession was accelerating its downward plunge, Windows, Doors & More Factory Store of Fort Wayne, Indiana, saw opportunity. President Kevin Hunter and his two business partners bought what was an Ethan Allen facility for 30 years at auction and set out to build a one-of-a-kind showroom in the 22,000-square-foot space. "It was a calculated risk that, fortunately, worked out rather handsomely," Hunter says. "Many of our suppliers scratched their heads, wondering if it was really a good idea. But now, everyone agrees it was really a smart move."
The showroom is a replica neighborhood indoors. It features a cul-de-sac street with pavers and stamped concrete on the street, a thick tree "growing" in the middle, and five houses with front lawns and plantings—one even has a fountain. Although the houses are sized down somewhat, they are not just facades. They include built-out interiors that present an array of product options at full scale, in context, with full-sized applications of doors, windows, and exterior and interior finish materials. And, to add to the customer experience, the company even contracted a mini-Starbucks to serve premium coffee to visitors.
"My wife came up with the whole cul-de-sac concept," Hunter explains. "She gave me a perspective of what women homeowners want to see and she nailed it." The ability for customers to see and touch the siding, windows, doors and everything else, makes the selection process easier and less stressful. "You know what you're getting," Hunter emphasizes. "[Customers] aren't looking at pictures or little samples. They're looking at the full-blown real deal. It really has put consumers at ease."
Hunter reports that the company has grown significantly since 2009 and is a dominant player in Indiana. The company employs about 75 people in all, including nine reps for exteriors, seven interior and kitchen and bath designers who consult on design and oversee the construction, and 27 installation crews. Some employees have been on staff for more than 25 years.
Hunter credits much of his company's success to the people who work with him. "I've been blessed to have found a remarkable group of people who also have passion and care about what they do," he says. "It's great to have a nice showroom, but you have to have the staff, the right equation, with everybody like-minded that it's about the customer. And you have to make sure they know they're appreciated." To celebrate its 35th anniversary, they took the entire company on a seven-day cruise down to the Caribbean. "You're not going to get to the size of company we are by churning and burning people," Hunter states. "You've got to take care of your people."
Community outreach
Windows, Doors & More Factory Store is deeply invested in the community, Hunter says, participating in Big Brothers and Big Sisters programs, sponsoring several boys' and girls' Little League teams, donating money and materials to Habitat for Humanity, and supporting the Community Harvest food bank, to name a few.
The company also leverages the tremendous resource that is the showroom. Every Christmas, the company pulls off a community service event that takes clever advantage of its indoor street: Mr. and Mrs. Santa Claus take up residence in the middle of the showroom in a real antique sleigh dating from 1864, and take free pictures with kids. For Christmas 2018, the company has arranged for the Clauses to be joined by live reindeer.
The company's presence and involvement in the community is an essential part of its business model. "We don't do it the way the experts tell us you should," explains Hunter. "We don't go to market with telemarketing, door-knocking, the high pressure, one-night close. That's not our style." Instead, he says the company focuses on being a trusted neighbor and partner.