The Freight Fright
As shipping costs increase and the driver shortage amplifies, the supply chain faces new decisions about operations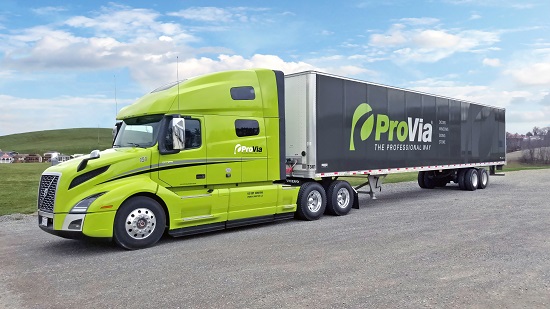 Photo courtesy of ProVia
High Tech Trucking on the Horizon?
McKinsey & Co. revealed the average supply chain has a digitization level of 43 percent, which was the lowest number of the five business areas the study examined. Only 2 percent of surveyed executives indicated that supply chain is the focus of their digital strategies. That same study showed that companies that aggressively digitize their supply chains can see a 3.2 percent annual boost in growth of earnings before interest and taxes, and a 2.3 percent annual revenue growth.
Rutkowski believes technology has increased visibility and transparency. "It's been a tremendous boon in terms of getting things done more quickly," she says. Data can be transmitted more quickly and GPS trackers ensure every unit's location is known at all times. The challenge for technology professionals now is to find a way to determine what shipments need attention, Rutkowski says, and to avoid data overload.
Right now, companies are in the midst of what Gail Rutkowski, executive director of the National Shippers Strategic Transportation Council, describes as the most "volatile and tumultuous" transportation marketplace she has seen in her career spanning more than three decades. Double-digit rate increases in freight and tightening capacity all contributed to transportation "barging into the C-level boardroom," she says.
The American Transportation Research Institute released a report estimating that shippers lost $74.5 billion in 2016 due to delays on the national highway system. The lost productivity is equivalent to 425,533 commercial truck drivers sitting idle for one working year and the delays averaged $6,478 per truck. Freight volume will only continue to increase, too, with the American Trucking Associations estimating a 35.6 percent volume increase by 2029.
Three issues caused what Rutkowski calls a "perfect storm" for the industry: Hurricane Harvey, regulation and the driver shortage. Together, they caused total disruption and a "predictable surprise," according to Rutkowski, where transportation professionals who weren't keeping up with the marketplace or taking advantage of education opportunities were hit particularly hard with transportation costs and finding enough trucks to accommodate their business needs.
Hurricane Harvey served as the catalyst, Rutkowski says, for capacity significantly tightening. That effect isn't uncommon around a natural disaster, though. What amplified it were regulatory issues and the driver shortage.
Electronic logs
The electronic logging device rule, currently in phased-in compliance, before the third and final phase of full compliance goes into effect in December, requires that all carriers install and use electronic logging devices in trucks. Not only is there a cost associated with installation of the devices, but lead times also increase as drivers take longer to get from location to location because of additional, legally mandated breaks. "There was no leeway," explains Rutkowski.
Freddie Miller, vice president of supply chain at Sugarcreek, Ohio-based ProVia echoes that sentiment. The strict hours drivers must abide by necessitate more drivers to deliver or receive the same amount of product, he says. Miller has heard of other carriers having to eliminate certain routes because drivers can't get back within a certain time period. "They aren't even quoting some of those lanes anymore," he says.
If extra drivers are available, ProVia supplements its door and window delivery with its stone products. Although the company has had to hire more people, it's been able to offset the expense by offering services on more products.
The driver shortage
Drivers who didn't want to deal with the electronic logs contributed to a third major hurdle: the driver shortage. Drivers average about 54 years old and, as they retire, not enough younger people are entering the profession. The American Trucking Associations estimate that transportation companies currently need about 60,000 drivers. That number could escalate to 100,000 in just a few years.
Millennials, in particular, don't want to be drivers, which Rutkowski attributes to work-life balance disruption and that trucking doesn't appear to be an attractive job. Carriers are combatting the shortage with signing bonuses and other incentives, as well as rerouting hauls so drivers can get home more often and implementing drop-and-hook practices, where drivers deliver a load at the final delivery location for a customer and simply pick up a new trailer. "That's helped a bit, but it's still tight," says Rutkowski.
Although ProVia has its own fleet and doesn't struggle as much with the driver shortage as others, Miller says there "just aren't enough bodies to move all the freight that's out there." He believes the electronic logs only compound the issue. The intensity of the shortage also can vary by geography. "There are a lot more loads coming out of Kansas, for example, than available drivers to go get those loads," he says.
ProVia has helped individuals become truck drivers who express interest. Although it's more of an upfront expense, it's been worth it to gain another experienced driver. Miller also expresses that the culture is among the most important elements to attract talent. "Drivers need personal attention. They want to feel valued," he says. "The culture we have today in our traffic team is one thing that's been a huge success for us. Drivers don't typically leave a company. They leave the person they're working for."
Joe Peilert, CEO of Veka Inc., told Window & Door earlier this year that working with transportation regarding freight is "becoming more of a science. It's a very competitive market for truck drivers—their hours have been limited and then, so has their income potential," he says. "Now, with more and more regulations on the trucking industry, it's going to be a tough issue for the foreseeable future. That's why Veka is working with a certified logistics provider to supplement our own planning process."
Insource versus outsource
Companies also must analyze whether to outsource their shipping or if a private or dedicated fleet is the right avenue. Private fleets ensure capacity, which is a good thing in an environment like today's, says Rutkowski. The flip side is that, when things slow down, companies can be burdened with idle trucks that aren't producing revenue.
"The lease versus buy decision is very individual to the company as long as they understand they'll never make money off a private fleet," she says. "It's a cost of doing business."
ProVia owns its own fleet of about 43 tractors and drivers and "significantly" more trailers. Miller estimates 95 percent of ProVia's products are delivered via its own fleet. When possible, they also pick up raw materials to bring back.
"We've always had our own fleet," he says, which he views as a huge benefit. "We've been fortunate that some challenges others have faced we've been able to overcome with our own fleet and the fact we do have drivers who want to work for us. The lack of drivers is the biggest challenge. People aren't coming out of school wanting to be truck drivers. Until those positions open with younger people there will be challenges out there."