The Builders' Show Goes On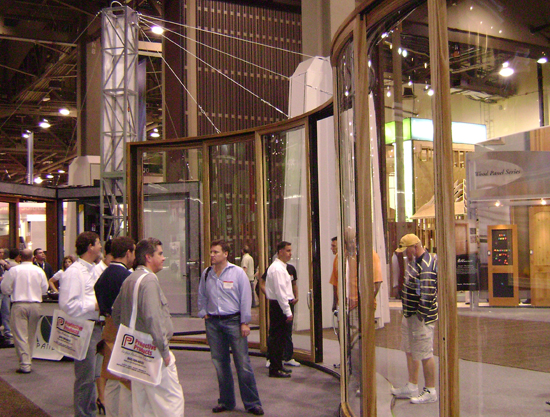 Big doors, including this large serpentine unit featured in the Panda booth, continue to be a big trend at this year's show in Las Vegas.
Las Vegas--It's hard to escape talk of the weak economy, and the International Builders' Show, which opened yesterday, is certainly not the place to do it. Exhibitors, including the some 200 plus window and door industry companies, are showing their latest products, but much of the conversation here is focused on the troubled housing market and what to do to survive the current downturn.
First day traffic was down throughout the aisles, but that did not surprise anyone. In fact, a number of exhibitors said they were content with the number of attendees they were seeing, particularly for a first day.
In some ways, it was business as usual. A number of companies are using IBS to launch new products, including Weather Shield, which was showing a new fiberglass clad line of wood windows and doors. "Our answer to the coming Energy Star changes," said the company's Bob Eckert.

Weathershield is showcasing a new fiberglass-clad window and door line.
Hurd Windows & Doors introduced its new H3 line, which combines an aluminum exterior, with a vinyl frame and a real wood interior. The new line is offered at a price point that will be attractive to many customers, said Hurd's April Lucas. "For some, it will be a step up, for some a step down, but we see it as a good fit for many."

Hurd is launching its new H-3 window.
Offering products meeting different price points in the market has helped Amsco Windows gain market share, and perform relatively well during the recent downturn, reported the company's Steve Sullivan. It launched a new competitive vinyl window line, as well as a new higher end vinyl line that it's offering in a variety of colors. "We see that helping us in the commercial market too," he added, noting that Utah-based manufacturer continues to target new niches.
If there was one dominant trend evident at the show, it was that big, wide-opening doors continue to gain traction in the market. Kolbe & Kolbe, Windsor Windows, and Weather Shield each showcased new lift-slide systems. Las Vegas-based Panda Windows & Doors had one of the largest, a 12-foot high system that snaked its way through a large booth in the central hall. In addition to door manufacturers, a number of hardware suppliers showcased wide-opening lift-and-slide and bi-fold doors systems, including Centor Architectural, G-U Hardware and Hoppe, which launched a new bi-fold hardware line at the show.

Wide-opening lift-and-slide doors are prominent in many window and
door manufacturer booths at this year's show.
The event also featured some first-time exhibitors, including Window City, the Canadian window manufacturer that took a large space to showcase its high-end vinyl line. Having recently set up a distribution operation in North America, Montag Windows & Doors, a German manufacturer with a 200-plus-year history, was introducing it's ultra-high-end line of windows and doors. The company's Mitch Lewandowski said the slower market is actually proving to be a good time to launch its products in North America. "Architects are willing to spend the time to look at the details and find something that will offering quality that lasts," he explained.

Canada's Window City is one of a handful of window and door
manufacturers making their debut at this year's show.
Returning after a long hiatus from the show was BiltBest Windows. The Missouri-based manufacturer of wood windows is under new ownership and has recently expanded its product line to include a high-end extruded aluminum clad line, offering a wide range of color choices, as well as a "builder line" featuring roll-formed cladding. It has also expanded its line to include an historically-accurate all-wood line.
This year's show also saw continued shifts in marketing strategies. The Ply Gem Windows booth featured the Ply Gem name on all its products, rather than its previous MW, Alenco and Great Lakes brands. Although the Silver Line and Eagle names were still evident, Andersen Windows brought all its products together in one large display this year for the first time.

Andersen brought all its brands together into one display for this year's IBS.
The International Builders' Show continues today through Friday here in Las Vegas. Look for another report on the event in next week's WDweekly and extensive online coverage of all the new window and door industry products soon. In addition, look for a full report on the show in our March issue of Window & Door, including our Best of the Builders' Show product review.