2017 Crystal Achievement Awards: In Honor of Innovation
Window & Door Presents 2017 Crystal Achievement Awards winners
Most Innovative Multi-Slide Door
CERO BY NANAWALL SYSTEMS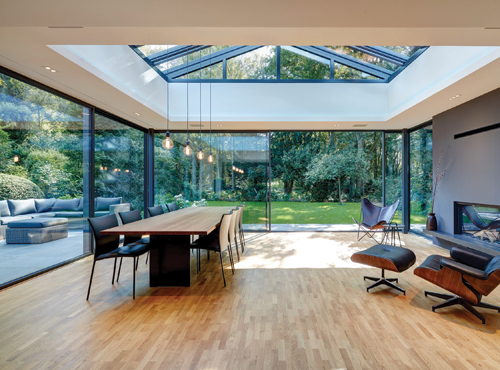 "As the population in the high-end door market segment increases, it becomes significantly harder to differentiate," one Crystal Achievement Awards judge notes. "NanaWall cero created a way to establish an aesthetically pleasing design with highly desirable performance attributes."
Cero by NanaWall is a minimal framed large panel sliding glass wall system that provides a minimalistic design with its ultra-thin profiles and large floor-to-ceiling panels. "With cero, architectural design can be stripped down to its most essential elements," the company's nomination states, "allowing for light, form, material, space and nature to speak for itself—offering architects creative design freedom to completely reimagine conventional boundaries."
The floor-supported panels reportedly open and close with ease and smoothly glide on concealed stainless steel tracks on encapsulated and self-lubricating rollers, flanked by doublesided brushes to remove debris from the track. "With over 30 years of experience in roller technology, we were able to design an uncompromised roller system for cero that allows for effortless sliding, even for these very large panels," says NanaWall CEO Ebrahim Nana.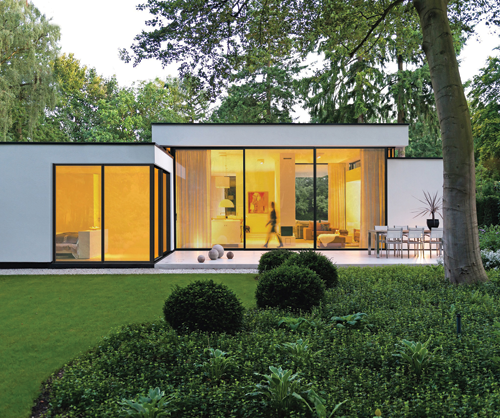 Cero produces clean, uniform and ultra-thin lines for maximum light-filled spaces that connect the interior to the exterior. (Images courtesy of NanaWall Systems.)
Cero panels with double insulated glass have two carriers per panel and those with triple insulated glass have four carriers per panel. Unique to cero is a Gothic arch wheel bearing design. With a two-point contact of each wheel to the bottom track, the system is said to glide with less friction. To maintain the sleek minimal look, each carrier is concealed within the bottom panel profile, according to nanawall.com.
Cero is available in either double-glazed or triple-glazed options depending on thermal performance needs, and its movement can also be automated. It is offered in 50 standard colors with over 200 colors available in powder coat and anodized finishes; custom-matched colors and simulated wood effects are also available.
The cero panel features a thermally broken design with aligned thermal breaks in both the frame and floor track for optimal energy efficiency.
Through cero's four sill options—Higher Weather Performance Sill, Flush Sill, Low Profile Saddle Sill and Flush Saddle Hybrid Sill—NanaWall offers options for minimal sliding glass walls including the shallowest available, according to the company, in order to address the needs of both the American commercial and residential construction markets. The panel's rail and stiles are uniform with a consistent 1 5/16 inches top to bottom, achieving a symmetrical and minimal design.
"The objective of sliding glass wall systems is to provide a seamless transition of the inside and outside. The minimal framed units of the NanoWall cero allow this to happen with less material between the two environments," another judge states. "A very attractive solution."