2017 Crystal Achievement Awards: In Honor of Innovation
Window & Door Presents 2017 Crystal Achievement Awards winners
Best Dealer Support/Marketing Program
SIMPSON DOOR COMPANY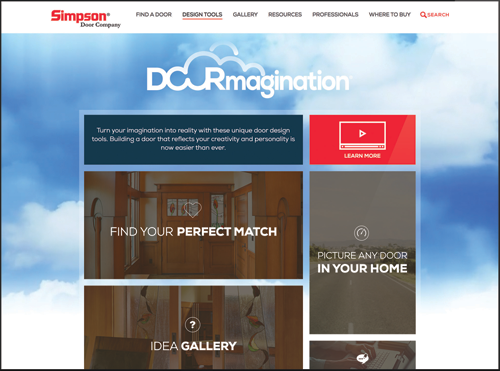 Simpson Door's online tool allows end users to customize their door, which, Simpson dealers report, help them to close the sale. (Images courtesy of Simpson Door.)
"Simpson's dealer support program is specifically designed to deliver what matters most to dealers—well-qualified leads in their local market that result in profitable sales," explains Brad Loveless, CEO. He says that the program's success is demonstrated by frequent feedback from dealers on the tens of thousands of dollars of sales they've closed through Simpson's EZ Quote system.
As described by the company, Simpson EZ Quote is an integrated web-based quote system that enables customers to choose their door and which dealer they would like to supply it. This information automatically goes to the dealer, who can quote it using EZ Quote, and respond quickly to the customer.
One customer, Don Byers of the Door Outlet, dooroutlet.biz, in Austin, Texas, reported that one particularly fruitful lead from the Simpson system ended in a sale of more than $16,000 in Simpson Door products. "We close 80 percent of the leads Simpson sends us," Byers says. The company provided more than 13,000 leads to its dealers in 2016, a 13 percent increase over 2015.
In addition to the quote and leads system, Simpson provides its authorized dealers with online access to a range of marketing and sales tools. Of particular note, the company helps its dealers customize their showroom displays to speak to their particular customer base.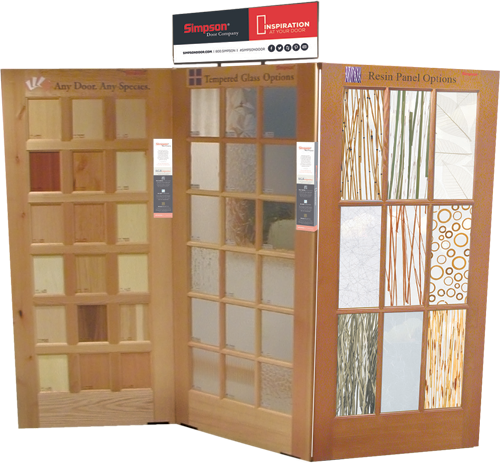 Simpson invests in its dealers showrooms by offering multiple stands or systems for setting up door displays as well as the ability to customize display doors to the dealer's specifications.
"When working on a project, both my contractors and my clients can see and feel the quality of the Simpson door that they are choosing," says Natalie Evenson, Red Lodge Glass Window and Door, Red Lodge, Montana.
The company provides showroom support materials to its dealers, including display doors that are on the shelf and ready to be shipped, multiple stands or systems for setting up door displays, the ability to customize display doors to the dealer's specifications, and smaller "hand samples" (such as product cutaways) that dealers can use to show the customer how the door is engineered. "Simpson made it easy to fill my showroom with displays," Evenson reports.
Simpson supports its network out of the showroom by providing high-resolution photography dealers can use in their own marketing materials as well as access to its own product literature. This includes the "Inspiration at Your Door" Ideabook and catalog that was recognized in an advertising competition.
The company also offers virtual tools dealers can integrate into their sales pitch. "DOORmagination design tools on simpsondoor. com make it easy and fun for customers to select their door," Loveless offers for example. On its website, consumers can also see which doors are on display at participating authorized dealers, and the interactive web content is specific to each dealership. "Customers love to add their own personal options, and when they can do that and have a CAD drawing in a matter of minutes, they don't even question the pricing," Byers reports.
Overall, our judges appreciated that Simpson simplified the process for dealers and consumers. "Simpson Door allows the end user to simply and effectively sift through a large array of product options," one of our judges commented. "That's not an easy task!"