2017 Crystal Achievement Awards: In Honor of Innovation
Window & Door Presents 2017 Crystal Achievement Awards winners
Most Innovative Window Component
NEW GENERATION LOCK-TILT-COMBO BY VISION HARDWARE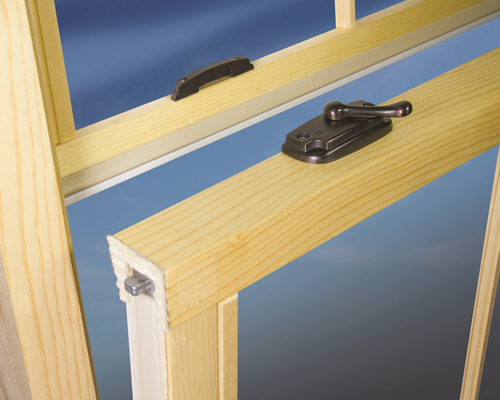 The Vision Hardware New Generation Lock-Tilt-Combo offers multiple functions, ease of installation and design flexibility for manufacturers, the company reports. It is offered for both wood and vinyl windows. (Images courtesy of Vision Hardware.)
"Vision's Lock-Tilt System simplifies manufacturing while eliminating raw material inventory required to be kept on hand," notes one Crystal Achievement Award judge of the winning entry in the window component category. Vision Hardware reports that its lock-tilt combination system eliminates two vent stops, two tilt latches and two window opening control devices while still retaining those functions. The company reports it still retains a four-point multi-point locking at the jambs and lockrail, an added feature it says is not available anywhere else in the industry.
"This reduces the required SKUs and simplifies fabrication by incorporating the features into one to two fabrication points versus eight," relates Glen Paesano, Vision's VP of sales and marketing. "The four-point, multi-point locking system, when used in conjunction with our limited travel top sash balancers, allows the homeowner to leave their top sash open 3 7/8 inches for ventilation without the worry of someone being able to enter their home."
Vision Hardware's New Generation Lock-Tilt-Combo will work with almost any lock shape and design and features largely hidden functionality, allowing manufacturers to maintain the aesthetics of their window design, the company reports. The Vision Lock-Tilt-Combo can be configured to perform several functions, is said to install quickly and easily, and will work with the manufacturer's existing lock housing. With integrated system components, the system offers three position connection points per side to accommodate a large variety of window widths with only four SKUs per window. The sash lock can be operated in three positions: lock, open and tilt.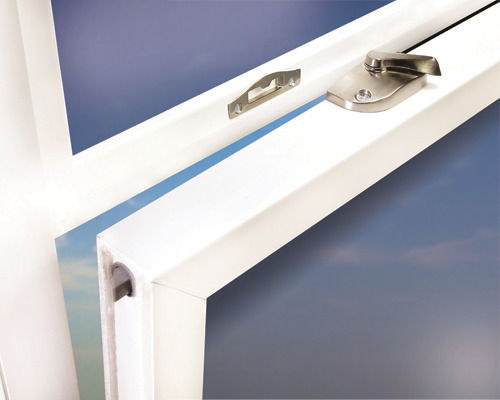 Company owners utilized their expertise to yield an impact hardware system where the tilt latches are internalized and work from the lock housing. This system can use a variety of surface and recessed lock housing designs.
The system is said to increase performance by eliminating the routing and punching associated with installation of tilt latches and vent stops. The elimination of the tilt latch rout leaves the integrity of the corner intact, the company explains, increasing strength under test load. The elimination of the punches and routs for vent stops does away with any blowback through these openings, Vision Hardware reports.
Installation is simplified through an attachment point as simplistic as it is specific to the lineal, allowing for exacting alignment, company literature details. Paesano explains that the downrod drops into a forgiving receptor and locks in with a quarter turn for a positive engagement that cannot detach.
"Ultimately, the final product is a higher-performing, draftfree window," the company's nomination states, noting that the addition of the window opening control device adds a childsafety device to the unit.
Seventeen manufacturers are in the process of adopting the Lock-Tilt-Combo into their production facilities, while a dozen others are actively manufacturing with the device. "Our customers love it because it separates them from the competition. How else could we have increased our margins on a vinyl window without a design change," one such manufacturer states. Another comments: "By eliminating the surface mount tilt latches and vent stops, my window looks like a new system but is faster to produce."
As one Crystal Achievement Award judge notes, "Vision continues to bring forward innovative cost-effective components that aid the manufacturing process and add value to window products."