The Next Wave: The Internet of Things and 4.0
The fenestration industry is at the tipping point of a technological revolution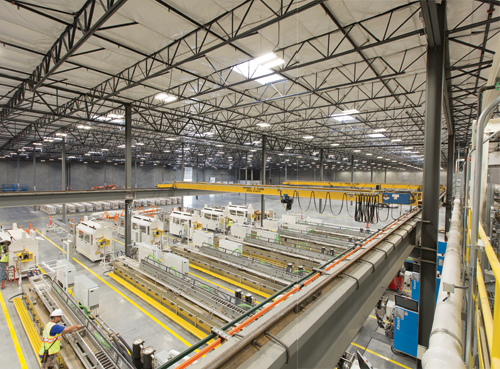 Deceuninck North America developed an interface system to customize controllers and sensors for equipment needs. (Images courtesy Deceuninck North America.)
The Internet of Things, Industrial Internet of Things and Industry 4.0 are terms that define a technological revolution that reaches into nearly every aspect of lives around the globe. When intelligent connectivity interacts with smart devices, we can anticipate unprecedented changes and gains in productivity and efficiency, as well as industry growth.
Objects that can sense and communicate with each other will change the way we live and work. The implications of a world filled with interconnected devices are nearly limitless, with a scale that may seem hard to comprehend. The research firm Gartner Inc. forecasts that 8.4 billion connected Things will be in use worldwide in 2017, up 31 percent from 2016. They predict that number will reach 20.4 billion by 2020.
The fenestration industry is already realizing the impact of this technological, mechanical and digital wave, as a variety of manufacturers, dealers and suppliers can attest. "We have customers who have been using connected machines in their plants for 20 years, while others have yet to utilize that capability," Mike Biffl, national sales manager for Sturtz Machinery reports.
"While it is more the norm today to have some level of connectivity between the machines and then back to the company's computer network, it is not universal." As he notes, "the feedback and machine-to-human communication that is possible is vastly underutilized across the industry."
IIoT at Work
GED Software is one of many companies in the industry that have embraced IIoT tenets. The company provides process information throughout its factory floor through the direct connection of equipment to software. "Today, we are gathering information from machinery for our customer to make optimized decisions with human intervention," explains John Moore, GED's VP of Marketing. "In the future, we envision providing information for the equipment/process to make decisions automatically."
For example, the company had a maintenance module 10 years ago that recorded machinery status. That functionality has evolved into ISight, a product that identifies and records thousands of data points of machines and processes. This allows the company to automatically adjust production scheduling. It's that notion of automated connectivity that defines IIoT.
Veka also has in-house development resources that allow the company to focus on technology innovation. Erik Shay, VP of Operations and COO at Veka North America, tells us that its manufacturing processes are networked globally. "Our parent in Germany has the ability to look at every extrusion line globally to track key performance information like temperature, energy consumption and run speed," he explains. "This is valuable information to maximize output and efficiencies."
In another application, Joe Erb, commercial sales specialist for Quanex reports that many customers made the investment in high-speed, fully automated lines to produce insulating glass, as well as software platforms that enable them to get the most out of automation. For example, predictive maintenance software affords improved efficiency and reduced downtime. "Instead of waiting for specialized parts to be flown in after a breakdown," he says, "this kind of software can tell you in advance what needs to be done so you can plan ahead and keep your line up and running."
While automation is not necessarily new to fenestration, Industry 4.0 is all about "connecting these islands of automation and allowing real-time decision making to occur locally on the shop floor," according to Matt Batcha, who is part of the business development team for window and door fabrication in North America for FeneTech. "IoT devices are the low-level building blocks of Industry 4.0," he says.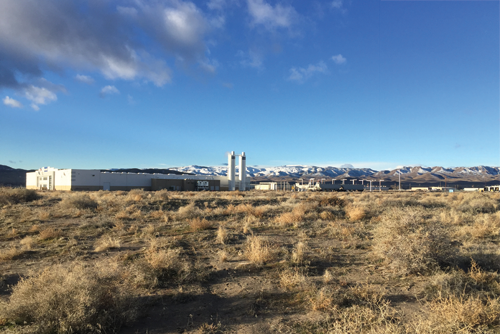 Deceuninck North America's 150,000-square-foot-facility near Reno, Nevada, was built from the ground up.
Advantages
The advantages of utilizing IIoT strategies reads like an industry wish list: better product quality, shorter lead times, reduced costs, and efficiency and process improvements are all attainable with IIoT.
"In the fullest expression of the concept, constant two-way communication and what some refer to as a digital twin, allows for continuous evaluation of production data using feedback from equipment," says Biffl. "That analysis is performed in real-time and can be translated into necessary process adjustments which are then communicated back out to the machine without human involvement." So, he says, the initial goal of Industry 4.0 was to streamline not just the manufacturing of goods, but also the process.
To the list of benefits, Batcha adds increases in efficiency, real-time view of production for better decision making, and self-monitoring of machinery that will proactively schedule machine service as required. He believes that the data that is accessible through IoT will help identify trends and enhance communication with customers.
The data collected by these smart systems can be invaluable to a business; it can help identify where efficiencies can be created, where to allocate the most skilled workers and what areas might need more attention.
Product mix is another potential benefit. Made-to-order and custom manufacturing will become more commonplace, Batcha predicts, as Industry 4.0 makes it easier to handle greater mixes of finished product. Along with that, he says, "Greater product mixes allow customers to offer more to the end customer."
Shay reports that this is a reality for Veka; its product mix is impacted by its use of IIoT precepts. "We examine ways that technology can help provide a more complete product like weather strip insertion, custom cut lengths and other types of processing," he explains.
The Flip Side
On the other side of the IoT coin, the advantages are leavened by challenges, some of which don't have easy answers. In this fast-changing era, technical standards, definitions of common terms and best practices are still evolving. Re-tooling and integration of existing equipment and technology with new, IIoT-ready devices and software is yet another issue for companies to contend with. "It is not uncommon for companies to have older equipment running DOS or Windows 98," Batcha cites as an example.
With that, cyber security may be the single biggest obstacle to be addressed in this new evolution. Connected devices mean more opportunities for security breaches which, in turn, means more stringent requirements for security enhancements, not to mention the skilled staff to manage that security.
"I believe the greatest challenge is security and the many forms it can take," asserts Tom Barnett, senior director of programs with the National Fenestration Rating Council, nfrc.org. "Cyber security of the IoT system or infrastructure and data security are two subsets which rise to the top. Closely behind security, the role of standards within dynamic and competing technologies will be a challenge for manufacturers and users to align, accept and deploy."
The sheer amount of data to be created by the IIoT is staggering; estimates are in the trillions of data points. And, all of this must not just be collected, but analyzed and possibly stored. Bandwidth issues to move this unprecedented amount of data, along with storage, management and security concerns, add a layer of complexity to the mix.
The Human Element
Though this discussion of the next evolution of industry is centered on the notion of Things, industry, data and technology, it's also important to acknowledge the human element. As GED's Perry iterates, there are challenges with workers accepting and trusting the data, as well as issues surrounding employee training and technical experience.
"As the influence of software grows, one challenge is the evolving requirements we'll need to see in the plant employee of the future," Erb says on the subject. Plant employees must have broader skillsets and technological savvy to carry out the new ways of doing business. "To be sure, it's a learning curve. We just need to make sure we're making the right investments in the right people to continue keeping up with market demands," he asserts.
What's more, Erb continues, manufacturers that make the investment in software and automation need to make sure they're communicating about it to their employees in the right ways. "Technological advancements are making fenestration jobs better," he says. "Staying in front of those communication issues can help make sure your employees are ready to make the most of the investment."
Next Steps
It's clear that the IIoT will play a major role for the fenestration industry in the future; it's fair to say it will likely revolutionize the field. Industry players are embracing the concept to varying degrees. As the various norms, standards, best practices and data management capabilities are established, the sky may be the limit.
"Industry 4.0 will increase the use of automation and technology within companies; those that invest early will see a competitive advantage as adoption within our industry will take time," says Batcha. "The ability for a company to shift from a reactive organization to a proactive organization will become a possibility."
President and CEO of Deceuninck North America, Filip Geeraert, agrees. "Embracing digital technology means not missing out on opportunities," he says. "When properly used, digital technology can radically improve performance. Quite simply, companies that embrace digital technology by replacing and augmenting business processes to drive competitive advantage are winning."
Q&A: WE ASKED INDUSTRY INSIDERS TO WEIGH IN ON THREE QUESTIONS REGARDING IIOT. SEE WHAT THEY HAD TO SAY.
Q: WHAT DOES THIS NEXT INDUSTRIAL EVOLUTION LOOK LIKE FOR WINDOW AND DOOR MANUFACTURERS AND THEIR DEALERS?
A: "Industry 4.0 will bring significant changes, not only in production, but in the complete value chain from quote-to-cash, as well as in the communication processes of a window manufacturer or reseller. The window factory of tomorrow will self-organize its ordering, production and delivery processes, and optimize continuously with each step. This includes production-related dynamic cost calculations, autonomous production planning, predictive maintenance and dynamic production. It will integrate internal communications as well as automating real-time information exchanges with partners, suppliers and customers."—Peter Dixen, A+W Software Group
Q: WHAT DO YOU THINK INDUSTRY 4.0 MEANS FOR THE FENESTRATION INDUSTRY?
A: "It means real-time answers for customers, departments, distributors, or anyone else associated with your business that needs to know what is happening. For large corporations with various locations, it means the ability to take stock of what is available anywhere in the nation or track where issues may be appearing within their organization."—Terry Wiley, GPI Millworks
Q: WHAT ARE THE BIGGEST ADVANTAGES OF INDUSTRY 4.0 AND THE INTERNET OF THINGS?
A: "There are two main advantages. One is the real-time data you can slice and dice any way you need to answer the tough questions or to discover the questions you actually should be asking. Used in the right way, this business intelligence creates opportunities to make impactful decisions rapidly on a regular basis. The second is efficiencies, across the board. Everyone benefits from mass efficiency, whether you're a manufacturer, supplier, installation business or homeowner."—Justin Showers, improveit 360