Continuous Flow Process and Lean Culture
A look inside Ply Gem Canada's manufacturing process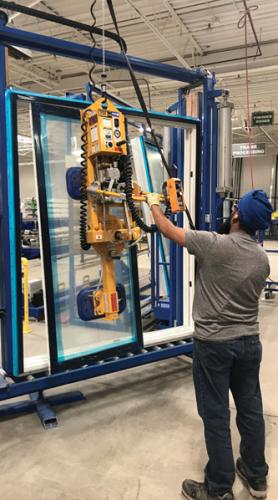 Right: "To optimize space, we combined two stations into one, with rotating and squaring functionality in the same rack," Dave Bamford, production supervisor, explains. "[This enables] the operator to install panels on both sides without moving from his present position." (All images courtesy of Ply Gem.)
The story rings true for most all fenestration manufacturers: the recovery of the housing and remodeling markets is creating an increase in demand for products. Just as universal a reality: the decline in unemployment rates and a competitive labor market make it difficult for manufacturers to keep up with that demand. Many turn their focus to creative recruiting strategies to solve the issue, and others to automation solutions—both practical and effective practices. Still other manufacturers, such as Ply Gem Canada, are taking this opportunity to look closely at their production processes and solve the issue with existing resources.
Like many, Ply Gem Canada saw an increase in demand for patio doors in 2016 and quickly recognized it did not have the existing capacity to fulfill the demand. In January 2017, the manufacturer selected a project steering committee to analyze its existing process. Using process maps, value stream mapping, spaghetti diagrams and a safety matrix, the committee identified that its batch production approach to layout wasn't appropriate for meeting required demand. It found that cycle time was higher compared to takt time—the rate at which a finished product needs to be completed to meet customer demand.
The company renovated an unused 40,000-square-foot Ply Gem facility for its new process. With the availability of more space, the company was able to increase the number of production lines from two to four, and to minimize the handling of the products through better process flow and with innovative equipment. Ply Gem Canada integrated CNC machines, cart caddies, flip tables, carousel carts, squaring and rotating racks, scissor lifts, rotating and tilting tables, and cranes into its process.
After welding and corner cleaning, flow racks move frames to one of the four assembly stations. The frames are then transported to a squaring rack for panel installation and final assembly. Cranes safely handle the sealed units on the panel line; panels are pressed into the sealed units with an automated process.
"To optimize space, we combined two stations into one, with rotating and squaring functionality in the same rack," Dave Bamford, production supervisor, explains. "[This enables] the operator to install panels on both sides without moving from his present position."
The company reports that internal defects such as broken glass, broken frames and scratches were reduced by 30 percent with its new system, which helped achieve daily production targets. And, with the capable equipment and availability of more space, the company was able to manufacture its Metal Clad Patio Door series in-house, instead of assembling kits provided by a third-party vendor.
Overall, Ply Gem Canada reports that the transition from a traditional batch process to a continuous flow allowed the company to introduce a Lean culture, which created a safe environment for associates and helped to increase production efficiency.
Above: At Ply Gem Canada's renovated plant, cranes safely handle the sealed units on the panel line; panels are pressed into the sealed units with an automated process.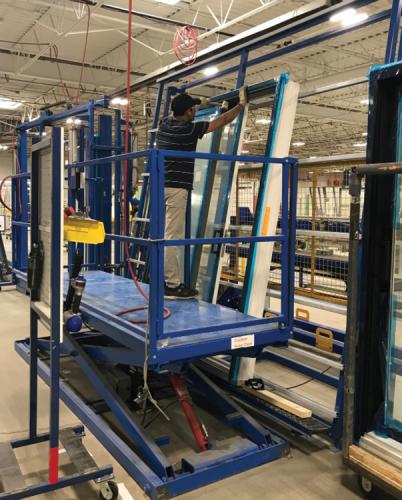 Right: Ply Gem introduced a scissor lift on its production lines to help increase safety for its associates and improve efficiencies.
Safe, lean and innovative
Safety was one of the company's pillars that motivated it to design innovative equipment and implement Lean tools that would eliminate existing hazards to the patio doors production lines, according to Ply Gem Canada associates. The company reports that introducing the aforementioned new equipment on its production lines helped increase the safety for Ply Gem Canada associates, as well as the efficiencies of the production lines. For example, the scissor lift eliminates bending and reaching, and cart caddies help eliminate back injuries.
To introduce Lean principles, Ply Gem engaged its associates by providing in-class training and hands-on practices for Six Sigma and a pull system program. From there, the company implemented visual controls such as Andon lights, a color-coding system, divisional objectives, and tactical and daily target boards.
"With the implementation of this project, we successfully achieved our target of creating a safe environment, and increasing production capacity and efficiency," says Yolany Benevides, manufacturing continuous improvement manager.