Quiet Glide Multi-Slide Door from Win-Dor
Win-Dor Inc.
Ph: 714/955-4489
Win-Dor's new Quiet Glide hybrid multi-slide door system combines multiple materials to create an energy-efficient product that meets or exceeds current Energy Star requirements. The product design integrates a concealed frame and track screen system into the main frame allowing the consumer to add panels at any time while maintaining a finished appearance.
SWD M5 Tilt and Turn Window from Superior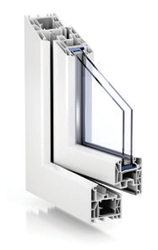 Superior Windows & Doors LLC
Ph: 847/778-8487
Superior Windows & Doors offers the SWD M5 tilt and turn window with an invisible center seal that the company says highlights the contours of the window profile. The seal is designed to create a pressure-equalized rain screen and to increase the window's sealing properties with greater wind pressure. It is welded at all four corners and is located in front of all hardware for ideal protection against corrosion. The window offers optimal thermal insulation and comes in 44 colors. The honeycombed profile chambers enhance the window's inherent structural stability, while counteracting torsion. The 70 mm deep profiles with U-factor for the frame meet the requirements of stringent energy codes worldwide, according to the company.
Satellite XT Five-Axis Machine and Cutting Center from Emmegi

Emmegi USA Inc.
Ph: 201/935-0200
The Satellite XT five-axis machine and cutting center is a self-contained manufacturing cell that performs all milling, drilling, threading, cutting and notching on full length aluminum extruded lineals. Raw material is loaded onto the machine, finished product is taken off and ready for assembly. The machine also operates in pendular mode on two independent working zones, so two pieces of totally different cross section, length and machining can be loaded. If necessary, the two zones can be used at once for extra length pieces. Each profile can be machined at any intermediate angle from 0 to 180 degrees of any intermediate plane that is perpendicular to the loading base of the profile/clamps.
LaCantina's Multi-Slide Panel Doors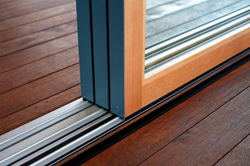 LaCantina Doors
Ph: 888/221-0141
LaCantina Doors' multi-slide panel doors can be matched to meet any architectural style and panels can be as tall as 12 feet and as wide as 8 feet with up to 60 square feet of glass. In pocketing and stacking configuration and zero-post applications, the company offers single, double and triple glazing options. Panels stack flush with minimal sightlines, and low-profile, AAMA-certified acetal rolling hardware is said to allow for smoother, quieter operation and durability. The self-draining weather resistant sill/threshold with three interior leg height options is standard; a flush sill that allows the finished flooring to be laid between the tracks is an option. With custom designed, flush mounted, minimal one-piece handle and lock with an exterior key for security, the door also features an interlocking track clip design.
EnergyCore Fusion Insulated System from Quanex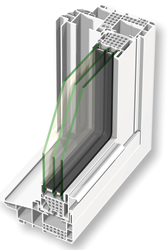 Quanex Building Products
Ph: 713/961-4600
Quanex's EnergyCore Fusion Insulated System exceeds all Energy Star requirements, including Most Efficient performance requirements for all climate zones. EnergyCore windows incorporate the patented AirCell technology, a special co-extruded PVC foam-fill that provides a fully insulated core within the vinyl frame. With this specially engineered core and tri-extruded frame profile, the system improves U-factors by 50 percent over thermally broken aluminum and 15 percent over hollow vinyl window frames. And the sash and frame components are designed to accommodate heavier, high-performance triple (1-1/8 inch) or dual (3/4-inch) insulated glass units.
Pinnacle 2-Bar Hinge from Northern Architectural Products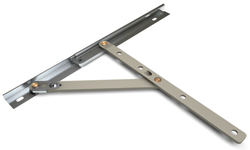 Northern Architectural Products
Ph: 800/849-4011
Northern Architectural Products Inc.'s new Pinnacle 2-bar concealed hinge is available in standard 7/16-inch stack height or the new 436 Series Pinnacle Heavy Duty hinge in 5/8-inch stack height with 200 pound certification. The hinge is capable and certified to double as both a casement and project out (awning) hinge. The company reports that the hinge withstands a load capacity of 150 pounds for over 8,000 cycles, testing which exceeds AAMA 901-10. The hinge remains fully adjustable up to 9/32-inch or 4 mm via its elongated holes. The Pinnacle hinge is available in Corro-Guard steel which has undergone 300 hours of salt spray testing performed by a SCC certified lab. Additionally, the hinge is available in 304 (18-8) stainless steel.
WinGuard Vinyl and EnergyVue Vinyl Windows from PGT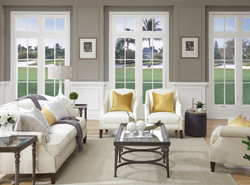 PGT Industries
Ph: 800/282-6019
PGT's new WinGuard Vinyl and EnergyVue product lines are energy-efficient vinyl frame profiles in some of the largest sizes and highest design pressures available, according to the company. The lines use the same frame, with WinGuard Vinyl incorporating impact-resistant, laminated insulating glass and EnergyVue featuring non-impact insulating glass. Elements include SecureConnect Corner Key Technology, aluminum interlocks, around-the-corner hardware, TrueHold heavy-duty hinge, a concealed multi-point locking system, multi-chambered vinyl frames, and warm-edge spacer technology. PGT's new vinyl lines use a concealed multi-point locking system that offers the combination of a single point of actuation, low placement on the frame jamb, and no visible locks or keepers on the meeting rail.
Kathy Door Routing Machine from Groupe Eugénie
Groupe Eugénie
Ph: 450/313-1321
Eugénie recently entered the door and window production equipment world, with a past history of supplying the machine tool industry with CNC machines. The Kathy KS-S door slab face and edge prep router uses surface sensing technology to ensure that depth of cut is exact, regardless of surface variations due to wood moisture and storage conditions. The Kathy KS-S is an entirely automatic seven-axis CNC horizontal door machine. The door entry and exit are guided by fully automatic roller conveyors that speed up the production rate. The KS-S door machine is able to do any surface machining on the door while, simultaneously, a second servo motor handles the machining on the side of the door (multi-points, faceplate, handle machining). This door machine has a production rate of 200 doors per day and the machining head is equipped with a brush that cleans as the machine operates.
SmartTouch Bolt from Milgard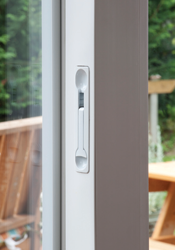 Milgard Manufacturing Inc.
Ph: 800/645-4273
The SmartTouch Bolt is a fully integrated, easy-to-use bolt lock that secures sliding patio doors firmly into the frame, according to the company. With a single motion of the SmartTouch door handle, four locking points are activated, securing the door in the top frame, bottom track and at the handle. The self-locating feature allows the door to be secure while in a vented position. Together with the multi-point locking system, the SecurityMAX package provides five points of patio door security.
Next Generation Ultimate Double Hung from Marvin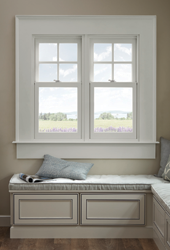 Marvin Windows and Doors
Ph: 888/527-8266
The Next Generation Ultimate Double Hung from Marvin offers a traditional look in a 100 percent wood interior with hidden weatherstripping and a 1 15/16-inch checkrail. Its lock combines intuitive operation with modern convenience, according to the company. The one piece of hardware allows users to lock and unlock the bottom and top sashes and gives a positive "click" when the window has been locked. When one sash is open, the other sash can be locked. The Next Generation Ultimate Double Hung delivers a vent mode, where the sash can be raised to 4 inches of clearance. The hardware also allows the bottom and top sashes to tilt in for easy washing. The hardware innovation allows for DP50 performance at large sizes without jumping to Marvin's Magnum platform.