Roto North America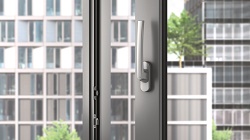 The Roto Patio Inowa (Impermeable: No Water, No Air) sliding system on display at GlassBuild America incorporates a continuous gasket system around the operable sash, along with concealed lock points, even in the mullion area where the two sashes come together, the company reports. Booth #3017

Crest Sliding Door Handle by Interlock USA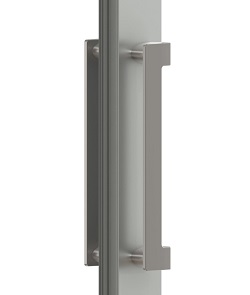 Interlock USA
Ph: 877/852-8808
Interlock's newest sliding door hardware, the Crest sliding door handle, offers a contemporary design, with a large grip area, designed for use with the SMBL sliding door lock. The line is available with a range of powder-coat colors and can be color-matched to suit aluminum applications. Interlock's sliding door hardware solutions are available with a variety of options for contemporary and traditional handle styles. Booth #2127

Strybuc Industries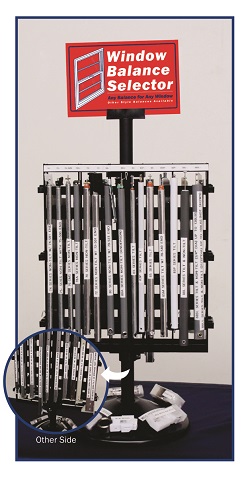 Strybuc Industries
Ph: 800/352-0800
Strybuc will showcase its Window Balance Identification Display at GlassBuild America. It's a counter-top display that contains 31 tilt and non-tilt channel, tube and constant force window balance samples. Each is individually labeled and removable. The package includes signage, a display that spins 360 degrees and a free, customized flyer.
Tremco Residential Glazing Systems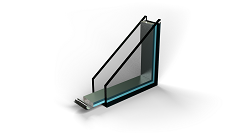 Tremco Residential Glazing Systems
Ph: 800/321-7906
Tremco will showcase the EnerEDGE warm-edge spacer at GlassBuild America, as well as the company's TremGlaze silicones, polyurethanes, urethanes, foams, butyls and tapes. The EnerEDGE pre-desiccated, ready-to-apply, cellular silicone warm-edge spacer is inset and applied to a glass lite's perimeter to enable fabrication of dual and triple-glazed IG units in conjunction with the company's new EnerSEAL 332 hot melt butyl IG perimeter sealant. Booth #945
Secure-It-Fast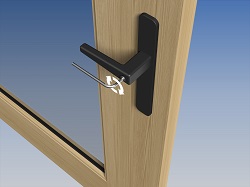 Secure-It-Fast
Ph: 507/362-8685
Debuting at Glass Build, LCS construction handles are plastic door hardware that can be installed as a stand-in during building construction. The hardware keeps doors operable and hardware safe until it's ready to be installed. The handles are available off the shelf for Ashland and Hoppe locks, and customizable for other brands. Kits feature plastic escutcheon plates, come bagged with all hardware, and include instruction sheets. Booth #3611
Faulkner Fabricating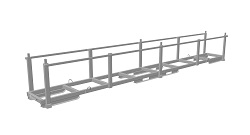 Faulkner Fabricating
Ph: 574/342-0022
Faulkner's vinyl and aluminum lineal extrusion racks for long vinyl or aluminum extrusions stack when loaded and nest inside each other when empty. This design allows 18 loaded racks to ship in a trailer and 72 empty racks to return. Racks are available in various widths, heights and lengths. Booth #3809
Urban Machinery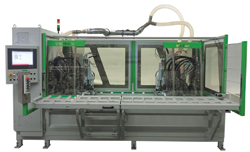 Urban Machinery
Ph: 800/263-4216
The URBAN SV744 Twin Head CNC Sash Corner Cleaner utilizes between 4 and 11 high speed ball screw drivers, fully-programmable axes to clean North American sashes. The device offers simultaneous cleaning of interior and exterior contours, menu-driven maintenance and self- diagnostic functions, and moveable head options including manual positioning or servo axis driven. Booth #2152
Hopo Inc.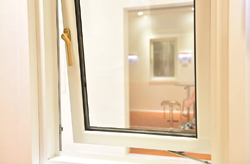 Hopo Inc.
Ph: 516/773-2887
Hopo Inc.'s Outswing and Awning Window is a dual-operating window system with multiple locking points that surround the entire sash. The company reports that these locking points provide the window with sound insulation, an airtight seal and a waterproof sealing effect. The window's opening width is 5.1 inches in the awning position. Booth #2819
Hangzhou Wintek Building Products Co. Ltd.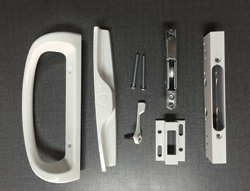 Hangzhou Wintek Building Products Co. Ltd.
Ph: +86571 28932556
Hangzhou, China's Wintek will showcase patio door handle sets without cylinders. The products are crafted from aluminum or zinc, with a powder coating/paint finish in white, beige, silver or other colors. The sets are packaged 20 per carton, and the company offers a delivery time of 25 to 45 days. Booth #2814
AquaSurTech
AquaSurTech
Ph: 514/684-2628
AquaSurTech will exhibit its water-based coatings and stains for the window and door sector at GlassBuild. The products offer a molecularly-bonding resin and highly-heat reflective pigments to ensure excellent color retention with minimum heat absorption, according to the company, which states that its TruStain "spray on wood" look can make smooth PVC appear like real wood. Newly-developed automated cleaning and spraying equipment is available, along with certification training resulting in an industry-leading warranty, according to the company. Booth #2512