Ozcelik Machinery Co.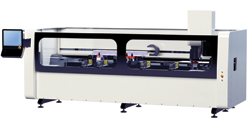 Ozcelik Machinery Co.
Ph: +90 216 304 2010
The Garnet XS by Ozcelik Machinery is a CNC-controlled profile machining center used for performing milling, drain channel opening, drilling, branding and milling processes on aluminum and PVC profiles. The device can process at fixed angles of -90, 0 and +90 degrees, and offers automatic tool replacement, an automatic magazine for 10 tools, automatic clamping positioning, a touchscreen, remote access, automatic lubrication in the processing area, and the ability to perform non-standard specific operations on different profiles. Booth #1655
Deceuninck North America
Deceuninck North America
Ph: 877/563-4251
Designed to withstand storm-force winds in any region of the United States, Deceuninck North America's new highimpact products meet tough weather-related standards, company officials report. The AAMA-certified product line includes single- and double-hung windows, casement, horizontal slider and picture window systems, as well as sliding patio door systems. The hurricane-resistant windows and doors are performance-tested under ASTM E 1886/1996, Wind Zone 4, large missile impact standards, made of maintenance- free SunShield technology and features Solex laminated finishes, and are designed to accommodate various reinforcement options including Innergy rigid thermal reinforcements. Booth #3113
AmesburyTruth

AmesburyTruth
Ph: 800/866-7884
AmesburyTruth will introduce Stasis, its new ½-inch inverted constant force balance system, in Atlanta. Stasis offers superior lock-up force, enhanced dirt and debris management, add-on modularity, a more robust assembly, and increased weight carrying capacity, company officials report. The system is non-handed to reduce inventory, which reportedly keeps purchased SKUs to a minimum. Its twopiece top-clip design is said to give a more robust coil to clip attachment and allow more room in the jamb pocket for the tilt latch to pass by. Booth #1629
Macotec Srl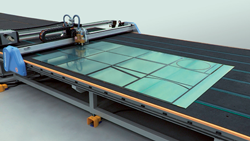 Macotec Srl
Ph: +(39) 0342-6846-48
Macotec Srl will showcase its automatic removal system for temporary protective glass film and low-E soft coating. The removal device is designed to provide a clean removal process, removing film without any plastic residue. Protective film and low-E coating are processed separately in two steps using specific devices depending on type of coating. The device also offers fast cycle times and high-quality edge deletion, even on very large paths, company officials report. Booth #2556
EDTM Inc.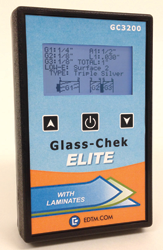 EDTM Inc.
Ph: 419/824-3151
The Glass-Chek Elite identifies laminated glass in a window and measures the thickness of the laminate interlayer. It provides the thickness of each piece of glass, air space and overall thickness. The graphical display shows an illustration of the profile of the window. In addition, EDTM's GC3200 model identifies the type of low-E coating in the window, indicating a hard coat or soft coat product. For soft coat, the meter will also provide the number of silver layers used to make up the coating, to identify the type of coating being used. Booth #1636
Soft Tech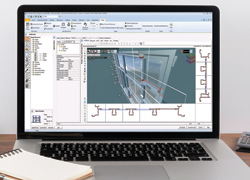 Soft Tech
Ph: 954/568-3198
Soft Tech's software systems automate employee and equipment scheduling, and CNC saw and milling processes. The software schedules employees and equipment, and can reportedly manage large numbers of orders and multiple factories. It can be utilized and updated from any location in the factory using portable devices. Additionally, the software creates and outputs complex instructions from design software to the CNC saw and milling equipment to utilize machinery efficiencies, company officials report. Booth #807
tesa tape Inc.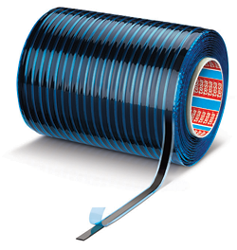 tesa tape Inc.
Ph: 800/426-2181
ACXplus, new from tesa tape, is a doublesided tape consisting of a high-performance acrylic system, characterized by its bonding power, stress dissipation and temperature and weather resistance, company officials report. ACXplus is said to offer powerful long-lasting bonds even to dissimilar materials; faster application process; clean production sites and healthy working environment; compensation of irregular or uneven surfaces; no mechanical weakening of substrates; sealing function, protecting against moisture and dust; and improved visual appearance with no damage to the substrates, according to the company. ACXplus is available in different sizes, thicknesses and colors. Booth #2219
Novagard Solutions

Novagard Solutions
Ph: 800/380-0138
Novaflex Ultra-Low Migration High Impact Sealant decreases plasticizer migration into the IG secondary sealant, ensuring a long-lasting seal, Novagard reports. The product, debuting at GlassBuild America, reportedly satisfies the new recommendation for IG manufacturers on all impact window fabrication. Novaflex reports the product offers high tensile strength, high elongation, high-performance adhesion and chemical resistance, and deep section cure. Booth #2117
Lamatek Inc.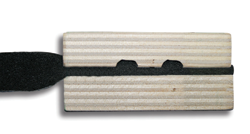 Lamatek Inc.
Ph: 800/526-2835
Lamatek's new Sure-Seal compressible foam sealant tape, which will debut in Atlanta, offers the sealing properties of closed cell foam with the flexibility and conformability of open cell tape. Sure-Seal tape provides flexible, airtight and watertight sealing, the exhibitor reports, which says it also blocks air, vapor, moisture and dust. It is designed to absorb sound, impact and vibrations in joint sealing, gap filling, insulation, curtain walls, and weatherstripping applications. Sure-Seal is available in ¼-inch to 1¼-inch thick and 3/16-inch to 39-inch wide tapes, or as custom gaskets for sealing window frame corners, thresholds and hardware. Booth #3421
Dow Corning Corp.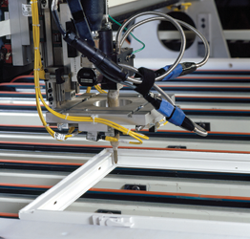 Dow Corning Corp.
Ph: 800/248-2481
Dow Corning 2400 Silicone Assembly Sealant combines the benefits of silicone wet sealants with those of hot melts to deliver performance and productivity, company officials report. The sealant combines green strength, high tensile-strength values and creep resistance. The one-part, 100 percent silicone moisture-reactive hot-melt sealant can be used with standard hot-melt XY glazing and dispensing equipment, and features unprimed adhesion to common fenestration substrates. Designed for standard and impact glazing, Dow Corning 2400 Silicone Assembly Sealant has reportedly been successfully used in high-velocity hurricane zone designs and can be applied in window assemblies requiring forcedentry resistance. Booth #2813