Lisec America Inc.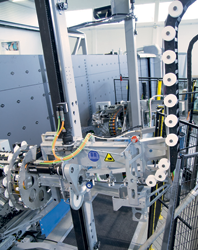 Lisec America Inc.
Ph: 952/641-9900
During GlassBuild America, Lisec will debut the Velocity Plus high-speed insulating glass production line. With a cycle time of 16 seconds, this high-speed line manages the flash production of double insulating glass units in the dimension 900 by 600 millimeters with hot-melt sealing. The cycle time for triple units is 24 seconds, according to the exhibitor. This fast production combined with a low capital expenditure is made possible by the parallel assembly of two insulating glass units with different sizes, as well as the two spacer applicators, the company reports. Booth #4037
Forel SpA/Forel North America

Forel SpA/Forel North America
Ph: 651/493-4378
Forel SpA plans to bring new and advanced technology to Atlanta, in its largest Glass- Build booth to date, company officials report. Forel will exhibit a high-speed flexible spacer IG line, which includes defect and shape scanning, spacer application, gas filling, and secondary hot-melt sealing. Additionally, company officials will demonstrate high-speed vertical automatic seaming during the show. Booth #550
Erdman Automation Corp.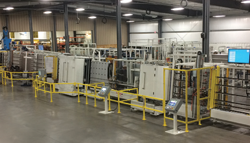 Erdman Automation Corp.
Ph: 763/389-9475
The Erdman High Speed Parallel Process IG Line is designed to produce more than three insulating glass units per minute, with three to four operators. The machine shuttles the topping lite to a back lane, allowing two glass lites to run parallel to each other. According to the exhibitor, the line increases output in a smaller footprint for a lower cost than other IG lines. Normal cycle time is less than 19 seconds, according to Erdman officials, who report that the machine requires only one grid application station. Booth #1350
EnduroShield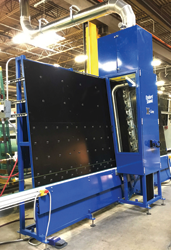 EnduroShield
Ph: 805/617-4609
EnduroShield glass treatments for exterior and interior glass surfaces reportedly provide ultra-thin, transparent coating that completely adheres to the surface, repelling both oil and water, according to the exhibitor. During GlassBuild America, EnduroShield will also display the newest addition to its product offering, the X-line Automatic Coating Machine, an automated, hydrophobic glass coating machine. The X-Line is a vertical system which uses single piece in-line flow for assembly line integration. It combines design and technology to provide users with a highspeed— up to 15 meters per minute—efficient and economical coating system, according to the company. Booth #137
Emmegi USA Inc.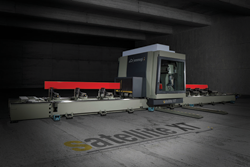 Emmegi USA Inc.
Ph: 201/935-0200
Emmegi USA will display its Satellite XT five-axis machine and cutting center during GlassBuild 2017. A self-contained manufacturing cell, Satellite XT performs all milling, drilling, threading, cutting and notching on full-length aluminum extruded lineals. Operators load raw material onto the machine, and remove the finished product, ready for assembly, Emmegi officials report. Booth #1337
American Renolit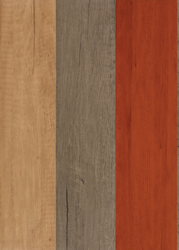 American Renolit
Ph: 616/581-2156
American Renolit expanded its Renolit Exofol interior film range, and will debut over 30 additional film products during GlassBuild 2017. Exofol interior films offer realistic woodgrain designs and rich solid colors. A unique protective coating provides scratch resistance for the life of the product, Renolit officials report. The expanded Exofol interior range of film comes with a full 10-year performance warranty. All Exofol films are suitable for substrates of PVC, fiberglass, wood, aluminum, composites and more. Renolit offers quick delivery and low minimums, according to the exhibitor. Booth #3207
Technoform Glass Insulation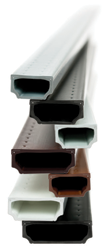 Technoform Glass Insulation
Ph: 330/487-6600
New from Technoform Glass Insulation, the TGI-Spacer M with Wire improves thermal and structural performance, reduces risk of condensation, and enhances appearance of window systems, company officials report. The profile geometry and rigidity of TGI-Spacer M with Wire is said to provide durability and easier handling during fabrication. Featuring a hybrid composition, TGI-Spacer M with Wire is a cold bendable, warm edge spacer bar comprised of a thin, low-conductivity stainless steel, a spring steel wire and engineered thermoplastic. TGI's portfolio of hybrid spacer systems incorporates a high-performance polymer and low-conductivity stainless steel. Booth #3505
Linde Electronics and Specialty Gases
Linde Electronics and Specialty Gases
Ph: 908/347-5308
Linde Electronics and Specialty Gases offers krypton gas, krypton/argon gas mixtures, krypton/xenon gas mixtures and xenon gas, which help to increase R-values and decrease U-values for double and triple pane insulating glass units, the exhibitor reports. Bulk argon, bulk nitrogen and bulk oxygen are available for IGU manufacturers throughout the United States and Canada. Linde also offers krypton and xenon gas for sputtering of low-E coatings for flat glass and IGUs. Booth #3456
Glasslam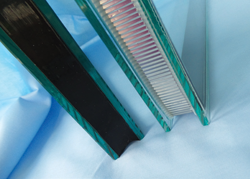 Glasslam
Ph: 954/975-3233
Glasslam's WorldSpacer stainless steelbacked, flexible polyurethane spacer system features a flexible matrix of UVresistant thermoset polyurethane and a 3A molecular sieve. WorldSpacer is silicone free, preventing contamination of vapor barrier or IGU airspace. A 2-millimeter corrugated stainless steel vapor barrier offers flexible warm-edge performance, and adhesion with all insulating glass sealants, company officials report. The vapor barrier offers gas barrier performance against moisture ingress or argon escape. World- Spacer is constructed as a web of spacer material, cut to spacer size, and features near-zero tolerance spacer sizing, from 5-mm to 50-mm sizes. Booth #2119
Caldwell Manufacturing Co.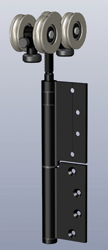 Caldwell Manufacturing Co.
Ph: 585/352-3790
Caldwell will debut its expanded Magnum Bi-Fold Hinge Systems, which now includes both top and bottom rolling hinge product lines. Magnum hinges can handle up to 240-pound panel weights, eight panels each way. The extruded aluminum friction hinges offer maximum adjustment without hinge deflection and stay features to reduce system drift and panel damage, according to Caldwell officials. Magnum hinges feature a reportedly quiet, high-performance sealed stainless-steel bearing wheel system. The hardware is available by the piece, hinge set or full hardware system including a variety of locking solutions, and in a variety of colors or custom color match. Booth #1909