Contemporary Clad Doors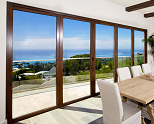 LaCantina
Ph: 888/221-0141
LaCantina offers its new Contemporary Clad doors. This new material option features a 2 15/16-inch narrow stile and rail profile to maximize glass and light. With 2 1/4-inch thick panels made of LVL core construction and high-quality extruded aluminum, it offers a clean aesthetic and profile options that complement contemporary and traditional architectural style. In-stock color options include white and bronze paint, and clear and bronze anodized exterior cladding. The Contemporary Clad features concealed locking for ease of operation and security. LaCantina's new Contemporary Clad design is available in folding, multi slide and swing door systems.
Contemporary Collection
Weather Shield
Ph: 800/222-2995
Weather Shield Windows & Doors showcases its new Contemporary Collection, a suite of Premium Series windows and doors with narrow profile frames and sash for a more modern appearance and more exposed glass than standard Premium Series products. The products have more of a minimalistic appearance, with narrower stiles and rails, streamlined hardware, and trendier interior and exterior finishes and colors. The collection includes direct set corner, crank and push-out casement, awning, and direct set windows, and narrow-stile hinged patio doors with contemporary ergonomic hardware. A strong aluminum internal support structure on the exterior reinforces the unit. Offered in a variety of finishes and colors, hardware for the collection is offered in white, tan, brushed nickel and rustic bronze.
Infrared Camera & Lifetiles Sales Kit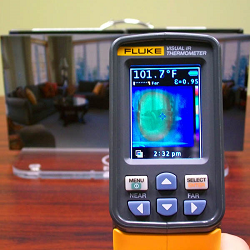 EDTM will display its line of instruments and sales kits for the window industry at the IBS Show in Las Vegas. The company's new Infrared Camera & Lifetiles Sales Kit combines several tools to create a virtual reality demonstration of window energy efficiency. The demonstration includes an inexpensive Infrared (IR) camera, Lifetile temperature targets, a heat lamp, various window samples, and a professional acrylic organizing base, which is customizable with a company logo. The company will also show its new Glass-Chek Elite instrument that can measure the thickness of laminate inner layers of a window, among other functions. 
Three-Panel Shaker Door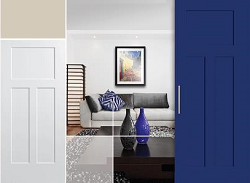 Masonite
Ph: 800/663-3667
Designed with flat panels, the 3-Panel Shaker door, on display at IBS 2015, brings classic and modern aesthetics together with classic lines of a wood door mixed with the durability of molded panel engineering, the exhibitor says. Modeled after a wood Stile and Rail door, the 3-Panel door incorporates witness lines into the design. TADA compliant, the 3-Panel Shaker Interior door offering includes both 6-foot 8-inch and 7-foot door heights, 6-foot 8-inch and 7-footheight bifolds, 1-inch Emerald Safe N' Sound and Safe N' Sound Hollow Core options. 
Thermal Evolution Technology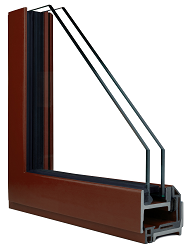 Hope's Windows
Ph: 716/665-5124
Hope's Thermal Evolution thermal-break technology for hot-rolled, solid steel windows and doors exceeds increasingly stringent energy efficiency standards, the company reports. With significantly improved U-factors and condensation resistance, the Hope's technology achieves a thermal break for traditional steel windows and doors. Thermal Evolution technology employs fiberglass reinforced polymer liners that are structurally bonded to fully-welded, hot-rolled, solid steel profiles, and has been certified with a testing result from the National Fenestration Rating Council of 0.170 U-factor. Thermal Evolution technology accommodates true divided lite or simulated divided lite muntin systems. Hope's "Power of 5" finishing system provides durability to all Hope's steel windows, even under the most extreme environmental conditions, according to the exhibitor. 
Custom Wood Folding Window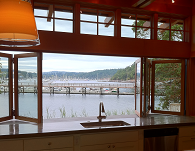 Jeld-Wen
Ph: 800/877-9482
Jeld-Wen's new Custom Wood Folding Window features an open design concept and accordion style. This window system folds to the side to connect the kitchen or another room to the backyard or patio, and can also be used as an interior window between a kitchen and family room. The folding window is available in auralast pine, knotty alder, mahogany, vertical grain douglas fir, reclaimed fir, red oak, walnut and cherry, and fits an opening up to 48-feet wide.
Ultimate Multi-Slide Door

Marvin Windows and Doors
Ph: 888/527-8266
Marvin Windows and Doors will showcase a variety of new products and old favorites in Las Vegas for IBS 2015. The company will introduce the Ultimate Multi-Slide Door, an extremely large addition to Marvin's Scenic Door line available in summer 2015 with a vast array of sizes, configurations, and numerous product options. Marvin will also feature its integrated interior shades and Next Generation Ultimate Double Hung. The interior shade's integrated system, with fully concealed mechanisms and hidden cord systems, fits into Marvin window and door units with no measuring required, according to the company.
Executive Screens
Phantom Screens
Ph: 888/742-6866
Phantom Screens' motorized Executive screens fit single openings as large as 25 feet wide and 16 feet tall. Designed for screening patios, porches and other large openings, the Executive screens retract out of sight when not in use. The screens' integration with home automation systems, plus wind and sun sensors, allows homeowners to create a solution that supports sustainable building practices and delivers energy savings by reducing solar heat gain, according to Phantom. Starting in 2015, Phantom`s motorized Executive screens will be equipped with Smart Stop anti-block system. Manufactured by Somfy, Smart Stop is a blockage sensor that is said to eliminate the risk of damage caused by objects left under the screens. 
Wood-Ultrex Series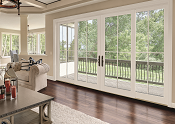 Integrity Windows and Doors
Ph: 888/419-0076
Integrity Windows and Doors will exhibit a variety of products and options for use in residential and commercial projects, including the Wood-Ultrex series 4-Panel Sliding French Door and Insert Casement and Awning. Integrity's 4-Panel Sliding French Door brings together the beauty of wood and the strength of Ultrex in the largest door yet—up to 16 feet wide by 8 feet tall, the exhibitor reports. Features of Integrity's new Insert Casement and Awning windows include: through-jamb installation, various glass options, optional factory applied Window Opening Control Device for greater window safety, and more. Like all Integrity products, the new Wood-Ultrex Casement and Awning windows come with a 10-day delivery guarantee. 
WaterBarrier Technology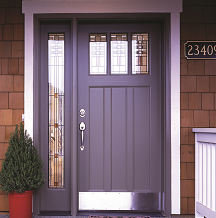 Simpson Door Company
Ph: 800/746-7766
Simpson expands its WaterBarrier Technology to more than 100 additional popular door and sidelight designs in its Mastermark Collection, Craftsman Collection, Builders Advantage Series and traditional product lines. The weather-resistant system is now available on both flat and raised panel doors. WaterBarrier Technology combines a moisture-resistant, medium-density overlay with a thermoset acrylic latex primer topcoat and PVC glazing beads on the door's exterior side, to resist moisture absorption and be ready to paint while retaining the look of wood on the inside, the company reports. Doors with WaterBarrier can be any wood species, and design pressure ratings are available. The expanded line of WaterBarrier Technology door options will initially be available in the Western United States.