Nova Slim operator cover and handle from Interlock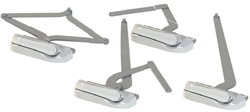 Interlock USA
Ph: 877/852-8808
The Nova Slim operator cover and handle is the newest option for Interlock's family of casement operators for vinyl, wood and aluminum applications. The Nova operator series features dual arm, single arm, dyad and awning operators. The series features a patented two-directional fixing design for system strength and stability. It is also available in stainless steel to provide corrosion resistance in harsh coastal environments. Nova casement operators and hinges work in conjunction with Interlock's casement locking handle, featuring a super low-profile design that is said to eliminate interference with window treatments.
Traditional Oak Collection from MasterGrain

MasterGrain
Ph: 705/527-2939
MasterGrain expanded its Traditional Oak Collection with a new two-panel door, launching in January 2016. The door joins the three, six and eight panel doors and Prestige components. The manufacturer offers a complete system of fiberglass components.
Software from Windowmaker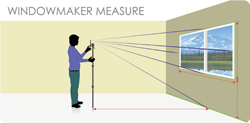 Windowmaker Software Ltd.
Ph: 416/762-5299
Windowmaker supplies software solutions to manufacturers and dealers of windows and doors that are used in 77 countries and supported by 80 staff members. The company will give demonstrations for its free smartphone and tablet app, Windowmaker Measure, which allows a salesperson or surveyor to capture photos and text or voice annotations for each 'hole in the wall.' The calculated dimensions are said to be accurate enough for estimating.
Pleated Foldaway Insect Screen from DS Group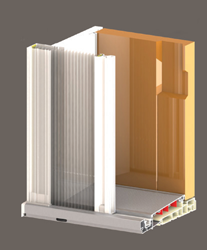 The DS Group
Ph: 604/451-1080
The DS Group's DraftSeal Division introduces the new DSF1 Pleated Foldaway Insect Screen. According to the company, the Accordion Screen is the first Integrated Insect Screen System that is assembled into the exterior brick mold and DS1 Storm Sill at the door shop. The pre-hung door unit and screen (inswing or outswing doors) are shipped as a complete assembly to the jobsite. The screen is said to virtually disappear into the aluminum or PVC brick mold. It is available in standard or custom sizes, single or double door openings, and the brick mold screen frame comes in brown or white colors.
Multi-Axis Sash Cleaner from Urban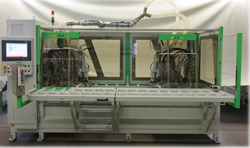 Urban Machinery Corporation
Ph: 519/624-0080
The SV 744 is a two-head high speed multi-axis sash cleaner ideally suited for hung, slider and casement profiles. A Windows-based CNC control offers flexible tooling options from four to 11 servo axes. With fast and consistent self-centering tools, the new self-centering cutting heads shift to the profile centerline. In a range of cleaning and processing options, the machine is said to achieve fast cycle times by simultaneous cleaning of interior and exterior contours.
EnerEDGE Warm-Edge Spacer from Tremco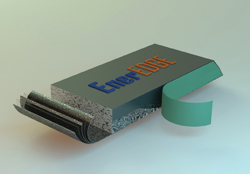 Tremco Commercial Sealants
Ph: 800/321-7906
Tremco presents EnerEDGE, a pre-desiccated, ready-to-apply, cellular silicone warm-edge spacer that is suitable for a range of insulating glass constructions in fenestration applications. EnerEDGE spacer is inset and applied to a glass lite's perimeter to enable fabrication of dual and triple-glazed IG units in conjunction with a quality applied perimeter sealant.
Spacers, Sealants, Window and Door Systems from Quanex
Quanex will exhibit a number of its warm edge spacer products at Win-door, including Super Spacer and Super Spacer TriSeal, and will demonstrate spacer applications and gas-filling equipment for both commercial and residential applications. The company will also showcase Q-Glaze high-performance sealants that are said to protect the building envelope from water intrusion and moisture damage. The company's Edgetherm sealants are designed to meet key requirements in IG production. Quanex will also display its EnergyCore, EnergyQuest and MikronWood high-performance vinyl window and door systems, among other products.
Radiance 1000 Series Garden Window from Millcraft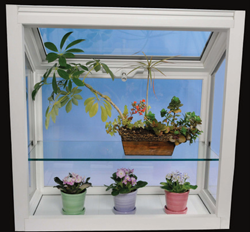 Millcraft Systems Inc.
Ph: 888/689-9502
Millcraft Introduces its new line of garden windows, the Radiance 1000 Series with a top-vented awning style to allow for natural air flow. The drainage system is said to ensure rapid water evacuation, and it has a 1-inch insulated bottom shelf for energy efficiency, removable screen for all vented openings, and 7/8- inch thick low-E thermal glass with warm edge spacer.
Orchestra Lift & Slide Patio Door from Royal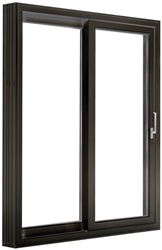 Royal Building Products
Ph: 800/361-9261
The Orchestra Lift & Slide Patio Door by Royal Building Products is ideally suited to highlight panoramic views. The lift and slide handle lets users operate the sash effortlessly, and the multi-point lock enhances forced-entry resistance, according to the company. Available in sizes up to 144 inches in width and 96 inches in height for twopanel doors, it is offered in more than 40 standard colors. (IBS Booth #C2631)
High Speed Parallel Process IG Line from Erdman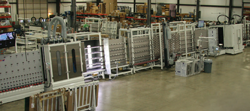 Erdman Automation Corp.
Ph: 763/389-9475
The High Speed Parallel Process IG Line from Erdman can reportedly produce 1,400-plus IGU per shift with only three to four operators. The company says the IG Line will increase output, in a smaller footprint, for a lower cost. The Parallel Process Line shuttles the topping lite to a back lane so two glass lites run parallel to each other.