Chameleon Power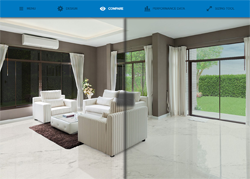 Chameleon Power
Ph: 248/380-9080
Chameleon Power provides web and mobile visualization tools for the building materials and decorative products industry, specializing in the color and appearance of rendered products for specification and sales. Tools include its 3D RePro Engine that places 3D objects such as glass walls into 2D scenes to aid in product selection from websites; 3D Web Engine, an immersive 3D experience that allows virtual walk-throughs of products rendered into interior and exterior spaces; and a VR System with a gogglesbased experience for immersive visualization.
CRL Security Screens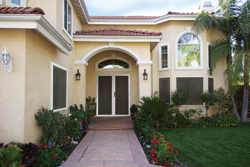 CRL Security Screens
Ph: 800/421-6144
CRL Security Screens are designed to offer high resistance to forced entry and incorporate specially designed, multi-point lock systems. They're made with 316 Marine grade stainless steel mesh that passes standards for Knife Shear (AS 5041-2003) and complies with the corrosion requirements of AS2331.0-2006. Combined with a heavy-duty extruded aluminum frame and patented screen tensioning system, the screens effectively fortify residential doors and windows, according to the exhibitor. Screens can be custom-sized and come in nine standard finishes. The company provides training and sales tools to help customers enter the security screen market.
Ply Gem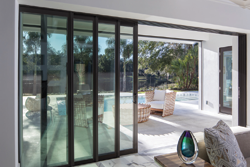 The new Ply Gem Windows 4880 Patio Door, available in two-, three- and four-panel sliding and pocket configurations, features thermally-insulated construction with high-performance glazing, the company reports. The door offers openings up to 8 feet high by 16 feet wide and a pocket-style design that recesses into the wall. New for 2017, the patio door can be upgraded with an automated operating system that allows control from anywhere with the included remote or with the DreamView app for iOS devices and smart phones. The door meets or exceeds new Florida Energy Code requirements and is available in impact-resistant glass configurations to meet ASTM Windborne Debris requirements.
Emtek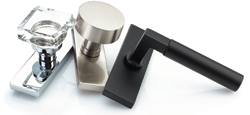 Emtek will exhibit its Stretto rosette window, its newest member of the Stretto Collection which breaks the standard and creates a refined look with the distinct shape, according to the company. Each order is custom-assembled in the company's Southern California facility and typically ships within two to three business days, Emtek reports. Features of the 1.5-inch wide by 5-inch high window include a sleek Euro style without mortise door prep, a matching thumb-turn privacy lockset and a 28-degree rotation tubular latch for easy operation. It can be customized with over 90 knob and lever options and is available in satin brass, oil rubbed bronze, satin nickel, flat black and polished chrome.
Reveal Windows & Doors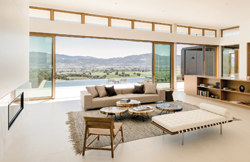 Reveal Windows & Doors
Ph: 562/905-3200
Exclusively from Reveal Windows & Doors by Pacific Architectural Millwork, the patented Slide & Seal system improves on lift and slide doors with panels that are said to glide smoothly on the recessed, stainless steel tracks and automatically seal in the closed position. The doors are all operated by a single handle that disappears into the panel when not in use. The aluminum-wood Slide & Seal includes adjustable rollers and hardware and is available with a variety of options including wood species, glazing, track performance and hardware finishes. The Slide & Seal can also be fully automated.
FlexScreen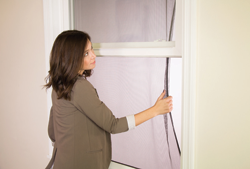 FlexScreen
Ph: 724/519-8675
The FlexScreen patented design features a PVC-coated, spring-steel flexible frame, with no corner keys and no hardware to attach the screen to the window. When installed in a window, FlexScreen hides in the screen track, and eliminates the need for color matching, according to the company. Flex- Screen is available in full and half-screens and can be made with a variety of screen cloths, including improved visibility, pet-resistant and solar styles.
LaCantina Doors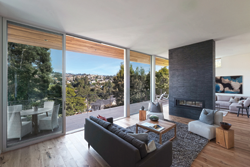 LaCantina Doors
Ph: 888/221-0141
The Aluminum Thermally Controlled Multi Slide system from LaCantina Doors features a narrow 2 15/16-inch stile-and-rail profile with thermal breaks throughout. The system's 2 ¼-inch thick panels provide structural integrity, and the design allows for split-finish options. Featuring AAMA-certified rolling hardware, stainless or bronze hardware package, weather resistance, flush and commercial sill options, concealed multi-point locking and standard low-emissivity dual glazing, the door is available in unlimited stacking and pocketing configurations up to 12 panels, and a max size of 8-feet wide or 12-feet tall.
Velux America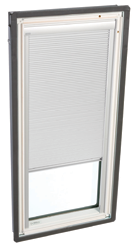 Velux America
Ph: 800/888-3589
The new Velux Energy Performance Model skylights are fixed or manual skylights with a solar-powered blind. Every solarpowered blind comes with a touch remote control to adjust blind positioning during different times of the day for optimal energy efficiency, the company states. Velux reports that the skylights qualify for a 30 percent federal tax credit, with models that include FS, FCM, VS, VCM and QPF. Each comes with a choice of five solar-powered, double-pleated, room darkening blinds that are factory-installed.