Erdman Automation Breaks Ground for New Production Facility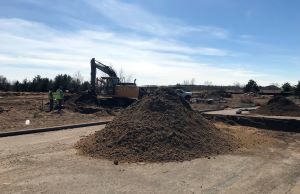 Machine manufacturer Erdman Automation Corp., Princeton, Minnesota, broke ground for a new 45,950-square-foot facility. The new facility is in addition to Erdman's already more than 114,000-square-feet of manufacturing space.
The new facility, which will be located next to Erdman Automation's second production site in Princeton, will be dedicated to manufacturing Erdman's high speed insulating glass equipment for flexible foam and Dura Spacer systems, as well as its robotic IG work cells for larger sized IG. Erdman's facilities have everything in-house to design and build advanced custom automated equipment.
The expansion is needed to handle increased orders for Erdman's residential window and door, unitized curtainwall and IG equipment, according to the company, and is expected to reduce lead times and increase overall production capability.