Milgard Celebrates 50 Years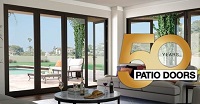 Milgard Windows & Doors celebrates its 50-year anniversary in 2018. Founded in 1968, the company began by manufacturing its own sliding aluminum patio doors and now offers a full line of vinyl, wood, fiberglass and aluminum windows and patio doors, along with moving glass wall systems in bi-fold, pocket and stacking operating styles.

The company is commemorating its anniversary with a promotion that allows participating dealers to offer homeowners a $100 Amazon gift card with any Tuscany, Montecito or aluminum series sliding patio door or a $200 Amazon gift card for any moving glass wall system purchased through Feb. 28.
"We couldn't think of a better way to celebrate our anniversary than passing along savings to our customers," says Jeremiah Noneman, director of marketing at Milgard. "It's our way of saying thank you."